044: How to introduce your child to music (even if you can't play or sing)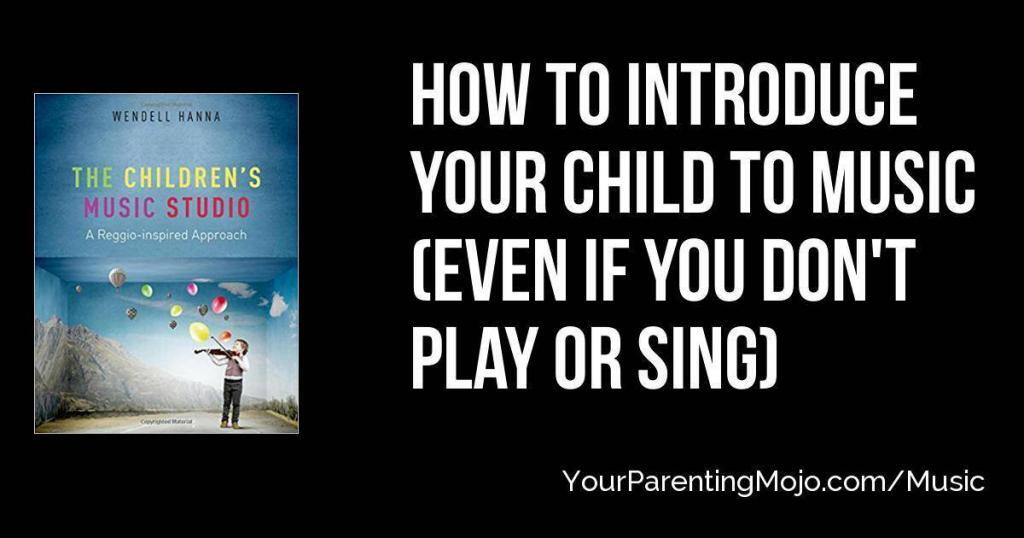 I can't play any instruments (unless the recorder counts?).  I certainly can't sing.  But my daughter really enjoys music, and there are a whole host of studies showing how playing music benefits children's brain development.  So what's a non-music playing, non-singing parent to do?
Dr. Wendell Hanna's new book, the Children's Music Studio: A Reggio-Inspired Approach (Affiliate link), give us SO MANY ways to interact with music with our children.  I tried one of her 'provocations' with my daughter's daycare class and I was blown away.  Give this episode a listen, and be inspired.
Other episodes referenced in this episode
027: Is a Reggio Emilia-inspired preschool right for my child?
To hear my interview with math tutor Wes Carroll, go to www.yourhomeschoolingmojo.com, click any of the "sign up" buttons on that page, scroll down to see the curriculum of the course, and look for the interview with Wes which is available as a free preview.
References
Allsup, R.E., & Benedict, C. (2008). The problems of band: An inquiry into the future of instrumental music education. Philosophy of Music Education Review 16(2), 156-173.
Anvari, S.H., Trainor, L.J., Woodside, J., & Levy, B.A. (2002). Relations among musical skills, phonological processing, and early reading ability in preschool children. Journal of Experimental Child Psychology 83, 111-130.
Bilhartz, T.D., Bruhn, R.A., & Olson, J.E. (2000). The effect of early music training on child cognitive development. Journal of Applied Developmental Psychology 20(4), 616-636.
Catterall, J.S., & Rauscher, F.H. (2008). Unpacking the impact of music on intelligence. In W. Gruhn & F. Rauscher, Neurosciences in Music Pedagogy (pp.171-201). Happague, NY: Nova Science Publishers.
Hallam, S. (2010). The power of music: Its impact on the intellectual, social and personal development of children and young people. International Journal of Music Education 28(3), 269-289.
Hanna, W. (2016). The children's music studio: A Reggio-inspired approach. New York, NY: Oxford. (Affiliate link)
Heuser, F. (2011). Ensemble-based instrumental music instruction: Dead-end tradition or opportunity for socially enlightened teaching. Music Education Research 12(3), 293-305.
Kirschner, S., & Tomasello, M. (2010). Joint music making promotes prosocial behavior in 4-year-old children. Evolution and Human Behavior 31, 354-364.
Morehouse, P.G. (2013). Toddlers through grade 2: The importance of music making in child development. YC Young Children 68(4), 82-89.
Rauscher, F.H. (1993). Music and spatial task performance. Nature 365(6447), 611.
Rauscher, F.H., Shaw, G.L., & Ky, K.N. (1995). Listening to Mozart enhances spatial-temporal reasoning: towards a neuropsychological basis. Neuroscience Letters 185, 44-47.
Rauscher, F.H., & Zupan, M.A. (2000). Classroom keyboard instruction improves kindergarten childrne's spatial-temporal performance: A field experiement. Early Childhood Research Quarterly 15(2), 215-228.
Rauscher, F.H. (2003). Can music instruction affect children's cognitive development? ERIC Digest EDO-PS-03-12.
Rauscher, F.H., & Hinton, S.C. (2006). The Mozart effect: Music listening is not music instruction. Educational Psychologist 41(4) 233-238.
Schlaug, G., Norton, A., Overy, K., & Winner, E. (2005). Effects of music training on the child's brain and cognitive development. Annals of the New York Academy of Sciences 1060, 219-230.
Scott, S. (2011). Contemplating a constructivist stance for active learning within music education. Arts Education Policy Review 112(4), 191-198.
SEGMeasurement (n.d.). Effectiveness of ABC Music & Me on the development of language and literacy skills. Retrieved from: https://media2.kindermusik.com/website/2015/02/ABCMusicMe_ResearchStudy_FullReport.pdf
Smithrim, K., & Upitis, R. (2005). Learning through the arts: Lessons of Engagement. Canadian Journal of Education / Revue Canadienne de l'education 28(1/2), 109-127.
Standley, J.M., Walforth, D., & Nguyen, J. (2009). Effect of parent/child group music activities on toddler development: A pilot study. Music Therapy Perspectives 27(1), 11-15.