You nurture your children and prepare them to fly.
Maybe parenting feels pretty easy to you most of the time.
Maybe you know you're struggling.
Either way, there are times when your child does something that all children do:
Expresses uncomfortable emotions

Makes a big mess

Wastes food

Argues

Doesn't eat enough

Eats too much

Climbs too high

Makes loud noises...
And you snap.
I want you to know that this isn't your fault.
It's not something you're doing 'wrong.'
It's not something your children are doing 'wrong.'
It's often caused by some kind of unresolved trauma. 
And when you understand and begin to resolve that trauma, you feel triggered less often.
Taming Your Triggers is currently closed. To get on the waitlist for the next time it opens in Fall 2020, please enter your name and email address below
I'll also send you a FREE infographic of 13 Reasons Your Child Isn't Listening To You (and what to do about each one) - along with updates on new podcast episodes
"The Taming Your Triggers Workshop is an excellent tool for any parent interested in understanding the "why" behind their triggers. This workshop is trauma informed and aligns with best practices in trauma treatment.
As a trauma therapist, I see every day how unresolved stressors and trauma can show up every day if not addressed. This workshop is a great first step to mitigate trauma reactions from affecting our parenting. I highly recommend it!"
More often than you would like, your child:
When this happens, you feel:
After you've calmed down, you feel:
The feeling of being triggered tells us:
"Those old traumas that you thought you had a lid on are still there."
And because it's our trauma that causes the triggering, not our child's behavior, we need to look to change ourselves rather than our child
But what if things could be different?
"I've been determined to break the generational chain of trauma with my own children while holding my triggers like an inevitable nuisance at best and as only human when I lose it and react. It's so incredibly freeing to consider the possibility that I could lay down those chains all together.
Since the workshop I'm more patient and have greater capacity. And that's really saying something because it's summer; I'm with my kids 24/7 for 11 weeks! 
I knew coming in that the work to do was my own and only my own. My children are quite literally perfectly imperfect. My triggers are about ME, not them. By doing MY work I free all of us from carrying unhealed pain forward into future generations. What I am constantly searching for is HOW to do my work. What does "do my work" even mean?
The Tame Your Triggers workshop was a clear, concise and actionable path forward. The workshop gave me very clear steps to take toward being the mother I aspire to be by helping me heal my own hurt. Writing the letter to my mother using the framework provided opened space for me to grieve the mother I desperately wanted and do not have. Using stories to heal trauma has been beneficial for *all* of us.
I'm so grateful for the workshop!"
-K.D.
"I never would have imagined that my own childhood experiences were having such a huge impact on my daily life as a parent.
Through this workshop I've discovered that my outbursts aren't a character flaw, they're something that can be healed, creating a stronger, healthier relationship with my own children in the process."
-E.B.
"The Tame Your Triggers course helped provide insight into why I sometimes reacted to my children in ways I was unhappy with.
After taking the course I've been able to stop and evaluate why I'm upset before reacting negatively. It's still a work in progress but I'm on a better track to treating my children and their emotions respectfully."
-A.K.
"Thank you Jen for hosting the Tame Your Triggers workshop. Parenting 3 children under 5 isn't easy and it's even harder when my own childhood trauma surfaces.
It really helped me identify my own issues that need work and self love/compassion and helped me find ways to stay calm when the tension rises with my toddlers."
-K.S.
I never want my work to be out of reach to anyone for solely financial reasons.  In the past I've asked people to email me if they can't afford to the cost of my work so we can figure out an arrangement - but I often find that without a more-than-tiny investment, people don't feel committed enough to see the value of the workshop and participate fully.
For this reason, I offer the workshop on a pay-what-you-can model.  I need this work to feed my own family, but I don't want to do it by taking food out of your family's mouths so I ask that you pay the highest amount that you can afford, which I hope will balance out overall.  Your experience in the workshop will be identical no matter what you pay.
Have questions?  Still can't afford even the lowest amount?  Just email me at jen@yourparentingmojo.com
When you join the Tame Your Triggers workshop, you'll learn:
By the end of the online workshop, you will:
How do I participate in the online workshop?
See the pay-what-you-can details above and select the payment otion most appropriate for you
Nine emails over the course of nine weeks starting on Monday May 11, each containing a short quiz, exercise, or journaling prompt (we keep the pace relaxed to make sure you can keep up, as well as process the emotions that may arise as you do this work)
Most can be done in ~30 minutes
I'll post videos in the Facebook group on a regular basis to help you dig deeper into many of the topics.  You can watch these anytime after they're posted, and ask questions about them if you'd like my coaching
You feel triggered less often;

You feel more in control of your reaction when you are occasionally still triggered;

You and your children are more connected and better able to work together to solve problems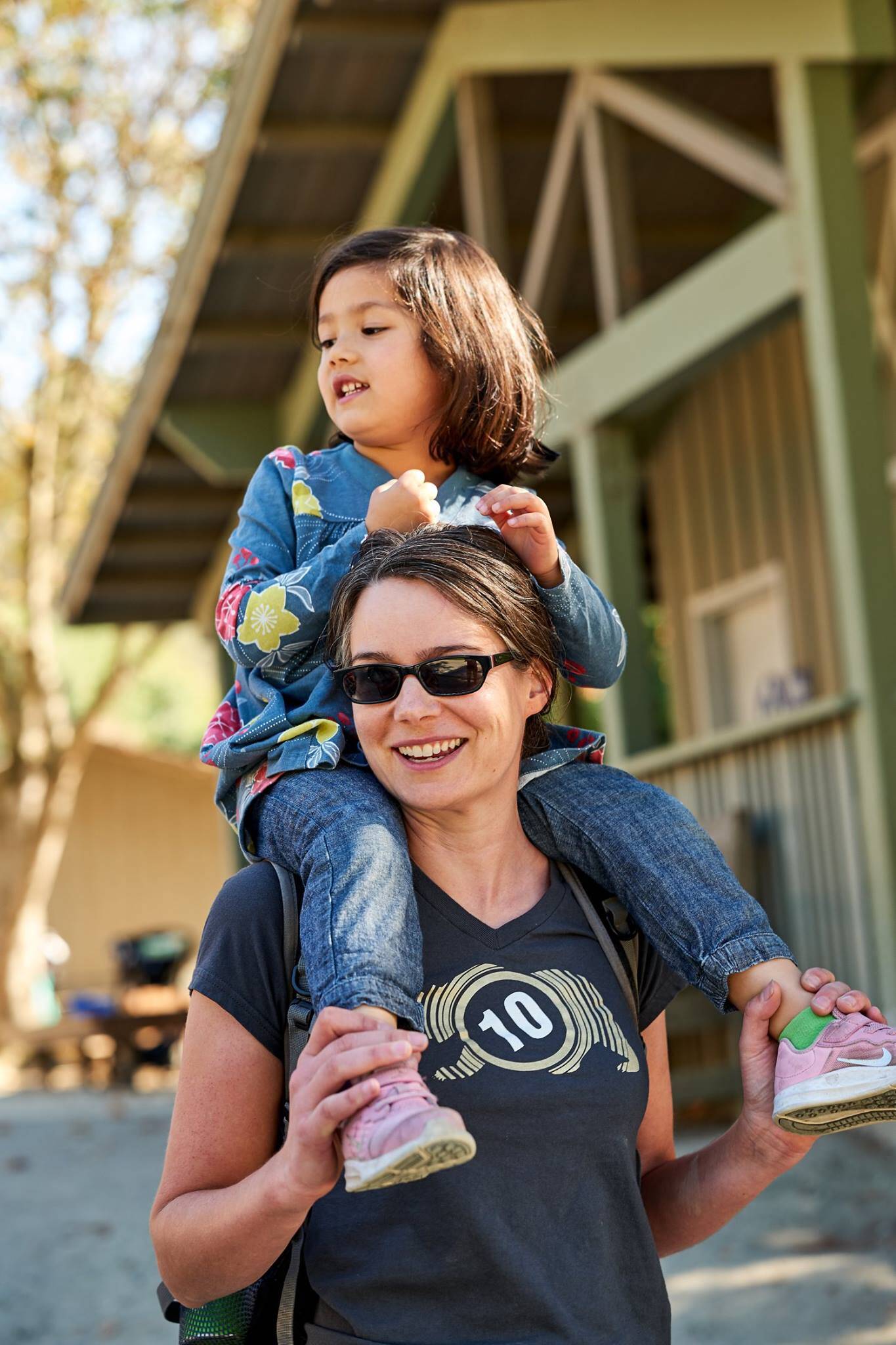 Hi! I'm Jen (and that's Carys)
I never saw myself as a mother.  I don't really 'do' nurturing – at least not of things that have a lot of needs and can't be reasoned with.  In hindsight, I spent rather too much time on my birth plan, and not nearly enough time thinking about what the time after the birth might be like.
When Carys was about four months old I was actually starting to think about discipline (a bit early, I know…).  I didn't know how I was going to be a parent whose kid didn't walk all over them without being a parent who always said "no."
A couple of weeks after that, some friends were visiting with their toddler son.  We were in the living room and he went running down our hallway to our bedroom.  His Mom called after him: "Jack, please don't go in there – it's private.  You can go in the nursery or come back to the living room."
Jack stopped on the threshold of our bedroom, peeked in, and then ran back to the living room.
"How did you do that?" I said.
The answer launched my journey as a parent: toward a Master's in Psychology (focused on Child Development), followed by another in Education, all underpinned by principles of respectful parenting.
Then I launched a podcast to share what I learned with others (I'll send you updates after you're done with the workshop).
I'll be right beside you every day with information, support, and resources, starting on Monday May 11th.
Have questions about the workshop?  Just drop me an email at jen@yourparentingmojo.com.  There's a real person on the other end (me!) and I'll gladly do what I can to help.
Ready to Tame Your Triggers?