Support Your Child's Learning: Both In and Out of School!
After we set a time to talk, I'll ask you to send me some information on the challenge you're facing; you can choose to send as much information as you wish, from a couple of sentences to several paragraphs. In general, more detail helps me to prepare better: understanding the challenge beforehand allows me to do any research in the scientific literature that I might need to put together a framework for our conversation.
Then when we chat we can discuss anything new that has come up since we emailed, or anything you want to elaborate on what you've already told me, and I'll offer my (research- and respectful parenting-based) ideas for how you can move forward. By the end of the call we'll have articulated the challenge you're facing, discussed the viability of one or more potential approaches to managing the challenge, and we'll probably have laughed a bit too (the problems are real, but finding the humor in them can help us see them in a new light).
After the call I'll send you a recording of the call (if you like, to refer back to later – if you prefer not to be recorded then we won't), along with a one-page summary outlining the new practices to put into action that we discussed.
Usually we can make a significant amount of progress on an issue in one session, but if follow-up sessions are required then I offer a discounted rate.
A 50-minute consult costs $250.
I understand that this is likely an investment for you, but you're not just paying for a single hour of my time.
By the time we meet on the phone I'll have spent 2-3 hours thinking about your challenge and developing research-based ideas to address it, and after we talk I'll spend another hour or two summarizing the conversation and documenting it for you.
I also don't want to turn anyone away for lack of funds.
If my approach to parenting and supporting your child's development resonates with you and you can't afford the full cost of a consult, please drop me an email.
My thanks to those of you who can afford to pay full price, who make it possible for me to discount this service for those who need it.
…therapy (obviously). While I do have a Master's in Psychology, I'm not a licensed Psychologist or Psychiatrist and, as it says on the side of a pack of vitamins, I'm not going to "diagnose, treat, cure, or prevent any disease." If you or your child needs help from a mental health professional, or if you and your partner are facing substantial marital problems, then I would ask you to please seek appropriate support.
What I can do is to offer research-based insights on children's development and on the issues that we often face while parenting, in a way that gives you actionable ideas to implement immediately.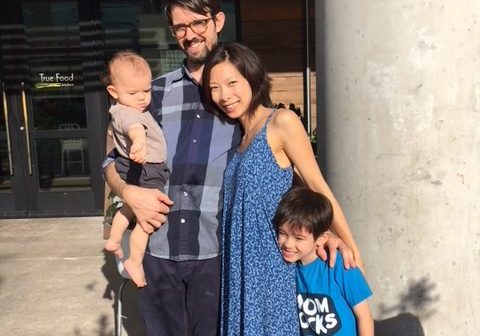 How Jen, helped us.
The coaching session that Jen provided exceeded my expectations.
I went into the consult with an open mind and expected a pretty basic conversation, but she really strived to get to know me, my child, and our relationship in order to address the issues I had brought up.
She had helpful, concrete tips for me, and even provided an amazing "cheat sheet," summarizing the solutions and ideas we talked about.
Having that physical reminder has been extremely helpful in adjusting my perspective and thought process to improve my relationship with my son.
Even after the consult, she has been following up with me to check in on my progress and continues to provide tips and ideas. Thank you Jen!
Mimi S.
If you'd like to talk, just check my calendar using the book now button below, pick an available time that's convenient for you, and send payment for the session via PayPal to jen@yourparentingmojo.com.  Then email me a description of the challenge you're facing and I'll be in touch to confirm everything is in place on my end.
Please note that I do my absolute best to never reschedule an appointment but occasionally things do come up.  If a problem arises on my end, I'll make every attempt to reschedule at your convenience and will offer a refund if I'm not able to do so.  Please try to provide 24 hours' notice if you need to reschedule if at all possible, although I know we're all parents of young children and sometimes they vomit with less than 24 hours' notice.  If you need to reschedule I'll do my best to accommodate you, but do not offer refunds if we're not able to find a time.