191: Parenting Beyond Power launch celebration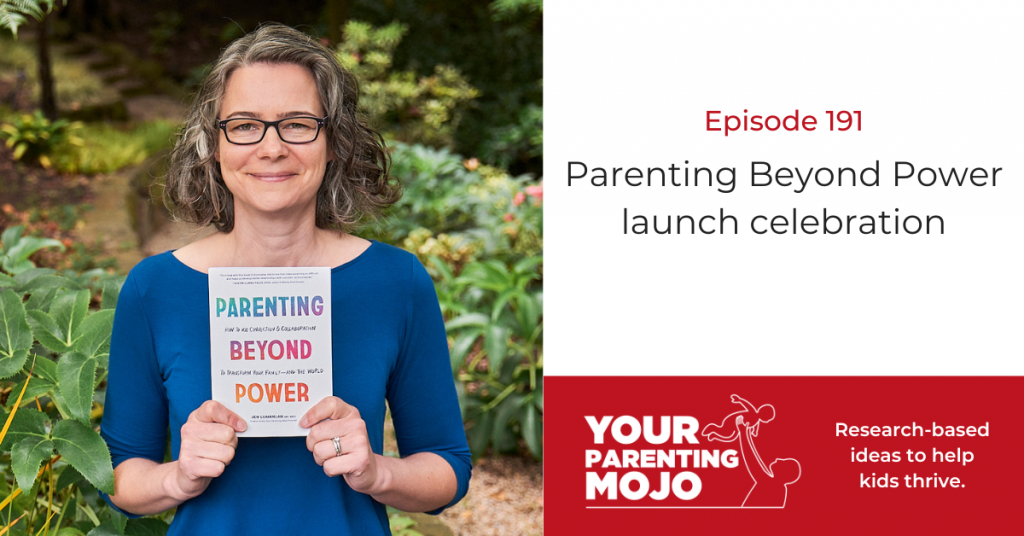 Parenting Beyond Power is officially available today! Come join a mini-celebration with me in this podcast episode, and TODAY on Zoom at 11am Pacific/2pm Eastern/8pm Central Europe, and in-person this weekend if you're in the Bay Area!
Do you celebrate your achievements? I don't know about you, but I find it pretty difficult.
I didn't celebrate getting into Berkeley or Yale, or graduating from either of those places either (in fact, I think I was in the car driving away from each of those places when the graduation ceremonies happened).
I didn't celebrate getting U.S. citizenship, or have a baby shower, and Alvin and Carys buy or make me a birthday cake every year because they want to, but I don't really celebrate that either.
I didn't celebrate signing a book deal two years ago, and when we rolled over 3 million downloads recently I asked someone on my team to make a quick social post…and that was it.
So celebrating the book's launch feels…weird to me. But apparently people who write books do it, so I'm giving it a try – Jen style.
I invited a listener, María José (MJ) Durán, to ask me whatever questions she had about the book and the writing process for a mini-celebration.
(I did slip in a couple of questions for her as well, and I have to say that her response to me asking what she got out of the book was really meaningful for me – she now understands her own Mom in a way she hadn't been able to until now, which has brought María José (MJ) Durán some measure of relief.)
Come join one of our mini-celebrations! Listen to the podcast episode, or join me live today…or both!
Jump to Highlights
00:43   Introduction to today's episode
04:13   What sets Parenting Beyond Power apart for long-time podcast listeners and Parenting Membership members
05:01   What Jen wants to accomplish in writing Parenting Beyond Power
08:56  How the needs cupcake came about
11:38    How Jen came up with the book's title
14:26  María José (MJ) Durán shares a positive change in setting boundaries with her daughter and questions why the same advice, given a year apart, yielded such different results
21:58   How the book addresses common parenting challenges
35:18   Jen's perspective on neurodiversity in the context of the book's approach
41:01   The importance of addressing privilege and White supremacy in parenting
46:10   The feasibility of meeting everyone's needs in society
52:30   Wrapping up
Transcript
Adrian:
Hi, I'm Adrian in suburban Chicagoland and you're listening to the Your Parenting Mojo podcast with Jen Lumanlan. Did you know that Jen's book will be published in August 2023. It's about making parenting easier, and helping us to address some pretty big social challenges at the same time. If you'd like to be notified when Jen comes to a town near you for a book reading, and maybe even bring her to your town for a workshop about the tools in the book, you can do that by visiting YourParentingMojo.com/book. I'm looking forward to seeing her when she comes to Chicago.
María José (MJ) Durán:
Hi, everyone, and welcome to Your Parenting Mojo podcast. And I'm not Jen, my name is MJ or María José. I'm part of the Parenting Membership. And we're here to talk about a Jen's new book Parenting Beyond Power. She came up with this opportunity to interview her about her upcoming book and me being a journalist, I just couldn't really resist. So here we are. Welcome to your own podcast, Jen.
Jen Lumanlan:
Thanks so much María José (MJ) Durán, it's really great to be here with you. And yeah, we will be releasing this on the day the book is published. So it will no longer be upcoming by the time folks hear this. It will be actually released today. So thank you so much. It's when I reached out and asked for some help celebrating the book, it was kind of a difficult ask for me, because I have a really hard time celebrating the things that I've done. So I'm really grateful that you took this on and decided to be here with us today.
María José (MJ) Durán:
Yes, that's very exciting. I think the whole community is going to celebrate with you.
Jen Lumanlan:
Thank you. So maybe do you want to tell us a little bit about who you are and where you are, just to let folks know?
María José (MJ) Durán:
Yes, I am 35 years old, And I am a mother of two children. They're three and a half, and one year old. I'm originally from Spain, which is where I am right now. But I live in San Diego, California. And I've been in the Parenting Membership for a year, which has helped me tremendously to parent in a way that aligns with my values. And I think that about covers it. I'm a journalist by trade. I've been in this field for 20 years now. And until very recently, I worked for corporate local news. Right now I'm a freelance writer.
Jen Lumanlan:
Awesome. Thanks so much. So why did you want to do this? Why did you want to read the book and and celebrate with me today?
María José (MJ) Durán:
Well, I mean, that's a good question. I just like when I saw your email requesting somebody to to write about this, I was just like, "Ah, It has to be me." Yeah, I have that kick, like, oh, I have to do it and I just like really quickly sent a pitch. I was about to get in a plane to come here. So I just like quickly threw it together. And I was like, I hope she says "yes". So it was just like a very deep in my belly excited that I guess that I don't have like a logical reason for.
Jen Lumanlan:
Some amazing questions you wanted to ask me. Me, I can't believe that. So you'll see that it's hard for me to get out of the mode of asking questions. So I'm just going to zip it. So that you can ask me what it is that you want to ask me?
María José (MJ) Durán:
Yes, perfect. Okay, so just for the sake of the discussion, I just want to let everybody know that I have read the book. I did speed read through a lot of it, because there wasn't that much time. And I'm already, you know, I already know a lot of the concepts and a lot of it, I already knew there were some very new things. And I think what I really, really appreciate about it is the way that you put it all together in a way that it's taken me like a whole year in the Parenting Membership to kind of connect all those dots in such a meaningful way.
Jen Lumanlan:
Now, I'm going to do exactly what I said I wouldn't do. And I'm gonna ask you one more question. Because I think that that people who have listened to the show for a long time, right, we have people who have listened to every single episode, who may be already in the Parenting Membership, they might be thinking, why do I need this book? And so I'm wondering, can you tell me what was different about this, given that you've listened to a number of episodes that you are in the membership? What did you get out of this that you didn't get out of those things?
María José (MJ) Durán:
Yeah, like, like I said, it's just a way of closing the circle of so many concepts that sometimes we go so deep into them when we're in a single podcast, when we're in the membership in the modules, right? Like the modules go really deep, which I I truly, truly appreciate the depth of knowledge and research that you do. But at the same time, this book just kind of pulls it all together in a way that you finish reading it and you're like, oh, gosh, you know, like, thank God somebody just like told it to me like that.
Jen Lumanlan:
I'm glad that it felt like a complete package. That was definitely my goal. So all right, okay, now.
María José (MJ) Durán:
Okay, so, that was my first question, actually. What did you want to accomplish writing this book?
Jen Lumanlan:
Yeah, I mean, I think that that was a big part of it right. So I'm, I came through. I think this really kind of started from the journey that I began on the podcast several years ago when I was exploring the intersection of race and parenting, and looks at capitalism and looked at patriarchy. And I was seeing all this stuff out in the world. And I was exploring these huge ideas on the podcast. And then in the membership community, the parents are still struggling with the same old stuff, right? It's the how do I get my kid to brush their teeth in the morning? And get out the door? And stop hitting their sibling? And just get in the bath? And get into bed?
Jen Lumanlan:
And then it was just, I think I didn't even realize it until afterwards, that it just seemed like I was on these two parallel paths with the podcast and with helping folks in the community. And then I don't even remember, there was no precise moment that it happened. But eventually, I realized these are not two parallel paths. These are connected like this, right? They're just fingers interlinked. And so I'm seeing that connection between the ways that we interact with our children on an every day basis, on things that don't look like they're about race, right? This seems like it's a conversation about discipline, and actually, this fits within a framework of White supremacy, patriarchy and capitalism, which are these massive social forces that shape every aspect of our culture. And what I realized was that our parents looked out into the world and they saw these social forces, either implicitly or explicitly, and they said, "I want you to be successful in the world, and you are not going to be successful if you are presenting yourself as you are. You are too big, you are too loud, you are too much. And so you better put all that in a box, and pretend it doesn't exist. And then when you can do that successfully enough, I will reward you with the longing in our family. And then I will know that you are going to be successful in the world.
Jen Lumanlan:
And I just saw that their parents had been hurting so much because of that process. And that we do what has been modeled for us, right. We interact with our children in the way that our parents interacted with us. And so if we don't make a conscious decision to do something differently, we're going to just end up repeating the cycle. And so what I wanted to do was to tie those ideas together for people, and then kind of take the next step and say, okay, yes, if we're on the same page about that, what do I actually do differently in the moment when my kid is refusing to get in the car seat? And so most of the book focuses on those things.
Jen Lumanlan:
And I guess I just want to kind of wrap up that point by saying, this is not a book about talking with your kids about race, right? This is this is about these interactions that don't seem like they are about White supremacy, patriarchy, capitalism, but they really are. And that's not to say that talking with your kids about race and doing anti-racist work is not important. It is important. And there are lots and lots of books already out there on that. But if we're talking with our kids about race, and then we're forcing them to get in the car seat, then ultimately what they're learning is that a more powerful person can use their power to get a less powerful person to do what they want. And so they may hear our words and tune them out, they may stop hearing our words, the ultimate lesson they're taking is this lesson about power.
María José (MJ) Durán:
Yeah, thank you so much for that answer. And we kind of agreed that we were going to take it easy at the beginning. But you know, Jen, she just jumped right into the deep stuff. So I'm going to pull her back in. And I want to ask you about one of the things in the book that I, were the newest to me. And that's not to say is the first time that you talked about it, but it was new to me, which is the needs cupcake. And I wanted to ask you about how you came up with that idea. So funny.
Jen Lumanlan:
Yeah, that was a late arrival in the book in the last last few weeks of figuring out how it all fit together. And yeah, so the cupcakes are this idea that I wanted a visual representation for the idea that we very often have the same needs over and over again. And our children often have the same needs over And over again. And I know that when parents are new to understanding what is the need behind my child's behavior, which ultimately is what a lot of the book is about is what is my need? Why why am I so attached to this one strategy that I'm trying to get my child to do? What is my real need underneath that? And why is my child so attached to the strategy? What is the real need underneath that? When we're thinking about those needs very, very often we're thinking about trying to meet one of a very few needs on a regular basis. And so for a lot of young children that might be something like connection, autonomy for some children sensory issues are going to be super, super important, always, always, always there, those needs are going to be the ones that are trying to me over and over again.
Jen Lumanlan:
And so I was trying to think of this visual way to represent a few needs at the top, and then maybe a few more needs underneath that. And then all of the other potential needs, we can kind of consider later. And I realized that we could kind of use this cherry on top of the cupcake to represent the needs that they're trying to be first and then the frosting. And originally it was icing, but you know, from England, I think is I think sort of flat in the state of frosting is a good inch thick, if it's appropriate. And then underneath that, you have the rest of the cupcake, which is, you know, all of the other potential needs we could be considering. So it was it was the only visual kind of metaphor I could think of, because I'm not really a visual thinker, right? I'm a very verbal processor. But it was the only visual metaphor I can think of that sort of encompasses this, go to the gears with a few first and then the next few, and then everything else after that. And of course, it fits fairly well with children as well.
María José (MJ) Durán:
Got it. I thought it was a really good addition to all the other really good theories in there. And also, you know, for for anybody that is not in the publishing industry, they don't know a lot about why writing a book and publishing it means which I know it's huge, huge effort. And I really thank you for taking this on. Because because I know how hard it is I just really quickly wanted to ask you what, what are some of the pitfalls? What did you hate the most about that?
Jen Lumanlan:
I hate the most?
María José (MJ) Durán:
You don't want to do.
Jen Lumanlan:
I would say coming up with a title was pretty painful. Okay. It turns out that it's hard to say White supremacy, patriarchy, and capitalism, and it's about parenting in 15 words or fewer in a way that's really inviting and welcoming and wants to draw you, you know, makes people want to come into it. And that isn't already taken. And yeah, it took us I mean, I was thinking about titles, well, before I started writing the book. And there were a lot of rejected titles. For a long time, the the working title was The Undisciplined Child. And which I thought worked really well as sort of a pun, right? Because we're not talking about discipline, or disciplining our child. And eventually I think it got rejected, because we imagined parents walking into a bookstore and seeing a book called The Undisciplined Child. And we wanted people to have this reaction like, yes, I want that to move towards that. And of course, the initial reaction to The Undisciplined Child is, "I don't want that."
Jen Lumanlan:
So we were worried that the initial sort of pushing away rejection wouldn't be enough for them to kind of overcome that and then feel curious and want to be drawn into the book. So we ended up rejecting that, but yeah, there was also no discipline, no peace. So N O Discipline, K N O W P rejected that because it doesn't work in a in a verbal format, right? I just had to explain it to you to have it make sense. And because I'm a podcaster, and say it all the time, we wanted something that made sort of sense as you were speaking it and hearing it as well as when you were reading it. So there was this book will make parenting easier, and might also change the world, which I really liked. But there's a group of parents who have been helping me with so many aspects of the book, and they said, you know, coming from you and knowing you, I believe it. But if it was, if I didn't know you, I would just think you're over promising. And so of course, we're hoping to reach people who have never heard of me before and who were completely new to this work. And so we just decided that that was that was not going to work either. So yeah.
Jen Lumanlan:
So the title that we got Parenting Beyond Power actually was a gift from listener Brian, who co-interviewed Carol Gilligan for us a couple of years ago. Now, he had already written a blog post about it and said, "Why didn't you use that?" And I said, "Really?" So we ended up thinking that that was probably the best title that we could come up with. And by then we were massively late on designing the cover, because you can't design the cover until you've got a title. And so that process was extremely rushed and extremely stressful. And so that I would say that was the hardest part of the whole thing.
María José (MJ) Durán:
Well, thank you for sharing that. So for the next part of the interview, which we pre-agreed that you know, we're gonna get into some deeper questions. And like Jen does a lot in the podcast, I wanted to show an example for my own life to to kind of see Jen's reaction in and see how will she answer my next questions considering this, okay. And as you know me a little bit well at this point, because I've been in your membership for a year and you know that one of the things that I've struggled the most in the past year with my three and a half year old daughter has been breastfeeding, which till the day of today, we are still breastfeeding. I am tandem breastfeeding both kids. And for a while it was the case that whenever she had a big feelings episode, she just wanted the breast. And she would cry, cry, cry, cry, cry, okay. And I remember one of our first coaching calls together, probably when I took tenure triggers over a year ago, and you you gave me this advice, which was okay, you have to stop giving it to her when she is having a big feelings episode, because you might be enticing those big feelings. And I accepted that advice. And I did that. And for a long time, I stopped giving it to her when she had those big feeling episodes, okay, and the big feelings did not get any less than they were at the time, I have to say. And it was months and months and months later, when I had to be alone with both of my kids for many, many hours. And I made the decision that you know, that advice was no longer serving me and I started giving her the breast when she had the big feelings. And then it was maybe weeks or months of doing that. And other things were going on in the background as well, it was it was coming to a year of being in the membership. And a lot of those dots that we're talking about, were connecting for me. And for my family. And we were making like real progress with with we call it the needs thing.
María José (MJ) Durán:
And one day, my daughter had those really big feelings, And I decided that it was time to not give her the breasts anymore. And that time it really worked. I was able to hold that boundary lovingly and not make any judgments of her. And you know, within a few days, the big feelings kind of like started to to be to become less and less, go from like one hour to 10 minutes, which is big difference. And yeah, so my first question is, why do you think the same advice that you gave to me one year difference have such profoundly different effects?
Jen Lumanlan:
Hmm. Okay, so I guess firstly, I was I actually don't remember the exact conversation, which is unusual. Often often I do remember having a previous conversation with somebody. I'm assuming that it my advice was not just to stop doing it, but to look for her needs, right? What is the underlying need to express here, and it's probably you know, I'm looking for a connection with you, I'm looking for comfort, I'm looking for safety. And to look for other ways to meet those needs that right now. The only strategy she is willing to use is nursing. And there are other ways that we can meet those needs, right. We can come in close for a hug, if she's willing to accept that there are lots of different ways to meet those needs for comfort and safety and connection. So it wasn't, I just want to be sure if people are not what I heard what I'm receiving, when you said that was you know, cut it off cold turkey. You're done. If there's no other option. You're just not nursing anymore. And that's not what we're doing right, we're looking to understand the need underneath why the child is doing this thing.
Jen Lumanlan:
And in terms of why it "worked" the second time and not the first time, I guess I would see two potential reasons. One of which is she's a year older. She has a year more brain development, you've been talking about needs for a year. She is more accustomed to looking for other strategies that can meet her needs. Right? There's so much there. That is possible. And I don't know how much of that is showing up. But I would say it's a distinct possibility. And then I think the second aspect of it is your mental state, right? If you are feeling very ambivalent about whether cutting off nursing is the right thing for you and for her, then you're going to transmit that to her. Your words might be saying we're done with nursing, but your body language, your tone of voice may be saying I'm really not sure about this. And so she's probably very able to pick up on that. And so she just thinks, Well, you know, then then I'm going to keep asking for it. Because clearly my parents not sure about this.
Jen Lumanlan:
Whereas it seemed as though the first time I guess it seemed like you were saying it, Jen told me to say this, so I'm going to try saying it and see if it works because I really want these meltdowns to stop. Whereas the second time you had made a decision in your mind, right? You're like, this is the time this is the time that feels right for me. And your nonverbal communication said that to her. And so that transition looked very different than the second time around. So those would be my two hypotheses about how that worked out. What do you think?
María José (MJ) Durán:
Yes, I think you're right. The part of she wasn't ready, and I wasn't ready a year ago. And now we were ready to take that step together. And just to clarify, we didn't stop nursing altogether, just stop nursing during big feelings. But yeah, so in that same notes, I think one of the one of the common themes that we're talking about here is the parents that are reading the books, know the advice, they follow all the Instagram accounts of gentle parenting, we know the scripts, and we still cannot do it. We're in the moment, and we are parenting in ways that aren't aligned with our values. We are yelling, our kids were doing things that we know are not good. Why is that? And how is your book going to change that?
Jen Lumanlan:
Yeah, so in a way, I think it would be really weird if we were very quickly able to transition from using the same tools that our parents used with us, and that they modeled for many, many, many, many years with us to a completely different way of interacting with our children based on seeing some memes on Instagram. Right, it would be very strange to be able to make that shift very quickly. And so I think that this also speaks to the idea that, that we have in our culture, that if you just know how to do something differently, you should be able to do it differently. And everything that is valuable and worthwhile happens up in your head. And really, there's nothing else going on in the rest of your body. And so all you need is knowledge. And once you have that knowledge, you'll just be able to apply it. And of course, what we find is that in those difficult moments, we end up just repeating the same thing that our parents did with us, because that was modeled for so long.
Jen Lumanlan:
And so I think the the challenges that I see parents having most of all sort of fall into alignment with the major tools in the book. And there's a few major challenges with each of the tools. And I'll just I guess I'll just talk through one of each of them. And if you are interested in hearing about more of them, there's actually a How To videos available when you buy the book, if you go and upload your receipt on YourParentingMojo.com/book, you get immediate access to a whole bunch of how to videos super, super short, to help you overcome some of these challenges that I see that parents have over and over again. But when we're when we're going into these conversations, and we're trying to come into them from a non-judgmental perspective, right, because if I say, you know, MJ your room's a mess. How does that feel? Right? Does it does that make you want to come towards me and help clean it up? What do you think if I said that to you?
María José (MJ) Durán:
But you saw my room?
Jen Lumanlan:
Does it make you want to clean it up?
María José (MJ) Durán:
No, definitely not.
Jen Lumanlan:
Not really. Yeah, yeah. And and so when we come into these interactions with that judgmental statement, essentially what we're doing is shaming our child. And that language comes out of our mouth, because it's the same language our parents used with us. And so when we can shift away from that shaming language into this more non-judgmental language, and there's the starter scripts in the book and available for download, as well, for sort of printables, when you buy the book and upload your receipt, I can't script out the entire conversation for you, because I don't know what your feelings are, what your child's feelings are, what their needs are, what your needs are. But what I can do is offer these little starter scripts that just give you a few words at the beginning of a sentence, and then you can go from there. So instead of, you know, your room is such a mess, I see some toys on the floor. So from there where our child is not getting this immediate shame, you know, you should be ashamed of how you're feeling of what's happening right now and the situation in your room. So I think that's that's the first point on sort of the non- judgmental observation side. On the field of
María José (MJ) Durán:
I'm sorry to interrupt you. Because yeah, you know that if you're focusing on how the child is feeling with his judgment, right, but how do you stop yourself from doing this judgment? Because you're seeing a mess in your kid's room? And you just go to say, oh, no, it's a mess.
Jen Lumanlan:
Yeah, so I'm taking you back to Taming Your Triggers now, right. So so what we're doing there is we're working to create a pause. So that right now it may seem as though there's a there's your child's behavior that is really irritating to you, and there's your reaction. And those two things are just so tightly together, there's no space in between them. And so what we're working towards is creating that pause, is taking a breath and in the in the beginning it may seem like there's there's no time to take a breath. There's difficult behavior. There's my reaction and there was no there was no breath possible. When we focus on this, when we offer ourselves compassion for not being able to get it right the first time or the third time or the 15th time, instead of beating ourselves up, because we know this, so why can't we do it, then we find that we can create that pause, make it a little bit wider, make it long enough to take a breath. That's where we find the ability to be able to say something that's aligned with our values to say, "I see toys on the floor" instead of, "This room is a mess." Yeah.
María José (MJ) Durán:
Do you think that forgiving our parents for what happened to us during our childhood has anything to do with being able to do that process, that path?
Jen Lumanlan:
It can, it can, I would say it's not an essential critical thing that if you can't forgive your parents, you're never going to find the pause. I don't think there's that one to one correlation. But I definitely have seen parents who, when they can forgive their parents are somehow able to put down an enormous amount of weight that they've been carrying for a very long time, and to not have that influence every interaction that they're having with their child in the way that it had. So I definitely think it can help. But I don't think it's a requirement.
Jen Lumanlan:
So when we're looking at feelings, what I see parents often doing is okay, I understand your feelings, and so now I'm going to tell you what the solution is. We're on the same page, we're feeling good, I understand. And I'm gonna jump right over needs and try to address the strategy that's going to fix this situation. And when we skip over that needs step, we're missing the most important step. So we need to understand what how each other are feeling so that we can truly empathize with the other person. And be on the same page and understand, yes, this is really important to you. And it's really important to me as well.
Jen Lumanlan:
But then we have to understand what our needs are. And I know that there's sort of a very common phrase in respectful parenting right now all behavior is communication. And I hear parents saying, yes, all behavior is communication, of what? What is it trying to tell me? When my child is hitting me out of nowhere, and my child is doing these mysterious things. And so I actually created a quiz to help parents figure that out at YourParentingMojo.com/quiz, if you just go through 10 Simple questions, it will guide you toward one of the most common needs that I see children have over and over again. Because if you don't understand what the child's need is, and what your need is,as well, the strategy that you come up with is not going to "work" because it doesn't meet the both people's needs.
Jen Lumanlan:
And so that's that's kind of the challenge with the strategies is when we, we jump right to a strategy, oh, I think this is this is the way we're going to do it. And the child agrees to it in the moment, because they don't know what else to do. They're not used to identifying needs, and then you come back around to the situation again, and it "doesn't work." They don't do the thing, because it doesn't meet their needs. So we have to address these these underlying needs to be able to find the strategies that meet both of our needs. And I think the most critical point on the strategies is, we aren't looking for solutions to challenges like you know what to do when you feel like hitting your sibling, which is where a lot of parents immediately go with this strategy has to fix this behavior that I don't want to happen anymore. What we're instead looking at is why is this child hitting their sibling? Are they feeling disconnected from us, and they want to feel more connected, and they're hitting their sibling because they know they're going to get your attention when they hit their sibling.
Jen Lumanlan:
And if we can address it at that level, then we will probably find that the hitting decreases without us having to convince the child to stop hitting, or, you know, give them something else to do when they feel like hitting which very often they they're too young to be able to actually use those those different strategies anyway. So. So yeah, those are the some of the most common challenges that I see in parents there. There are others and those are available. I'll walk through each of those in the How To videos.
María José (MJ) Durán:
Okay, thank you for that, because I'm going to connect right to that. Because one thing that I see in our membership right now, and I'm thinking about, you know, my own example with breastfeeding or member D and her struggles with connection with her child. We know the needs thing, you know, at this point. We know how to look for the needs. We have had the problem-solving conversation with our kids so many times. Everybody knows this is the point where of conflict, and they are still so attached to their favorite strategy that we can't move forward. The collaboration is not happening the way it should what goes after that.
Jen Lumanlan:
Mm hmm. Yeah. So I think what's often happening here when both the adult and the child get attached to one strategy is that we're we may not have identified the real need underneath it, right? That we are so attached to, this is the thing I want to have happen. Like I'm gonna, I'm guessing nursing is the thing for you, right? For your child is whatever's happening, nursing is the thing that's going to fix this. And I'm not open to any other potential solutions. And for us, we can get, we can get in these these patterns as well, right? That bedtime has to roll out in this certain way. And I'm not open to any other way of doing it. And so when we do get stuck in these patterns, it can be very difficult for us to consider that at three and a half your child's need is not for breastfeeding. It's just not it's for connection, for safety, for comfort. When I'm trying to think you know, how do I get my child into bed? My need is not to get my child into bed. My need is for something like rest for myself, maybe my own enjoyment. I want entertainment. Maybe I want learning, right. I want to do some reading about topics that I'm really interested in.
Jen Lumanlan:
So those are my needs. My need is not to get my child into bed. And so when it seems as though we can't get out of this conflict, where the conflict is usually at the level of strategies. And if we can get underneath and see what is the real need, we can almost always find multiple ways to meet that need. So in the case of nursing, we would be looking for other ways that our child can feel that comfort and safety and closeness with us that they want to feel. And for us we're looking at, okay, well, how can I feel more rested in the evenings, that in a way that maybe doesn't require my child to be in bed and staying in bed and be silent? There are many other ways that I can do that.
Jen Lumanlan:
So that would be the first thing that I would do is maybe to try and identify 10 strategies that can meet each of our needs in these scenarios, just to see, this is not the one and only way that I can bet I can meet this need. And then yes, there will be a few times and I would say it's a very few times that we cannot find a strategy that meets everybody's need. And in that case, we're going to set a boundary. We're gonna say, I'm so sorry that I don't see a way right now to meet both of our needs. And right now I'm going to prioritize my need. And I'm going to say that I'm not willing to do this, and I'm going to set a boundary. And if most of the time, we are able to find strategies that meet both of our needs, I don't think it's necessarily a problem to set that boundary, right. Because when we were growing up, we were not allowed to set boundaries. So it was not okay. And anyone who set a boundary was rejecting us. It was not just you know, this is not okay for me right now, because it doesn't meet my need is, I am rejecting you as a person, is what we were taught that boundaries mean. So boundaries can be very difficult for us to set. But if we can see that all a boundary is is saying I cannot see a way that this can meet my need right now. And I'm not willing to do X.
Jen Lumanlan:
What that does is it says you know, what the parents need is just as important as the child's and I think that that is so important and so overlooked in most parenting books, right? Most respectful parenting books are about how can I have give my child this amazing experience and not repeat the hurts that I was raised with. And it's all about the child's experience. And what I'm saying is the child's experience is absolutely important. And it's 50% of what's important. And the other 50% Is your experience as a person And as a parent, And that you deserve to have your needs met as well. And we can find ways to do that, to meet both of our needs most of the time. And when we can't, it is okay to set a boundary. It is okay to say this doesn't meet my needs right now. And I'm mourn that with you, right? I mourn that loss of not being able to meet both of our needs. And if I see a way if we can come up with a way that can meet both of our needs, I'm absolutely willing to consider it. Right now I'm going to set a boundary. How does that resonate with you?
María José (MJ) Durán:
Going back to my example of breastfeeding in moments of big feelings, what we've come to realize is that the need for my daughter was to feel safe in her body. And my need was a need for autonomy. So one thing that helped tremendously was me knowing that I was going to get my need for autonomy met later on in the day when I was going to go on my daily walk 30 minutes after after dinner, And that helped tremendously. And also, you know, studying a little bit about PDA, which is pathological demand avoidance. And I'm not saying my daughter has that or that anybody's kid has that or anything like that by just kind of looking through the lens of accommodating our kids when they're having these near Bernau experiences. And just kind of realizing that she didn't feel safe in her buddy in those moments, that helped me tremendously to see this issue between us in in a different way. And I also wanted to ask you about neurodiversity. And you do such a great job in the book, talking about some of the different cases and how your approaches may be relating to those. And as a person with autism yourself, I wanted to ask you how you saw this, and how it plays out in your book.
Jen Lumanlan:
Yeah. And before we go there, I just want to say when a beautiful example of getting out of the strategy is conflict, right, that you are able to see, okay, I have a need for autonomy. And there are multiple ways I can meet my need for autonomy. And one of those is that I can go for a walk by myself. And that's in a completely different interaction than the child having big feelings, right? So you get out of the nursing or not nursing, right, that the strategy conflict. And nothing about that situation change, nothing about your child asking for nursing when she's having a hard time changed. But your perspective changed, your ability to see I have other ways to meet my needs changed. And that changed how you were able to show up for her. Right? That's, that's really cool. So thank you so much for that illustration, because I think it really helps us to get out of that strategy conflict when we can see, okay, yes, this is my need. And here are some other ways I can meet my need. And it doesn't have to be in that moment. If I can make this decision for myself later on tonight, and I can take a walk, I know I'm going to be able to resource myself then. And I and I can cope in this moment. I can cope with nursing in this moment if I know that that's coming, right. That resourcing of ourselves is really important, and can help us to do things in our relationship with our child that otherwise it may seem as though we can't do so. Thank you for that first before, before we go into neurodivergence.
Jen Lumanlan:
And I think that these methods fit really well with working with neurodivergent children, because so much of the sort of traditional approaches to parenting neurodivergent children are trying to get them to change their behavior, to meet our needs, to make our lives easier. And you're so so much of therapy for autistic children, particularly for other children as well is focused on what is considered appropriate, normal, acceptable in our society. What is the correct amount of eye contact with a child should be making an interaction? How should they be able to meet another person and introduce themselves? And instead of training the child to have these particular interactions with people, what we're saying is why is the child doing these things? What need is the child trying to meet and working with them to help them meet their need, so that maybe a child is bouncing off the walls in the classroom, in preschool? Or in school? Why are they doing that? Right? It's not to be irritating. The solution is not to how do we train the child to sit in their chair? But how can we help the child so that they can have their need for movement or safety or whatever is happening in that situation met and also meet the teacher's need? And the the other children in the classroom needs, right? We're not talking about, you know, this kid is going to rule the classroom and everybody else is everybody else's experience doesn't count. We're saying how can we meet this child's need and meet everybody else's needs as well.
Jen Lumanlan:
So so from a child's perspective, it absolutely absolutely fits, I totally get that some of these tools can be harder to use when the parent is neurodivergent. And so I have some examples in the book from parents who, who are neurodivergent, many of them are in the membership and agreed to allow me to share their stories in the book. And so you know, when the parent is struggling with executive function challenges, it's more difficult to remember to do things, it's more difficult to plan to do things. And so they can do things like setting alarms, And putting sticky notes up around the house and asking for help to resource themselves so that they can be in these interactions in a way that's aligned with their values. And I think one idea that is really helpful in this actually came from a parent who's in the book and who said, "When I don't have to do these things perfectly every time when I do it, not perfectly, but consistently, things get better things get easier."
María José (MJ) Durán:
Yeah, what was the missing in that parents in there? I appreciate it. That's so much. And I'm sure there's, you know, other books that cover this more deeply. And, and they're out there for whoever needs to read them. But thank you so much for including that perspective, that really meant a lot. And you know, bringing up kind of the elephant in the room about racism and White supremacy and you go into this in the book as well. But I think it's so important to to kind of acknowledge our privilege as White women in in this parenting world of trying to get to a society where White supremacy is no longer a thing and we're still, you know, you are a White person telling kind of everybody else what to do. So how do you go about that?
Jen Lumanlan:
I love that you brought this up as a question. And firstly, I just want to turn it back around and say, how did it feel to you to ask that question? Is it scary to ask that question?
MJ:
It's not scary, because I have thought very deeply about my relationship with race. And it's something that I have to acknowledge as a person from Spain that lives in really close contact with a lot of Latin American people. And I have lived in Chile for two years. And I have come to, you know, to terms with the fact that yes, I have privilege, I come from a privileged place. And also the things that happen in the past, were not my fault. And that doesn't mean that I can't do what I can to help what the situation is now and to make things right. And I think we've come from a similar perspective. So no, it's not scary for me. I, I've thought through.
Jen Lumanlan:
Yeah, I think there, there are a lot of parents for whom bringing up the idea of privilege and White supremacy is super, super scary, which is sort of our culture's way of saying it's not okay to talk about this stuff. Let's just pretend it doesn't exist. And so the more we can talk about it, the more we can think about our role in it, the less scary, it seems it becomes right? And so I think, yes, this is absolutely a big elephant in, I don't know, a bigger small room, I'm not even sure. But there's a long history of White women, telling other people how to parent. And so the way that I think about that is that we have to take the lead on this from Black people, particularly from Black women. And Black women have been telling privilege and White people for a long time to do our own work, right, that they are tired of telling us what to do. And so there are lots of books out there already on how to talk with your child about race on how to do anti-racist work. And I have never seen a book on how to interact with our children in those moments that it doesn't seem like we're talking about race, that seem like they're about discipline. And to do that, from a perspective of this is how our children are learning about power. Even if we're not explicitly saying right now I am teaching you about power, I'm teaching you about race. That is what we're doing are teaching our children how to show up in relationships with other people. And so this book is really for primarily for white and privileged parents. But it's not exclusively for White privilege, parents, I think it's it's really for anyone who recognizes that they have been hurt in these systems, and also that they have some degree of privilege in these systems, and that they want to work to dismantle that.
Jen Lumanlan:
And so of course, that has to go along with talking with our children about race and doing work to dismantle White supremacy. And that some of the ways we can do that include not just advocating for things that only benefit our child. So if we're coming to a school where we have much more privilege than the vast majority of other parents and children, if we are advocating for things like Japanese classes, because we want our child to learn Japanese, because it would be a really useful skill. And the other parents don't necessarily see the utility and the value of that, then that would be an example of us using our privilege to if the head teacher is gonna listen to us, because we're White, and we're going to kick up a fuss if we don't get what we want.
Jen Lumanlan:
Then the sort of an example of opportunity hoarding. So instead, being in relationships with BIPOC people, you know, also not coming at this from perspective of I know what's best for you, and I'm going to advocate for this for you. If we are in relationships with BIPOC people and working on these things with them, rather than for them, then we will be doing anti-racist work. And of course, if we're doing the anti-racist work, and then we're going home and forcing our child to brush their teeth, we're still teaching that lesson about power. So I see the two pieces is critical, the doing the anti-racist work on one side, and then the, you know, how are we in relationship with our children on the other and then the two of them fit together.
María José (MJ) Durán:
Yes, so, so important. And also, I think, reading that in your book, one thing that made me realize and one thing that I live with, right is the parts of me that are privileged and the parts of me that are less privileged, right, we all hold those. And one of those is that yes, I am White, I come from Spain, but I also present as Hispanic. My name is Hispanic, Maria Jose so I that's that's how I present to society. So in that sense, I have less privilege, right as a presenting Latino or Hispanic woman. And there's one thing that happens to me a lot when I'm in a park or when I'm meeting new parents and and they realize White parents realize that I'm speaking Spanish to my kids. And they all get this look of like, Oh, she's speaking Spanish to my kid. I see an opportunity to give my kid a better opportunity, right, to be better in the system. Because if I make friends with this parent, they might hear more Spanish and Spanish may be better for them in the future, right? And it's like, okay, I get that. But you know, I speak Spanish to my kids, because my parents don't speak English. And I need for my kids to speak Spanish.
Jen Lumanlan:
Yep.
María José (MJ) Durán:
So that they can understand their grandparents. You want your kids to speak Spanish, because you want to give them an advantage in this capitalist, White supremacist patriarchy that we live in. And that just came to me when I was reading the book. And thank you for for acknowledging that for us. And similarly, I just wanted to go into you know, the the society that we live in the patriarchy, the White supremacy, and the capitalism, is it possible for us to meet everybody's needs in our families in this society, when we live so far away from our families? When we're so isolated? Is it really?
Jen Lumanlan:
Is it possible to meet everybody's needs? I, I, I don't know the answer that question. I think in our society, right now, we're not very close to that, right. It might be possible that we could meet more of privileged people's needs, and that that would come at the expense of meeting fewer of everybody else's needs. And sort of that that's what I'm working against, is that privileged people end up getting more and more of their needs met. And the pain, the violence, everything else that comes with meeting only privileged people's needs, gets outsourced to everybody else. And Tyson Yonka Porta writes in and talk about how if we're not experiencing violence in our day to day lives, you know, sort of low level manageable way, then that violence is being outsourced to other countries, where minerals are being extracted for our benefit for our iPhones and all the rest of it, where colonization happened. And, you know, we left a real mess there.
Jen Lumanlan:
And so I what I'm working towards is that when we raise children, who understand what their needs are, and understand what another person's needs are, and can find strategies to meet both of their needs, that they will take this out into the world. And we're already seeing this with parents who have been practicing this, that their children go out and have relationships with other children with other people, where they're not just looking at this weird behavior and saying, you know, why are you doing that strange thing? It's "What need do you have right now? What needs do I have right now? And how can we meet both of those needs?" And when enough people believe that I don't believe that White supremacy, patriarchy, and capitalism can really exist, because all of those ideas rests on the fact that my needs are more important than everybody else's. And so if we can instead perceive everybody else's needs as just as important as our own, then I think we will have gone a long way toward if not actually dismantle those systems. Is that going to happen in my lifetime? I don't know. Is it going to happen in my daughter's lifetime? I don't know.
Jen Lumanlan:
And I think the quote comes to mind, you know, "The true meaning of life is to plant trees, under whose shade you do not expect to sit." And I've never been able to find the source for that there's some people say it's an author called Nathan Henderson, I've also seen it's part of an Indian proverb. So wherever it comes from, I don't think that we're necessarily going to see the full blossoming of this in our lifetimes.
Jen Lumanlan:
And I would also say there's a whole other group of people who say, the way that we are thinking about the world is kind of messed up, and that patriarchy has value. And that it comes from God, and God has a plan for us. And we need to live according to that plan. And so anything that you and I, María José (MJ) Durán are doing to dismantle that is not in service of how the world should be. But for those of us who do believe this, I think the more that we can embed this into the way our family works into the way our children interact with others, the more we're going to work towards a world where care for others where fairness is seen as a good thing is the way that we should be in relationships with others. And to me that that's where we want to be going. And I acknowledge that there are other people who have very different opinions about that. But if this is truly fundamental to how we want to be in relationships with others, then I think this is getting us in that direction. And it may not happen in our lifetimes or in our children's lifetimes. But I also don't think that's a reason to not do it.
María José (MJ) Durán:
Well, so so well said. Both are all my questions. I'm really happy that we got to cover all of them, And
Jen Lumanlan:
That almost never happens to me, I always have different questions. Really well. So thank you so much for thank you so much in advance, I wonder, is there kind of one major thing that you took out of the book that you want to share with parents that you're like, if you want a reason to get into this, this is the reason why you should do it. What's an idea that you took out of the book that it really, really resonated for you?
María José (MJ) Durán:
One thing that has come to me reading your book that I will forever be grateful is understanding my mother and why she did the things she did in her lifetime, how my matriarchal line, which comes from a very rural, patriarchal society, where where abuse was very, very present, how she was running away from that and ending her running away from it, she had to embrace capitalism. And I'm very, very grateful for her to to get us out, right of that abuse and stopping, stopping that generational trauma for us. But in doing that, she took on capitalism in such like a happy go lucky way, you know, with perfectionism with a lot of image issues with all really all the baggage that capitalism can have for women. And in your book, really put it in front of my eyes in a way that has been incredibly beneficial for me to go a little step further and forgiving her in giving me the opportunity to create that pause to be the parent that I want to be.
Jen Lumanlan:
Wow. I had no idea that was that was going to be the thing that makes me feel so happy. And so proud of the book and of what it took to write it. Because I think that if folks get things like that out of it, and can see not just conceptually, right, we know our parents were doing the best they could with the with the tools that they had, but really to take that on in our bodies. And to know, they absolutely, really were struggling against all of the same social forces. And really, at the same time, as they were doing these things, that meant that we had such a hard time, right, that they created trauma in us that they really, really weren't doing their absolute very best.
Jen Lumanlan:
I think that's where forgiveness can come from, and that you alluded to earlier. And that it's not a again, it's not a requirement, but that it can open up some space and some possibilities for us to be in relationship differently with our parents if they're still around and with our children as well. So and so that the healing that you're doing through that work is going to show up in your ability to be with your children in a different way. And to find strategies to these, what seems like conflict of needs that are actually a conflict of strategies is going to create the space for you to do that. So that's so exciting to me. And I'm so glad that I'm gonna get to see this process happen because we get to interact often. So thank you so much for doing this María José (MJ) Durán. That was a real privilege and an honor to have you read the book and to get so much out of it. So thanks for being here with us today.
María José (MJ) Durán:
Yeah, thank you for the opportunity And for writing the book.
Adrian:
Don't forget that John's book will be out in August and will help make parenting easier. If you want to be notified about book readings near you or maybe bringing Jen to your town for a workshop, just visit YourParentingMojo.com/book.