170: How to stop procrastinating with Dr. Fuschia Sirois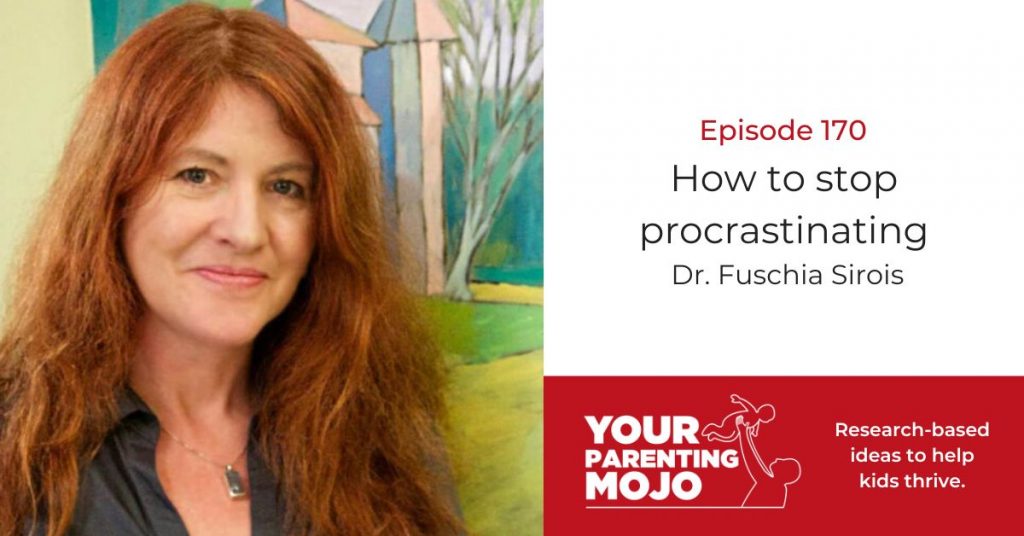 Our culture says that people procrastinate because they're disorganized and lazy. After all, how hard can it really be to do a task you've committed to doing, and one that you even know will benefit you?!
But I learned through this episode that procrastination isn't about disorganization or laziness at all – it's much more about managing how we feel about tasks – and we can learn how to do this more effectively.
Those of us who don't struggle with procrastination can also do quite a bit to support the folks who do, to make it easier for them to get stuck in and be successful at the task.
Learn more about navigating your own procrastination and supporting your child in doing this as they get old enough for it to become relevant to them in this episode.
Amazon affiliate link to Procrastination: What it is, why it's a problem, and what you can do about it by Fuschia Sirois: https://amzn.to/3Tl9WTH
Jump to highlights
02:04 – Definition of Procrastination
03:19 – The 2 kinds of Procrastination and the difference between the two
04:07 – How common is procrastination?
08:03 – The interconnections between Procrastination and people's health
11:04 – How can Procrastination be linked to stress?
18:01 – Bed time Procrastination and its implication to people's health
21:25 – Link then between people's emotional states and procrastination
25:42 – The connections between perfectionism and procrastination
29:45 – What is active procrastination and is it a good thing?
33:20 – Interaction between procrastination and shame
40:42 – What can we do to manage our emotions and take on tasks that are important and valuable to us
42:34 – How can forgiveness and self compassion affect Procrastination
45:36 – What is paper doll diagram?
48:48 . Can children procrastinateand at what age does procrastination start to show up?
50:42 – Healthy ways of managing negative emotions

References
Anderson, J.H. (2016). Structured nonprocrastination: Scaffolding efforts to resist the temptation to reconstrue unwarranted delay. In F. Sirois and T. Pychyl, (Eds.)., Procrastination, Health, and Well-Being (p.43-63). Academic Press.
---
Blunt, A., & Pychyl, T.A. (2005). Project systems of procrastinators: A personal project-analytic and action control perspective. Personality and Individual Differences 38(8), 1771-1780.
---
Fee, R.L., & Tangney, J.P. (2000). Procrastination: A means of avoiding shame or guilt? Journal of social behavior and personality 15(5), 167-184.
---
Gilbert, D.T., Wilson, T.D., Pinel, E.C., Blumberg, S.J., & Wheatley, T.P. (1998). Immune neglect: A source of durability bias in affective forecasting. Personality and Social Psychology 75(3), 617-638.
---
Giguere, B., Sirois, F.M., & Vaswani, M. (2016). Delaying things and feeling bad about it?  A norm-based approach to procrastination. In F. Sirois and T. Pychyl, (Eds.)., Procrastination, Health, and Well-Being (p.189-212). Academic Press.
---
Kim, K., del Carmen Triana, M., Chung, K., & Oh, N. (2015). When do employees cyberloaf? An interactionist perspective examining personality, justice, and empowerment. Human Resource Management 55(6), 1041-1058.
---
Kroense, F.M.,Nauts, S., Kamphorst, M.A., Anderson, J.H., & de Ridder, D.T.D. (2016). Bedtime procrastination: A behavioral perspective on sleep insufficiency. In F. Sirois and T. Pychyl, (Eds.)., Procrastination, Health, and Well-Being (p.93-119). Academic Press.
---
Pychyl, T.A., & Sirois, F.M. (2016). Procrastination, emotion regulation, and well-being. In F. Sirois and T. Pychyl, (Eds.)., Procrastination, Health, and Well-Being (p.163-188). Academic Press.
---
Sirois, F.M., Melia-Gordon, M.L., & Pychyl, T.A. (2003). "I'll look after my health, later": An investigation of procrastination and health. Personality and Individual Differences 35(5), 1167-1184.
---
Sirois, F.M. (2016). Procrastination, stress, and chronic health conditions: A temporal perspective. In F. Sirois and T. Pychyl, (Eds.)., Procrastination, Health, and Well-Being (p.67-92). Academic Press.
---
Sirois, F.M., & Pychyl, T. (2013). Procrastination and the priority of short-term mood regulation: Consequences for future self. Social and Personality Psychology Compass 7(2), 115-127.
---
Wohl, M.J.A., Pychyl, T.A., & Bennett, S.H. (2010). I forgive myself, now I can study: how self-forgiveness for procrastination can reduce future procrastination. Personality and Individual Differences 48, 803-808.
Transcript
Emma:
Hi. I'm Emma, and I'm listening from the UK. We all want our children to lead fulfilled lives. But we're surrounded by conflicting information and clickbait headlines that leave us wondering what to do as parents. The Your Parenting Mojo podcast is still scientific research on parenting and child development into tools parents can actually use every day in their real lives with their real children. If you'd like to be notified when new episodes are released, then get a free infographic on the 13 Reasons Your Child Isn't Listening To You and what to do about each one. Just head on over to yourparentingmojo.com/subscribe, and pretty soon you're going to get tired of hearing my voice read this intro. So come and record one yourself at yourparentingmojo.com/recordtheintro.
Jen Lumanlan:
Hello and welcome to the Your Parenting Mojo podcast and today we're going to address a challenge that I know a lot of listeners struggle with and that is procrastination. Whether you're a chronic procrastinator yourself or you're worried about raising a child who procrastinate or potentially both will help you to understand why you procrastinate and offer some concrete tools for how you can navigate tasks that are important to you more successfully. My guest for this conversation is Dr. Fuschia Sirois - Professor in the Department of Psychology at Durham University in England. For more than 20 years, she's researched the causes and consequences of procrastination as well as how emotions play a role in it. Her research also examines the role of positive psychology traits, states and interventions for supporting self regulation and enhancing well being and health. Welcome Dr. Sirois. It's great to have you here.
Dr. Fuschia Sirois:
Thanks, Jen. Thanks very much for inviting me to be on.
Jen Lumanlan:
I was trying to think of a way of phrasing this that doesn't sound really bad. There are a lot of things I struggle with in life. I am not a perfect person by any stretch of the imagination, lots of things I'm not good at. Procrastination by large is not among them. So I read your book about a month before our scheduled interview. And I prepared the questions about two weeks before and I don't know why but I've just never seen the need to wait to get tasks done. But I know a lot of people do. Can we start with a definition of what procrastination is and then maybe understand how common it is?
Dr. Fuschia Sirois:
Yeah, of course, that's a really good place to start. Because a lot of people think they might procrastinate. And actually what they're doing is a form of delay. And procrastination is a particular type of delay. And it's a type of delay that involves self regulation, difficulties or difficulty managing, you know, your thoughts, your emotions and your behaviors towards reaching your goals. That sort of what we package is self regulation. Specifically, procrastination involves unnecessary delay, voluntary delay, something you chose to do something that's not that is not necessary, there's not an emergency pulling you away from that task that you had to do by and it's a task that you intended to do. So you said, I'm going to do this, it's not something somebody forced you into, right? You said, Yeah, I agreed, I'm gonna, I'm gonna take this on. And so you engage in this type of delay, unnecessary, voluntary and candid task. And something that holds some importance, it's not a, you know, a really minor, something, we all put off those little things, but that wouldn't necessarily technically be called procrastination. And we do all this despite knowing that there's going to be harm for ourselves or others. So there's going to be negative consequences. And that really speaks to the irrationality of procrastination and why it can be such a problem.
Jen Lumanlan:
Okay, and there's a couple different kinds, right? There's situational and dispositional, can you help us understand what's the difference between those two things?
Dr. Fuschia Sirois:
Yeah. So I mean, we can think about procrastination as we can about any other sort of, you know, behavior or quality that we might have, it can be something that we do occasionally. And it can be specific to a domain. So you may have someone who's Ultra efficient at work, but when it comes to their health, they have a real hard time following through with that exercise and diet regimen, as they tend to put that off. So if you didn't have domain specific or search what we call situational procrastination, where you just do it in one area of life perhaps and or you may just do it occasionally. And then it becomes more frequent and more generalized, we then start to look at procrastination as more of a chronic tendency, almost like a personality trait. So something that you would do frequently and across a wide variety of situations, and probably to a greater degree of harm. That's what we refer to as sort of a chronic procrastination.
Jen Lumanlan:
Okay. How common is procrastination?
Dr. Fuschia Sirois:
This is, you know, being around for years, and it is kind of a hard thing to pin down when we use self report measures usually, but what our best estimate suggests that a range say for college university students, for example, it's quite high, could be anywhere from you know, 80 to 95%. Have, okay, you know, procrastinate once in a while. Okay. And that makes some sense, if you think about the academic environment and the constant demands on time and, you know, the challenges involved there. In the adult population, other estimates depending on what country you go to, can range from between, say, 15 and 25% of the adult population procrastinate chronically, I should back up and say, though, too, so although it makes sense that students procrastinate quite frequently, there's actually some evidence to suggest that 50% of students do so chronically. And that becomes quite problematic, especially when you know, it can affect their academic achievement.
Jen Lumanlan:
Yeah, I was super curious when I read the range of which people procrastinate with students being so high. And I'm just thinking, is this really about the students or is this something about the college experience that is difficult? I mean, I'm thinking it's the first time that students have really been responsible for themselves. They've been in school their whole lives, and you're told what to do and when to do it. And there's a lot of regimented control. And all of a sudden, they're in an environment where they get to make a lot of choices for the first time in their lives, probably. And I was wondering if it's something related to that, rather than something about the students themselves? Because apparently, most of them get over it, right? They're not doing it chronically for the rest of their lives, otherwise, the adult population numbers will be higher.
Dr. Fuschia Sirois:
No, I think, you know, the academic environment certainly be a pressure cooker for procrastination. And there's two things going on there. So this is where I often have some difficulty, because on the one hand, yes, what you're saying, I think, makes a lot of sense that we've got these extra demands. And then for the first time, they're in uncertain situations, we need people prostate more, when they feel uncertainty, there's ambiguity, they don't know what's expected of them. All those are factors that can contribute to a tendency to procrastinate, and so you know, all of that, and the anxiety around that the stress that all can add into it. On the other hand, I often think that the numbers are so high because of the fact that we actually have markers to measure the procrastination, right? So we talked about academic procrastination, and how many times did you submit work late, right, because you didn't get your assignment done, that you love studying to the last minute. So we have a much clearer way of assessing whether somebody's procrastinating in an academic environment. But we don't have that same clear way when we look at procrastination in the adult environment, our questions change, they become more generalized about, you know, generally, you know, how often do you put things off? Or I'm always saying, I'm going to do it tomorrow. So I think actually, the stats on procrastination in the adult population are probably underestimated if anything, I still think they're higher in the college environment for the reasons that you just mentioned, I think it's underestimated in the adult population, just because we don't measure it the same way. We don't have those same hard deadlines, except maybe in the work environment, you know, quite a different situation.
Jen Lumanlan:
Yeah, you also have psychology professors offering course credit to complete questionnaires about procrastination on a regular basis. So you're asking people regularly as well, right. So presumably, that has something to do with it?
Dr. Fuschia Sirois:
Yeah, it's highly assessed, you know, there was a researcher in Israel, for example, who's done quite a few large scale surveys of the types of procrastination that people engage in what domains they procrastinate in, how often they procrastinate. And the numbers are coming up roughly about, you know, the same as what they are in some of the North American Studies, for example, but you know, one of the biggest areas that people procrastinate, and which is I found quite interesting was our health. So that actually was top ranked in that particular survey that was conducted. But yeah, again, we don't ask the same questions about procrastination to come to those numbers in the adult populations is what we do in the student populations.
Jen Lumanlan:
Yeah. Okay. So let's pick up that thread on health then. So I know you've studied procrastination in regards to people's health a lot. What are some of the interconnections there? How does procrastination affect people's health?
Dr. Fuschia Sirois:study on this had come out in:Jen Lumanlan:ou also wrote another book in:Dr. Fuschia Sirois:ere's one study where we have:Jen Lumanlan:
Okay, how big of an effect size are we talking about? And thinking about other things that affect stress, you know, racism, poverty that are stable over time, right? These are pretty big drivers of stress, I would imagine, is procrastination kind of up there with those kinds of factors? Or is it a relatively small thing, but we're focusing on it because it's something we can meaningfully affect an individual's whereas addressing poverty, addressing racism is a much bigger challenge.
Dr. Fuschia Sirois:'re talking about hundreds of:Jen Lumanlan:
Yeah, it sort of reminds me of a couple of things you had written in the book that looked at procrastination health in middle aged people, as well as including nurses, and you said, who you would expect to know better when it comes to health related matters. You know, my sister's a nurse actually in England and I remember going to visit her while she was training and we went to the pub. And most of the nurses are smoking. And then it also reminded me of an ethnographic study that I think about so often, and I'm so annoyed that I cannot find the original source of anymore. But it was a study of parents, I think in England who smoked the single parents who didn't have very much money and conventional wisdom says, Why are these people smoking? Why are they wasting money on this when they're having trouble putting food on the table and ethnographic research actually went and worked with them for a long period of time and realized these parents are using it as an appetite suppressant because smoking is cheaper than eating a meal. And so the concept of why procrastination results in poor health outcomes make sense to me. But also, we don't make decisions in this sort of vacuum, right? There's so many other factors affecting us as well. So what can we do with that information?
Dr. Fuschia Sirois:
I totally agree with you. I mean, health is multifactorial, right? Like you said, You've got societal, sociological, social, familial, all these contextual factors that the individual has to deal with. Getting down to sort of one of the sources of procrastination, you mentioned earlier, that fascination causes stress, so it's cyclical, right, we're not saying that one's a source of the other, they feed into each other. And one of the factors that I think also really plays a role here is that you know, the context dependency of procrastination. What I mean by that is, if you're in an environment, that's already stressful, and if you're an environment that's already demanding on your resources, especially your resources with respect to managing your emotions, right, we haven't talked about this yet, that we will, you know, one of the things that I suggest is at the core of procrastination, if you're in that context, your threshold for managing stress and managing negative emotions, right is very, very low. And you're more likely to procrastinate in those sorts of situations as well, because your resources are eaten up. And so definitely, you know, taking into account, socio economic status, and all these other things. So yes, those can affect health behaviors with respect to framing it in terms of procrastination, you've got individuals, even at any given time in their life, who might be dealing with stressful circumstances, they're going to be more vulnerable to procrastinate, because they just don't have the resources to manage their emotions in a healthy way. And they may resort to procrastination as a way of doing that.
Jen Lumanlan:
Okay. And then sort of before we leave health issues behind, bedtime procrastination is a thing. Yeah, and so can you tell us a little bit about that, and what implications that has for people's health.
Dr. Fuschia Sirois:
It's a really kind of interesting sort of subtype of procrastination that some researchers in the Netherlands could propose and run a number of studies on a few years back. We've done a little bit of work on it too in our research group and bed time procrastination is really this idea of, you know, saying, right, I've got to get up early tomorrow morning, you know, for an important meeting, so I need to go to bed early tonight. So I'm well rested. Right? And you set yourself a time, right? 11pm. I'm gonna go to bed and then you're in bed, and you're with your social media and you're not falling asleep, you're doing other things. You're answering emails, you're watching cat videos, which by the way, there was a research study on people who watch cute cat videos to procrastinate.
Jen Lumanlan
Did you do it?
Dr. Fuschia Sirois
No it wasn't me, I just thought what I came across was like, Oh, my god, somebody did this. Cute cat videos were like a thing a couple of years back.
Jen Lumanlan
They were.
Dr. Fuschia Sirois
So you do all that you could be knitting, you could be reading, some people bake. I mean, this research was evidence of the activities that people were engaging in to put off going to sleep when they knew they should. Bedtime Procrastination was quite fascinating. But what happened is, is it foreshortened their sleep cycle that led to what we call sleep insufficiency and which over time can have an impact on your health. We know that not getting enough sleep is critical for your health and enough for different reasons, not just for being restorative, but it actually makes you more vulnerable to stressors, not just psychologically more vulnerable, but physiologically more vulnerable to the impact of stress and cortisol, you know, responses and everything. You know, some of the research that we've done suggests that, again, it's about poor emotion regulation that you're having difficulty at. At the end of the day, you might have gone I did all this stuff for everybody else. I didn't do anything for myself, right? And you may justify it that way. But what's going on as well on the research we did is that people are not processing the emotions from the day they're trying to forget about all the things that they had difficulty with, right? So they might have had an argument or something rather than thinking about that argument and processing which you know, they might think might disrupt their sleep, they distract themselves. With doing these other things, sometimes, you know, if they're saying, Oh, I'm leading a reading, so to help me calm down, that's fine. If you set a limit on it, you actually still go to bed on time. But if you're, you're going hours past that, that's showing that it's a failure of self regulation again, which is, you know, as procrastination.
Jen Lumanlan:
Yeah. Okay. So then we're looking to do things like being aware that we're doing this and making a plan for a bedtime, and using some kind of support to remind us it's bedtime now, and it's time to get the routine started. Is that right?
Dr. Fuschia Sirois:
Yeah. And I think being aware of the emotions that we're trying to not focus on, which can be difficult, you know, and you know, and this is where I sort of often like to bring in the positive psych stuff too because a really simple exercise you can do before you go to bed at night which helps it's been actually been shown in research to sort of calm down and quiesce what we call negative pre sleep cognitions, or those negative thoughts that are racing through your head a day is doing a gratitude exercise, thinking to focusing on three positive things that happened to you that day, that as simple as that can actually just put some of that negative thoughts to rest, which might drive you to other activities to disengage from them or to distract from them.
Jen Lumanlan:
Yeah. Okay, great. We've, you've alluded a number of times to emotion regulation. And there's a couple of components of procrastination that we're going to talk about in some more depth. So one of these is around emotion regulation, and others around perfectionism that really drive people to procrastinate. So since we've talked about emotion regulation, maybe we can go there first, what is the link then between people's emotional states and procrastination?
Dr. Fuschia Sirois:
I would argue that as core right? So that we hear about poor time management and impulsivity and poor self control and laziness and all these other so called causes of procrastination. Some of them are myths, like laziness, for example and even poor time management. The evidence isn't there to support that other things like impulsivity or poor self control, they're layered on top, you know, so some people would say that, Oh, we procrastinate because you're impulsive. You know? Is it just you're just being impulsive? Or what? How is procrastination linked to impulsivity? You just say, Oh, I feel like I'm gonna procrastinate, right? Like, it doesn't make any sense, right? And poor self control. Control over what needing to follow through on your task. Even if you, you know, enable that self control muscle and get going with things you can still somewhere along the way, you know, abandon that task and procrastinate. And so, you know, a few years back almost 10 years ago, we sort of theoretical paper based on the current research at that time, it was theoretical review, where we suggested that actually, what's at the core of procrastination is poor mood regulation. And it makes a lot of sense, if you think about the tasks that people procrastinate on, you don't procrastinate on each task, you procrastinate on tasks that elicits to some degree, a level of aversive emotions. And these can be the full range from boredom, all the way up to gut wrenching, you know, stressful anxiety doesn't matter where it is on that spectrum. But if there's negative emotions are elicited by the task because of either the nature of the task, or often it's the interaction of our sense of self with that task, it threatens our sense of self esteem, our sense of competency in how others will view us right. And that kind of ties a bit into the into the perfectionism there, too. And those feelings that we now associate with that task are what drive us to procrastinate, but not everybody procrastinates. And you're mentioned that you're one of these people that doesn't, so I mean, I'd probably right there, I would say, Well, you've got a handle on managing emotions around your negative tasks, because in essence, procrastination is an avoidance coping strategy, right? When we procrastinate, we're not avoiding the task, we're avoiding the negative emotions associated with that task. And we're doing that because maybe we're never shown more effective internal mood regulation methods, maybe we're stretched beyond our limit at this point. And so we default to that because it's easier and it is a quick and easy solution, right? You take that passes, it's bothering you, it's causing all this anxiety, is it going to be good enough? Am I going to be evaluated positively? What's it going to mean for my future plans, yada yada yada all the things that we are, our minds can build these emotional mountains out of molehills with a task and you put that aside, you've got really
Jen Lumanlan
no better.
Dr. Fuschia Sirois
Exactly. And you've just reinforced procrastinating because we will repeat behaviors that were rewarded for. So the short term was, we say it's a form of short term mood regulation, short term, you've just rewarded yourself, right? But the problem is all the feelings associated with that task linger. And the other research has shown too that procrastinators were people who tend to chronically procrastinate engage in a particular type of thought pattern called [unintelligible] cognitions that then becomes very self blaming. What's wrong with me? Why can they get started? Why am I procrastinate again? All these sorts of negative, self evaluated, and self critical thoughts put another layer of negative emotions unto the emotions, negative emotions they already had about the task in the first place and actually makes people procrastinate more.
Jen Lumanlan
Yeah,
Dr. Fuschia Sirois
and there's some of the research that longitudinal research is on that is shown and it does so by increasing negative emotions. So that's why I say that emotion regulation is at the core.
Jen Lumanlan
Yeah.
Dr. Fuschia Sirois
So that starts first if you have high self control, you might be better able to down regulate, manage those emotions. If You're impulsive, it might be harder for you, you're gonna jump to procrastination as a way of regulating those emotions rather than, you know, sitting down and thinking other ways to do it. Those other factors that you often hear they play on top of the core cause, which is, you know, not having these negative emotions associate with tasks and not being able to manage them.
Jen Lumanlan:
Yeah, I think that social judgments and shame and all those kinds of things can play in there. And I want to follow that. But before we get there, I just want to set the stage with perfectionism, right? Because I think that that's the other core part of this before we leave this behind. We actually covered that topic, we interviewed Dr. Paul Hewitt, and it was episode 121 for those of you who are interested in hearing that interview on perfectionism. What are the connections between perfectionism and procrastination?
Dr. Fuschia Sirois:
Great question. So first of all, and probably Paul talked about this, you know, when we're talking about perfectionism, there's you know, not it's not a singular entity, right? There's two flavors, if you like, or overarching dimensions, sort of your perfectionistic concerns, which we consider the more maladaptive side of perfectionism, very self critical, extremely high standards of trying to please others, you know, and really sort of thinking that if your self worth is contingent upon you, reaching the standards that you expect society and others, you know, want a view and these are all perceptions, it's not that society wants you to be perfect. It's up to you perceive that this is how you will be accepted and loved and, you know, have friends and family and all that sort of think that you're okay. And then there's a perfection strivings, which often gets confused with striving for excellence. But, you know, obviously, Paul would have explained that you're striving for excellence is not the same as perfectionistic strivings, right?
Jen Lumanlan
Yeah
Dr. Fuschia Sirois
A couple of years back, we ran a meta analysis, where we looked at, I think, was over 44 studies with about 10,000 people to sort of draw out where is it the chronic procrastination and perfectionism? Where do they meet and where did they diverge? And what they found was that, in fact, as expected, it was the more maladaptive side of perfectionism, the perfectionist of concerns that was associated with procrastination. So we look at these as two personality traits, there's overlap with them, where there was little association between procrastination and just more striving for one's own high standards, for example, that perfectionistic strivings. And one of the things that we explained that connection was it had to do with self regulation again, and what I mean by that is that when you think about perfectionism, right, you set out you go, here's standard, I want to achieve. Any type of time we self regulate, which means you set a goal. And then we say, I want to reach that goal, we set start with a standard, and then we look at the standard, and we look at where we're at. And we look at that gap. And we try to think about how can I negotiate that gap? What do I need to do? What steps do I need to take to get from where I am now, to get to there, and then we engage in cycle of activity that hopefully brings us closer to reaching that goal, right. But before we engage in that activity, one of the things that happens though, is we may do an evaluation, we evaluate our chances of successfully reaching that standard. Now, as you can imagine, with perfectionist, especially, you know, people who are in perfectionistic concerns, those standards are like way above, like, I'm going to lose 20 pounds in a week. Like, you know, that's not going to happen, right? So we might have very unrealistic expectations. And it might be way beyond what your current level is. And what we argued as a procrastinator, people procrastinate do similar sort of thing. They're looking at the task, and they're looking at as being really foreboding, and really overwhelming and something they can't manage. So it's way beyond where they are right now. And when they do that evaluation, they say, Do I have the resources? Right? Do I have the inner resources? Do I have the social resources? And you know, going back to that idea about shame, and I know we'll talk about that soon, we might not want to have those social resources, because you don't want to let people know that you're procrastinating. And so then you go, okay, that's where I want to go, that's where I am. Can I get there? I don't think so. Okay, tap out. And then you procrastinate, and that's where the perfectionism comes in. It's like, even if I get started, it's never gonna be as good as what I expect it to be. So there's almost a failure mindset, in play with perfectionism because of those high standards that then leads them to not even make effort or make effort, see that it's not following the perfect trajectory, upwards to success, right. And we know that path to any goal is going to go up and down. So the minute they have one of those downs, not working. Yeah. And they tap out again.
Jen Lumanlan:
Yeah. Okay. And so I think there's another concept that's actually linked with perfectionism. Dr. Hewitt, we talked with him about the idea of positive perfectionism, which I know some people argue is, you know, it's a good thing, because it's about striving for success and Dr. Hewitt was like, no, because perfectionism is really about repairing a defective self and looking to feel accepted and loved. And if we can just be perfect, then we will be accepted and loved. And there's really nothing positive about that. And I think that there's a similar concept in the procrastination research called active procrastination, and that's purported to be a good thing. So can you tell us what is active procrastination? And is it a good thing?
Dr. Fuschia Sirois:
No. So first of all, there is no such thing as active procrastination. I'll be really straightforward about it. So the definition I gave earlier is all those things happen, despite there being negative consequences and the whole premise of that active procrastination is it's a good thing. So by definition right there, it can't be procrastination. So let's say we put that aside. Let's say we put that aside. And maybe there's only most of us in the procrastination research field who follow that definition. Other people argue about that definition about what procrastination is. There's been research conducted in Belgium and in Canada where they took the measure that was used to assess the so called act of procrastination, which is this idea that people use procrastination to their benefit for higher performance then leaving things last minute, they get that rush and it motivates them and they perform really well. And all these sorts of things, right? First of all, the science didn't support this, the measure they use actually didn't have any connection with better performance. So the things that were claimed weren't actually borne out. And it didn't even map on conceptually, to what we know, as you know, our measures of procrastination. I think it's an interesting thing, though. And a lot of people believe in this act of procrastination. I remember all the social media stuff that went out it was all over the internet. Oh, act to procrastination, it's like, yeah, it's a great thing to believe in if you procrastinate because then you don't feel so bad about things, right. It's kind of another way to reduce that shame. But think about it this way, you know, and I've heard this, you know, anecdotally from students, right? Oh, yeah, I procrastinate, you know, and but it you know, it always works out for me, right? Like I perform better when I procrastinate and leave things to the last minute. I get that adrenaline rush, and it makes things really go well. And so I asked them, I said, Okay, that's my experience, or, you know, expertise says about that. So tell me then is this something if you don't know you got an upcoming deadline? Do you purposely wait until a couple of days before to do this? So you do this consciously? Well, no, no, I just if I look at myself, that's, you know, I just want to intend to do and it tends to work out for me. So when we talk about that sort of a pattern, what we're talking about is a post hoc rationalization of procrastination, right? You've got people afterwards, trying to deny that this is a problematic behavior by now rationalizing it as giving them some sort of a boost, when in fact, all the research says it doesn't give a boost, they actually perform worse. And the collateral damage to both the reputation and to distress and their own well being right away shows that there's harm. So even if they really believe it's helping their performance, there's always going to be collateral damage. So it's not a positive thing.
Jen Lumanlan:
Okay, great. Thanks for sorting that up for us. Okay, so we've talked a little bit about shame. And that sort of leads into social norms I think. I want to quote a little bit from your book.
Dr. Fuschia Sirois
Yeah
Jen Lumanlan
I think I had read it one way. And now that we're talking to you, I think I'm reading a little bit of a different way. So you say that following through on actions you promised to do and completing intended tasks and goals "are actions that contribute to a well functioning social group and to society and when we fail it self regulation and procrastinate, we transgress those social norms", so we judge people who violate social norms. And one more "when someone procrastinates, it sends the message, this person has a number of less than flattering qualities, such as being lazy, not managing time well, being impulsive, and being considerate of others", so I guess, when I read this, I was sort of, you know, from I'm imagining myself as a person who procrastinates and reading all these things, and oh, that's what people think of me. And so I need to fix my procrastination. And now in talking to you, it seems as though it's more about these are ideas that we may think that others have of us, but actually, maybe they don't. And we're imagining that they might have these ideas of us. Can you help us to sort out what's going on here with this interaction between procrastination and shame?
Dr. Fuschia Sirois:
Yeah, a lot of it is we overestimate how negatively others will view us. So you know, what you repeated there and from the book, and that is, yeah, we live in a society that, you know, values productivity, that is a reality, it doesn't mean it's a good thing, right? And you know, every other day is like, how can you get more done in less time, right, like these new blog posts or new article on this and these norms, the social norms, they operate in an unconscious level. And so when we're procrastinating we know that we're transgressing these norms. And so when we do things that you know, transgress social norms, and this is what we call one was so negative emotions, one's guilt, which means bad behavior. I did something I feel bad about and shame, which is, I'm a bad person. And that feeling of shame coming from I'm a bad person is connected to those social norms that we unfortunately have another really promoted all the time. I'm not saying they're good thing, right? I mean, we obviously need a productive society to progress in that. But then going to an extreme does lend to people feeling, you know, excessive degrees of shame about the procrastination. I've done some research with a colleague of mine at the University of Amsterdam Business School, where we created some scenarios, we gave scenarios, ranging from someone who didn't procrastinate to someone to procrastinate little to someone who procrastinate a lot, and we ask them, hey, what do you think of that person? Do you like them? Would you want to work with them? How dependable are they? Right? Everyone liked them didn't matter if they were a high procrastinator. So it's not that people don't like them, but they didn't want to work with them. Right? I don't think they're dependable because it would impact on their productivity. That's just the reality of the workplace. If you set up in teams like that, and as someone who is has a reputation for procrastination, they're going to be looked at more negatively. Now, the degree of shame that somebody experiences as a result of procrastination, I do think that's overblown, you know, there's obviously, for not following through on our stuff, there's reason to feel bad, but to be paralyzed by shame to the point where you're not going to seek help, or reach out to others, or ask for information that might help deal with some of the feelings of uncertainty you have about tasks that may be driving the procrastination, I do think that that's excessive. And we do know that, you know, from number of different studies, that people who procrastinate, especially chronically procrastinate, they're very hard on themselves, really hard on themselves, like the self critical thoughts they have are just incredible. There was a really nice study done by Bill McCowan from the US a few years back and he has done with student procrastinators. He had them log into a website, whenever they were procrastinating, right? When you find yourself not doing your academic work, you know, you should be doing log into this website
Jen Lumanlan:
since you're not doing anything else anyway, log into this website
Dr. Fuschia Sirois:
Log into this website and tell us what's going through your head, kind of like a mind dump, right? And it was, you know, anonymous and everything. And the thoughts were really negative, the one that really always stood out to me, was like, I'm too stupid to learn what I'm studying. So I might as well go on Facebook anyways, like that really harsh, you know, I'm just stupid, I don't get this stuff, I'm stupid, I might as well go do that. So that's a very different picture from the procrastinators off having fun, you know, watching cute cat videos, and going on the social media channels, that's somebody who's feels bad, they feel really bad about themselves, that context of society in the uber-productive society, and you must perform and you must perform your best, that feeds into that. And it just casts another layer of negative emotions unto, you know, a situation where somebody's already feeling either really bad about the task that they can't get started on and themselves for not being able to start it. And now they're thinking everybody else is good. And it'd be thinking, what's wrong with them? You know, people get ashamed about their procrastination. So that's where I'm coming. I think it is overblown. I think there's still you're going to feel that shame. It just may be perhaps dialed up a bit more in someone, especially with chronically procrastinates.
Jen Lumanlan:
Mm hmm. Yeah, gosh, there's a lot there. I guess one thing that I want to pick up on is this idea that people don't want to work with people who procrastinate and immediately that reminded me of the research, we've been doing a series of episodes on neuro divergence, and the research on autistic children and autistic children are supposed to not have theory of mind, right? They don't understand what's happening in other person's mind. And sort of separate from that autistic children are bullied at a much higher rate than other children who are not autistic are and so researchers see autistic children as the one with the failure, right? They don't have theory of mind when actually, could we see this as a failure of children who are not autistic to understand like to have not theory of mind on a test, but theory of mind in the real world to be able to empathize with an autistic child and understand their perspective? That connection seems to be there for procrastination, where it's not that procrastinator is necessarily having this massive failure. But what if the person who is their colleague is looking at them and saying, I'm wondering if you have all the information that you need? I'm wondering if we could do anything to help you to make this task seem more achievable, right, that this isn't an individual failure, and something that I alone need to conquer? Firstly, we need to adjust our societal norms so that this no individualistic, I'm the only one who can fix this thing is not such a big part of how we address these challenges, but also the folks on who responded to that survey saying I don't want to work with someone who procrastinates, that we need to work with them to support other folks as well. Does that fit with how you perceive perfectionism?
Dr. Fuschia Sirois:
Yeah, and I agree, it's a larger picture. You can't blame the people who said, Yeah, I probably don't want to work with them because they're under the same pressures to be productive,
Jen Lumanlan
Right.
Dr. Fuschia Sirois
They're stuck in the same system trying to deal with the same norms. And so they know if they say, yes, it's going to impact them. And then they'll be subject to the, it just cyclically goes round. Yeah, I think that is true, especially in the workplace, and a lot of work related tasks. And as you know, I think we saw a lot of this come up, you know, during the pandemic, and people working at home, you know, you're not in the work environment for you. Yeah, I'm not really sure if this is the right way to think about this, or what they mean, you walk over to somebody, you talk to them, and you talk it through, what do you do when you're sitting at home, you got to email them, or you got to call them and it's not as easy to get in touch. And I think also, you're getting instructions, not in the same way. That is a key source of procrastination in the workplace, it's task ambiguity and in any situation actually, task ambiguity. It's been shown in research to be forerunner of procrastination. So uncertainty, ambiguity, the distress, all these things, but sitting down and talking to somebody, like you said, right, or the workplace going, let's make sure we're really clear. All the instructions we give our employees so they're not left to guess. It's not a test to see oh, how well can they just figure this out on their own? Right? Because that's a recipe for procrastination right there. Right? You'll get a small percentage who love that kind of challenge, but a lot of others will be like, I don't know what to do so they don't even start.
Jen Lumanlan:
Alright, so as we head towards the conclusion, think about if we are experiencing procrastination on a regular basis and we find it is impacting our lives, what are some tools that we can have to help and I think we can approach this particularly from a perspective of a parent, right? And you've already talked about when we are emotionally dysregulated, all this kind of stuff is more difficult anyway. And I'm imagining, you know, a parent at home, who has multiple children and who isn't sleeping through the night and already all day we're dealing with all the challenges that our children are bringing to us that constantly require our mental and emotional energy. So we're already feeling very depleted. And we know we have to do this task, and we're procrastinating. Yeah, what kinds of tools can we use to manage our emotions to take on tasks that are important to us and valuable to us? And that we do want to do?
Dr. Fuschia Sirois:
So great question. And I think we hear about a lot of the ways that you can address the task, you know, some of the simple ways breaking tasks down into smaller more manageable pieces, that type of thing. What that does is it reduces feeling overwhelmed. So people say, you know, it'll increase your competence, once you make little successes, but I come at it from that emotional regulation perspective, and suggest that what are you doing is you're making something that seems huge and stressful, seem actually more manageable, those sorts of practical things are good, but I think, you know, in the sort of context that you've just mentioned, where you've got a lot going on, to feel really overwhelmed. I think the first thing there is to find ways to manage those emotions, and not just the emotions, but the thoughts that could generate more negative emotions. And you know, and parents, you know, we're always thinking we could do better, we could do more, even when we're stretched to our limits, right. And this can be, again, a situation where we start getting unduly hard on ourselves or critical, which is just going to make it worse, that we can't get around to things and that sort of context to take the edge off those negative feelings is, you know, a couple of strategies right away forgiveness, right, especially if it's attached that you said you were done, and now you're procrastinating. Or if you're in the process of struggling with something. Self compassion, right, which is just basically saying, like, Yeah, I'm having a hard time with this. It's okay to have a hard time with this. I got a lot on my plate right now. And it's okay, that I procrastinate a bit right now, it's understandable, doesn't mean I want to continue doing it. Right. But rather than beating ourselves up about the fact that we're struggling, and that we procrastinate, you know, having some compassion for ourselves and the context and just saying, Yeah, I'm not gonna get it done today, you know, but I am going to prioritize it for tomorrow. And what does that short circuits, the negative emotion cycle that can just continue to layer on negative emotions and actually ensure that we'll continue to put it off and feel exhausted rather than actually getting on with things that we know we need to be doing?
Jen Lumanlan:
Okay, so you also mentioned the word forgiveness there and you gave us a bit more detail on self compassion. Can you give us a little more on forgiveness? What do you mean by that?
Dr. Fuschia Sirois:
You know, forgiveness is when you have procrastinated, okay, distinction I was trying to make there. And I know I went more on the self compassion side. So self compassion can happen. You know, while we're struggling with a task that we can't go in with, or as we're procrastinating with it, forgiveness is usually after we procrastinated, right, and now we're feeling bad about our procrastination. And, you know, it's been researched on with students where, you know, one group was asked to, you know, forgive themselves for the past, academic procrastination. And then they followed up with them a couple of weeks later, they found that those that forgave themselves actually, were had to procrastinate less. And the reason they procrastinate less is because of forgiveness, reduce the negative emotions, right? Makes sense. It's just from that emotion regulation perspective, it takes that layer off. But self compassion is very similar. It is almost viewed by some scholars as an emotion regulation strategy. It is a way to tune down negative emotions because it involves acceptance and kindness to yourself, looking at things in a balanced and mindful way, not just the negative, right, but seeing the positive or seeing things in a more neutral way, which is Yeah, given the context of what's going on, it makes sense that I'm in the situation where I put these things off. And then the last piece, which I think is really critical, especially in the context of our conversation earlier on, shame is common humanity. Right? You know, when we're struggling with something, we feel we're isolated. We're the only one who's struggling with this. Everybody else got down perfectly. Everyone else is managing fine, right? They're not procrastinating, what's wrong with me, I'm procrastinating. And so we feel isolated in that rather than thinking of society and everybody else who appears as being perfect, recognize that, hey, you know, you probably not the first person to procrastinate on this and nor will you be the last right so don't beat yourself up about it. Talk to somebody reach out to others connect to understand there's a common humanity, you know, in that suffering that you're experienced, and others have probably gone through exactly what you're going through right now. And when you realize that it makes it easier to reach out, rather than letting shame become that barrier to actually connecting with others and maybe talking through problems and getting the help and that's another way I think also to help reduce the negative mood and feelings that might be you know, causing you to be putting that thing off.
Jen Lumanlan:
Yeah, we actually talked with Dr. Susan Pollak on self compassion as well. I don't have the episode number handy for listeners. And we're trying to line up another conversation on that topic, too. I think one idea that was super useful to me from your book was sort of two things connected. Firstly, we have this impression that we're going to feel terrible for a really long time. If we do this task. that is very difficult that that maybe we're procrastinating over and research with the lottery winners and with people who have been diagnosed with terrible diseases indicates that actually, we tend to sort of head back toward a baseline. Even if you've won millions of dollars, the way that you feel about daily tasks, it comes back to a baseline very quickly. And I think that we miss attribute that and we assume we're going to feel bad for a very long period of time. And then the other sort of connected piece was the paper dolls idea of figuring out what are the resources I have right now? And what are the reasons I need to complete this task? Can you tell us about a paper doll diagram that that you draw in the book?
Dr. Fuschia Sirois:
Yeah, the paper doll diagram was really just kind of visualize connection with our future self. So I haven't talked much about the future self side, and you know, we talked about when I mentioned earlier, we said that procrastination is a form of short term mood repair, it also has consequences for our future self, right? So when we say I'm going to put this off, right, because future me will be less tired, more organized, have more sleep, right? All these things, future me is a superhero. She is going to take care of all the problems I can't deal with right now. Right? We're treating that future selves, like they're a stranger, right? Like they're not connected to us. And we know from some of the research that's been done with people who chronically procrastinate, for example, their sense of connectedness to the future self, that that connection is very weak, right? There's been research done even at the brain lab that suggests that the ability to think in the future and connect with that future self is impeded in people who are in into a pattern of chronic procrastination. And so polls was to suggest instead of thinking about oh, future me there, think about the localized future, you so future, you tomorrow, is still you, you're not going to have all these wonderful abilities, right? You might have a little bit more, right. But think about the consequences, rather than making that future self sort of your beast of burden, right. And it was just really to illustrate more of a connection to so that our self exists across time, you're not going to all of a sudden be this wonderful person in you know, a week or two weeks or six months from now. It's just the same person. Yeah. Dealing with the same issue.
Jen Lumanlan:
Yeah, yeah, exactly. So I just want to help listeners visualize it, we're talking about when you fold a piece of paper into a concertina, and then cut a paper doll shape out of it, with the hands still connected on each side, so that when you unfold the dolls, that each doll is connected to the next doll in the chain, instead of looking ahead to the end of the chain and seeing future you as this amazing person who's got all these resources, just looked at tomorrow's future you and see that you're basically the same, a little bit different, but basically the same. And to see that we can use that to not over estimate the shame that we're going to feel or underestimate our resources, I guess, right, we have most of the resources to address the task already.
Dr. Fuschia Sirois:
Yeah. And also do not put the burden on. Like that sense of connection is important, because it's really easy to put things off to make that future self, your beast of burden, when that fringe yourself, it doesn't feel real. And we know the research on sort of temporal self connectedness, that if the further in the distance, we see we imagine a future self, the less connected we feel to them. And so temporal distance to future self equals psychological distance, it's not us anymore. And if that makes it easy to put off all the tasks and burden them, but you know what, like a week from now, you're going to be that future you and you're going to be dealing with all the stress of the things that you put off now, right? And so that it's more also to consider yourself in that future in a more real and concrete manner. Rather than an abstract, it's okay to I'll take care of it next week. Because imagine yourself a week from now, how's it going to feel? And there's been some really lovely research done on that where they had students imagine themselves at the end of term, just before exams, and what it felt like, and they found that being able to vividly imagine and connect with that future self actually was, you know, associated them with less of an intention to procrastinate, and they made a difference, because that future you was real. Now they were able to vividly imagine they see look at their hands and everything wasn't just something abstract.
Jen Lumanlan:
Okay, super. And so as we wrap up, since this is mostly a show about supporting children, children live in the moment, children tend not to plan too much for young children. Can children procrastinate? At what age does procrastination start to show up? And I guess, particularly if we have struggled with procrastination, and we don't want our children to struggle in the same way that we have struggled, what kinds of ways can we support them?
Dr. Fuschia Sirois:
Great question.I mean, there hasn't been enough research done with children. I think most of it's been done with adolescents. And there's some research that suggests a parenting styles come into play. So parenting styles that are over strict and authoritative, the child is worried about pleasing or not pleasing. So that perfectionism coming into play, that tends to engender more procrastination. And that's one thing and I think the other is really about emotion regulation and modeling, healthy emotion regulation, you know, so as a parent, you know, our children learn how to regulate their emotions from watching us and what we do, even if we're not aware of it. So, you know, basically, if there's something we're struggling with, and we don't say we're struggling, we put things off, they're seeing that's what we're doing, or they see it as avoidance, we'll put it more generally, if you use a lot of avoidance strategies that can set the backdrop for a child might say that, hey, avoiding things a good way to management I'm having difficulty with so and that sort of, again, puts you on a trajectory towards procrastination, rather than expressing those negative emotions openly, and then demonstrating how you deal with them. Right? Like, yeah, really hard data, they have really struggling with this, you know what, what am I going to do? I'm going to turn it around and see what I can do to get out of it. What am I going to learn from this experience? Even though I don't didn't really like it? What can I take away from it, you know, just as a rough example, there, but I think actually modeling and demonstrating healthy ways of managing negative emotions. So first of all, showing negative emotions, not suppressing because they don't get any modeling.
Jen Lumanlan
Yeah, very important.
Dr. Fuschia Sirois
So showing them in a healthy way, and then demonstrating being not being afraid to show how I'm going to manage them. That actually becomes a good way to teach them how to regulate those emotions in a non avoidant manner and will lower the risk that they're gonna engage in some sort of procrastination. But I think apart from the modeling, see your child struggling with the task and procrastinating, find out what's going on, not why aren't you doing this? How are you feeling about this task? What are your thoughts? What are you thinking, you know, sort of probe into those emotions, get them to talk openly about it. That's okay, rather than hiding it? Because there's going to be that shame there too. Right? Yeah, there can be that shame as well, depending on child's age. Yeah, I'm not getting it done. And they're going to want to hide it. So bring it out into the open. Yeah. And finding out what's going on. I think that's important.
Jen Lumanlan:
That makes a lot of sense. Well, thank you so much for being here and for writing the book as well. And so listeners can find a link to see Dr. Sirois's book, which is procrastination. What it is, why it's a problem and what you can do about it. yourparentingmojo.com/procrastination. So thanks again for being here. It was really fun and interesting to talk with you.
Dr. Fuschia Sirois:
I had a great conversation, Jen. Thanks for inviting me.
Jen Lumanlan
Thank you.
Emma:
We know you have a lot of choices about where you get information about parenting, and we're honored that you've chosen us as we move toward a world in which everyone's lives and contributions are valued. If you'd like to help keep the show ad free, please do consider making a donation on the episode page that Jen just mentioned. Thanks again for listening to this episode of The Your Parenting Mojo podcast.