Q&A #3: Why do you have to go to work?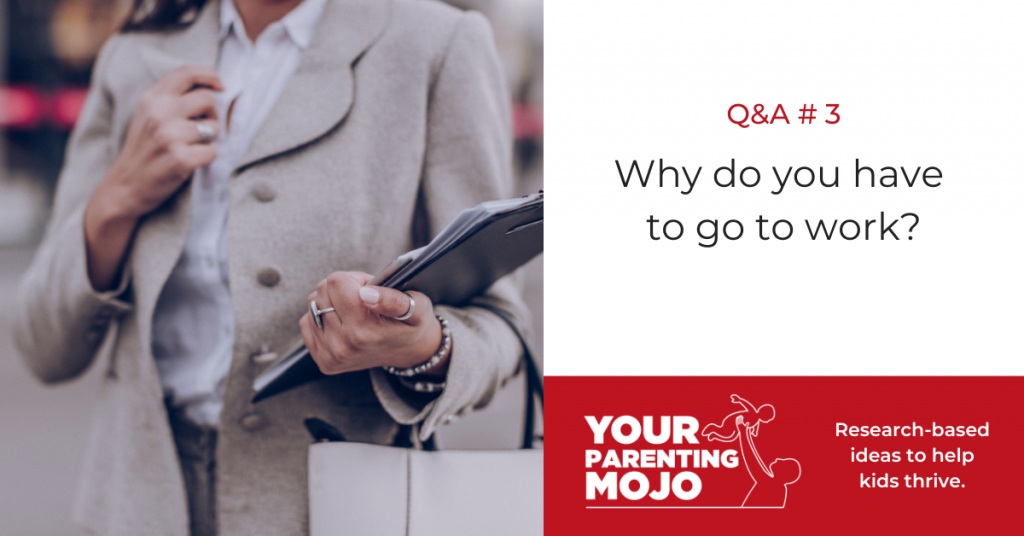 Listener Kelsey posted in the
Your Parenting Mojo Facebook community
a while ago asking how she should respond when her child asks: "Why does Daddy have to go to work?" She got some great answers from community members…and yet there was also a lot more to explore. I asked her to record her question so I could answer it in an episode, so here it is!
Of course, the issue of Daddy going to work has intersections with patriarchy as well…and many Your Parenting Mojo listeners of both/all genders work and probably hear this question from their children, so I adjusted the title of the episode a little.
The episode looks at capitalism and how it impacts our families and other peoples' families…and how we can start to have conversations about that with our children.
Jump to Highlights
00:58 Listener Kelsey asks how to honestly but age-appropriately answer the question, "Why does daddy have to go to work?"
02:54 Carys shares her ideas on capitalism and work
14:10 Kelsey's child isn't necessarily questioning why Daddy has to work, but rather why Daddy isn't available to play
17:51 The cultural devaluation of certain types of work, the influence of capitalism, housing discrimination, and societal expectations contribute to financial burdens
23:32 Every time we're making a choice to buy something, that is a choice to spend more time working
24:00 The mindset plays a significant role in finding joy and value in any job
25:16 Job satisfaction, financial security, and the role of money in addressing challenges and enhancing safety are crucial in deciding on work
27:26 Money doesn't guarantee safety
30:11 Undervalued care work, predominantly performed by women, is crucial for the capitalist system.
31:47 Building communities that meet each other's needs can provide more choices and reduce reliance on financial resources.
32:59 We can talk to our children about capitalism, explaining that work allows us to meet our needs and wants, while addressing the inequalities and challenges that some people face. 
35:14 Teaching children about capitalism and its objections fosters critical thinking about fairness, inequality, and alternative economic perspectives.
37:40 Teaching financial literacy to children should involve a critical examination of capitalist-focused programs
42:24 Wrapping up
Transcript
Emma:
Hi, I'm Emma, and I'm listening from the UK. We all want our children to lead fulfilled lives, but we're surrounded by conflicting information and clickbait headlines that leave us wondering what to do as parents. The Your Parenting Mojo podcast distills scientific research on parenting and child development into tools parents can actually use everyday in their real lives with their real children. If you'd like to be notified when new episodes are released, and get a free infographic on the 13 Reasons your child isn't listening to you - And what to do about each one. Just head on over to YourParentingMojo.com/subscribe and pretty soon, you're going to get tired of hearing my voice read this intro. So come and record one yourself at YourParentingMojo.com/recordtheintro.
Jen Lumanlan:
Hello, and welcome to the Your Parenting Mojo Podcast. Today we have a question from listener Kelsey. So let's hear the question from her first. 
Kelsey:
Hi, Jen. My name is Kelsey. I live in Southern Illinois, and I love your show. Lately, you've had me thinking about capitalism and its entwined role in my mindset and my choices. It runs deep. Recently I have become aware of how I answer the question, "Why does daddy have to go to work?" is probably helping to lay a capitalist foundation for my kids. I usually answer so we can live in our house and have food and go to Target and on vacation. And sometimes I throw in because he loves his job. Responding to their question with to feed the capitalist machine seems a little hyperbolic for a three and six year old. I do want to set the expectation with my kids that we are not generationally wealthy. And if they want a life with less of a financial burden, a well paying job is necessary. But I also don't want them to think that a paycheck is the only goal. Things like enjoying work and balance are just as important. And that their value does not come from what they can do or earn from someone else or for someone else. And while we are not generationally wealthy, we are a White cisgendered middle class family and working hard isn't the final answer for a lot of other people. 
Kelsey:
I realized these are deep rabbit holes for a three and six year old. But as recovering capitalists, I know that the early messages lay the foundation. So how do you honestly but age appropriately answer the question, "Why does daddy have to go to work?" Thanks so much. 
Jen Lumanlan:
Okay, so this is actually a pretty hard question to answer. Even though it sounds like it's something super simple. What the child is asking has multiple layers. And what you want to tell her has multiple layers as well. So I have some thoughts that I want to share. And I also asked my daughter Carys some questions about it as well to help us to understand how a child might be feeling about this issue. 
Jen Lumanlan:
Carys was eight and a half when I asked her this, it's been a few months now that I've been trying to get this episode together. But the feelings that she's having may be similar to what a younger child has, but can't potentially express. So let's go ahead and hear from Carys about her ideas on capitalism and the amount of time that I'm working and those kinds of things. So she initially didn't want to record this conversation with me, because she's in a phase where a lot of things feel embarrassing, but then the same day that I asked her to do it, I was on a call with someone on my team, and she was pretty frustrated about it. And so I asked her again if she'd be willing to do it. And she said, Yes. And so she was still feeling pretty shy. She didn't really want to talk a lot, but I still think the conversation is helpful. And she does like to do a bit of baby talk these days. So she says me instead of I and this was not scripted or rehearsed in any way was completely off the cuff. So here's Carys's thoughts on this. 
Jen Lumanlan:
Okay. Can I say hi?
Carys:
Say hi.
Jen Lumanlan:
So, we had talked earlier about me having a conversation with you about capitalism, and you said you didn't want to do it right. And then I was just on a phone call. And you seemed really frustrated with how long I was on the phone for right. And all of a sudden, you were more willing to talk about it. 
Jen Lumanlan:
Yeah? Okay.
Jen Lumanlan:
Except for right now. So I'm wondering if I can ask you a few questions. Okay. Nonverbal communication doesn't work so well.  
Carys:
Ask me questions. 
Jen Lumanlan:
Okay. So my first question is, do you know what capitalism is?
Jen Lumanlan:
Not really. Okay. If you don't?
Jen Lumanlan:
What do you what do you have any ideas about what it is?
Jen Lumanlan:
No.
Jen Lumanlan:
Does it have anything to do with peanuts?
Jen Lumanlan:
Does it have anything to do with stuffed animals?
Jen Lumanlan:
Yeah, was asked to do stuff on you have to buy stocks? 
Jen Lumanlan:
Yes.
Jen Lumanlan:
That's true. We have to buy peanuts too.
Carys:
Yeah, just shake true stuff.
Jen Lumanlan:
arysYeah. Okay, so as to do with money. What do we use money for? 
Carys:
Buying stuff?
Jen Lumanlan:
Any particular kinds of stuffthat you can look into your mind?
Carys:
Good. Furniture? Houses, cars. Okay, air? Well, you can pass water in. Or you can compress air and water. So technically, by water, so clean by air.
Jen Lumanlan:
Okay. 
Carys:
And peanut, peanut bags there will be some air.
Jen Lumanlan:
That's true. 
carys:
So, yeah, actually can buy air. 
Jen Lumanlan:
Okay. Do you know what kind of work I do?
Carys:
Help. 
Jen Lumanlan:
Help anyone in particular? Not really sure?
Jen Lumanlan:
Okay. So you know, I spend my time on calls. And fair bit on the computer as well, right?
Jen Lumanlan:
And so I'm wondering parent. So how do you feel when I'm on a call?
Carys:
Me I want you to get off the call. Show me. Know Me. Can play with you. 
Jen Lumanlan:
Yeah. Okay. And so you know why I'm on the call, right. So that I can help parents.
Jen Lumanlan:
Yeah. So I'm thinking about the things that we spend money on. Yeah. Yeah. And also that there are a lot of other kids who have parents who work outside the home, and who are gone for many hours a day--maybe 10 or 12? or more hours a day? No, you think it's way too long? Yeah. What would it be like if I was done 10 or 12 hours a day? He would like know, your face down in the pillows.
Jen Lumanlan:
So do you think we have a lot of money or a little bit of money or somewhere in between?
Jen Lumanlan:
I can't hear you. You're facing
Carys:
Between.
Jen Lumanlan:
 Okay. And are there times when you wish we had more money?
Carys:
Yes
Jen Lumanlan:
Like when?
Carys:
My last week you're around more money when I see those people on the street.
Jen Lumanlan:
Okay, so you wish that we had that I carry cash around with me, so that we could help folks that we see. Okay,
Jen Lumanlan:
What else would you do if we had more money than we have?
Carys:
Buy more candy and get a cannon so we could make it rain candy.
Jen Lumanlan:
That sounds fun.
Jen Lumanlan:
He was also talked about having a huge house, right? So that your what was it? You can fill it fill it with toys and never have to clean it or something? How did that go?
Carys:
Everybody could live together.
Jen Lumanlan:
Everybody who? 
Carys:
Like everybody in the world who lives in one house.
Carys:
That can pack two the most doors in the house. And then out side, there was a garden that had a bunch of plants, according where it was, Okay, like a bunch of animals. And
Jen Lumanlan:
So, if you got to decide what happened to all of the money in the world, what would you do with it? Because there's
Carys:
Everybody for one year?
Carys:
And then same the next year? So no, we got not too little money and not too much.
Jen Lumanlan:
That sounds fair.
Jen Lumanlan:
Yeah. So what I'm trying to understand is, you've been thinking about things that you would like to have if we had more money, right? And one of the ways that we can get more money is if I work more.
Jen Lumanlan:
Right? And I can see that you don't like that. So what I'm trying to understand is what you're thinking about the amount of time I spend working and the money that we get from working.
Jen Lumanlan:
Would you want me to work less if we could play more?
Jen Lumanlan:
And we would have less money?
Carys:
A little bit less. 
Jen Lumanlan:
Okay.
Carys:
Or at least you could work the same out but not on calls, just texts.
Jen Lumanlan:
What is it about me being on calls that you don't like? 
Carys:
Well, you can't listen to me at all.
Carys:
You can't even ask you anything. So me wants to ask you something else to wait for sometimes three hours.
Jen Lumanlan:
Okay, so you don't like having to wait to tell me what you're thinking or asked me something.
Jen Lumanlan:
Okay. Would you want me to work more so that we could have more money?
Carys:
Anyway, even more won the night
Jen Lumanlan:
So it doesn't affect you? Yeah. Okay.
Jen Lumanlan:
How do you feel when you have to wait to ask them something?
Carys:
Sadly, we didn't have to do this yesterday. Many people could just stop doing less. There could still be shops that was not you. But maybe we could start just checking if there are any people that have the things we need first.
Jen Lumanlan:
Okay, then we do that already. Right. Yeah. 
Carys:
Not many families do it.
Jen Lumanlan:
Yeah. 
Carys:
Especially here. 
Jen Lumanlan:
Okay, so you think that if more families lived that way, then we would be able to find things that we need more, and we wouldn't have to buy as much stuff. So you're saying? Yes. Okay. That would be cool. Do you have any ideas about what kind of work you might want to do when you're older?
Jen Lumanlan:
Swimming.
Jen Lumanlan:
Swimming? Really, I was not expecting you to say that.
Jen Lumanlan:
Excuse you.
Jen Lumanlan:
You want to swim for work?
Jen Lumanlan:
Okay. Is there anything any other ideas that you've had about the kind of work you want to do?
Carys:
Finding and working?
Jen Lumanlan:
I hear that's very lucrative. That means you can earn lots of money.
Carys:
Not cleaning?
Jen Lumanlan:
Not cleaning, you don't want to clean your stuff or anyone else's?
Carys:
Gardening? 
Jen Lumanlan:
Hmm. Okay. Do you have any idea how much those jobs might pay?
Carys:
Money? 
Jen Lumanlan:
Yeah. Do you have any idea if they would pay you enough to buy the things you want to buy?
Jen Lumanlan:
Is there anything else you want to say about my work? Or anything to do with money?
Jen Lumanlan:
No.
Jen Lumanlan:
Please don't do pillows again.
Jen Lumanlan:
Thanks for sharing your ideas with me. Appreciate it. 
Jen Lumanlan:
Okay, so now that we've heard from Kelsey, we've heard from Carys, I want to start thinking about how are we going to understand what's going on here. So let's look at what Carys said first. You know, firstly, she's arguing for a universal basic income. She wants to take all the money in the world and divided up equally. And she also seems to have taken on my ideas about buying things as a last resort and borrowing or making do or thrifting, or sharing our extra resources with others so that we can then ask them when we need things before we buy, not in a kind of tit for tat, but just in a "We have extra, would you like?" and then when they have extra, they go ahead and offer to us. And so we do do all of these things on a regular basis. 
Jen Lumanlan:
The next idea is that children think what they see regularly is normal. And they will protest if it doesn't meet their needs all of the time, but they really have no concept of what other people are doing. So I have tried to explain to Carys on multiple occasions that some people's parents leave the house for 12 hours at a time, multiple days a week, sometimes seven days a week. And I think she just doesn't really have a way of comprehending that. She doesn't want me to be on calls so that I can play with her, even though I'm not playing with her most of the time when I'm not on calls, but she just likes to be able to ask me for things and about things that she's interested in. And she seems to get a lot of value out of just being in close proximity to me, even if we're not actually interacting. So she perceives the separation while I'm on the phone to be very difficult, even though you know, I'm just in the next room and she has another parent around most of the time that she can ask for things. 
Jen Lumanlan:
And so coming back to Kelsey's original question. I don't think Kelsey is child is necessarily asking why Daddy has to go to work - what the child is really asking is why daddy isn't available to play now or today or on many days. And of course, we have to acknowledge the heteronormative approach that's going on in this family. And that in every family, it isn't the case that daddy goes to work. But historically, it has been the most common pattern over the last 100 years or so that Daddy's going to work and Mommy is staying at home with the children. And so I'm not sure if Kelsey is working or not. And if there are other factors at play, and of course, you know, the answers could work just as well if it's Mommy that goes to work, but just want to kind of acknowledge that structure there. 
Jen Lumanlan:
So I think the things that we can be asking, we can imagine the child is asking as well as you know, does daddy like to work? Does daddy like to work more than daddy likes playing with me? And when I was thinking about those questions, I was also thinking of a book that I read recently called "What kids really want that money can't buy: Tips for parenting in a commercial world" and it's by Betsy Taylor. And so the first chapter is really just kind of an introduction to the book. And it describes how the Center for the new American Dream surveyed a couple 1000 young people, and asked, "What is it that you really want that money can't buy?" And chapter two is where it starts getting into the things that kids want. And that chapter is called You. And it opens up with two quotes: one, from Harrison, age five, who says, "I would want my dad to not go to work, I would want daddy to play games with me"; and then that's followed by Katie, a seventh grader who says, "I wish I could have a dad that did things with me and understands when I need someone." 
Jen Lumanlan:
And so of course, once again, we're seeing these heteronormative in attitudes here. And I should acknowledge that book was written, I think 20 years ago. So it is a little bit dated by this time. And perhaps hopefully, now there's a more equivalency in the number of dads that are working with the number of moms that are working. But you can pretty clearly see here that we're talking about the beginning of the book, this is the thing that kids want most of all, and what that thing is, is you. And so when we're thinking about this, I think we also really need to more clearly see the choices that we're making. And this conversation originally came up in the free Your Parenting Mojo Facebook group, because Kelsey posted the question there, and a bunch of people responded to it. And I could see there was so much more potential to understand this that I asked her to record the video so that we could explore the idea I hear on the podcast. 
Jen Lumanlan:
And so in the Facebook discussion, I think quite a few folks did actually comment, we had a pretty lively discussion about it. But this part didn't really get fully addressed the idea of the choices that we're making. And so we don't have to live in a nice house or to even live in a house, right? If we're living in a house or an apartment now, we've made a choice to do that. And many of us do prioritize needs for safety and comfort over needs for autonomy in how we spend our time, and that is a choice, right? We're choosing to not have as much autonomy over how we spend our time, so that we can prioritize our needs for safety and comfort. And there are some folks who don't get to make that choice. And through their own choice or not through their own choice, right. And that decision has been made for them by somebody else, and that those folks are unhoused. And clearly, that intersects a lot with the topics that we spent a lot of time talking about here, right capitalism, White Supremacy, patriarchy. So when a person can't exchange their skills for enough money to pay rent, that means capitalism has really failed us. 
Jen Lumanlan:
So there have been some articles in the New York Times over the last few months about how you cannot get a place in Los Angeles with Section Eight vouchers, which is the vouchers that the government gives you if they're subsidizing your housing. So you should be able to exchange those for housing in a lot of different places. And the landlord say, "Nope, we don't accept Section Eight." 
Jen Lumanlan:
So and of course, that's also what that's linked to is the fact that in our culture, we value certain kinds of work, particularly the kinds of work that generate more capital over other kinds of work, and particularly, caregiving, that tends to be the kinds of jobs that women are in, and particularly Black and Brown women. So we have these value hierarchy, where we value the work that White men do over the work that Black and Brown women do. And of course, everybody else sort of fits in into that hierarchy at some point. And that's really kind of a failure of capitalism, as I see it. So what we can think about doing is opting out of a patriarchal system that wants to control us, right? Employers want to decide or they do decide how we spend our time who we're working with what we're doing, how we're doing it. And the less you earn, the more that is true.
Jen Lumanlan:
So free housing often comes with this lack of autonomy as well. Sometimes there might be income tests or drug tests, right? You have to be tested and approved to be able to get the handout that comes with the vouchers or with the the funding that that gives you access to discounted housing. When people of some races are finding it harder to get jobs because they have names that don't sound white, or they're discriminated against on the job, or they're less likely to get a mortgage because they're black, then that's white supremacy in the form of racism. And so all of these factors are coming into play in this capitalist system that we're thinking about, why does daddy have to go to work? And then sort of as a next idea, you talk about wanting to impress upon your children that if they want a life with less of a financial burden than a well paying job is necessary. And so the thing I want to just kind of gently challenge on is, is it - is a well paying job necessary. How do you define well paying? How do you define a financial burden?
Jen Lumanlan:
When we think about an intergenerational home where we have multiple generations of people living together, there's minimal additional burden of having a person living in a home. The burden is created by societal expectations based in capitalism, that say that you have to live, move out, and live on your own or you're a failure. If you're living with your parents after age 18, or 21, you're a failure. And so if you want to be perceived as successful, you better go and live by yourself. And that's how the system makes us keep buying more stuff. You know, this burden doesn't just appear, it builds over time. So we move out, we start renting a place, we buy a car, maybe we travel around, then we want to buy a house, we want to fill it up with nice things, we want to buy a nicer car travel to more expensive places, or having children, we want to give our children the skills to get ahead in life. And so the burden comes from the stuff that we buy, from all those decisions that we make every step along the way to say, "I want something more, I want something better." And if we buy less of that stuff, we will have less of a burden. And thus, we will have more autonomy to do what we want to do with our time. 
Jen Lumanlan:
And so I've seen this play out super clearly in our family over the last couple of years, right? We are in the fortunate position to pay off our cars, one of them we paid off every time the other one we paid off in a lump sum, because I find large monthly payments to be very destabilizing, right? Like I don't like having a large amount of money go out every month and to feel responsible for that, I would rather pay it off in one go and then have a lower amount than that's coming out of the bank account every month. And so we paid off the car. And what we essentially did then was my husband was having some back issues and decided that a new mattress was was going to be the thing that helped and in all honesty, it has helped. But it was a very expensive mattress.
Jen Lumanlan:
And then around the same time our stove broke, we had the utility come in because we get smell gas and they tried to fix it. They thought they fixed it once, they came back because it was still smelling like gas. And they said you need a new stove. And so we're just thinking, well, do I want to buy a 10 year stove? Or do I want to buy a stove that I'm going to have forever, and I don't like wasting and so I've always said I want to buy the thing I'm going to have forever. And so we now have this mattress, and we have the stove. And now we're making payments on the mattress and the stove instead of on the car. So I very much see these decisions that I'm making now. Now before we bought the car, I didn't even see that so clearly right? Now I'm seeing that I am replacing one payment with another payment. And when those payments were done, I'm really going to be thinking hard, do we really want to take on another payment? Or would it be nice to be a little less stressed over how much money is leaving every month. 
Jen Lumanlan:
And I will acknowledge that we are somewhat restricted in our ability to make decisions by the housing stock that's available to us, right? There is not enough intergenerational housing available in this country in the US and in many other places as well. And so if the only thing you can buy is a single family home, then you're not going to be able to reduce the amount that you spend every month as much as you might like to. But I did discover this interesting book was called The Overworked American. It's pretty old as well 1992 was published by Harvard-based economist Juliet Shore. And she argued that we could reproduce a 1948 standard of living, measured in terms of marketed goods and services in less than half the time it took in 1948. And it's probably even less now, right? Because that book is 20 years old. So we could have chosen the four hour day, or working a year of six months, right? Six months working six months off. Imagine this everywhere here in the United States could now be taking every other year off from work with pay. And of course, that would require some redistribution of money. Lower paid workers would need to work longer right now under this system but with universal basic income, that wouldn't be the case. 
Jen Lumanlan:
And so I guess what the point that I want to make here is that these are choices that we make. And every time we're making a choice to buy something, particularly something that we don't have the money to pay for right now, that is a choice to spend more time working. That's a choice to spend less time with our child. And we may decide that is a choice that we prefer to make. But let's at least go into it with our eyes open, right? Let's make this be a choice rather than just putting one foot in front of another and having it not be a choice. 
Jen Lumanlan:
I do think it also somewhat depends on how much we'd like our jobs, which is really as much about mindset as anything else. It's possible to find joy and value in almost any job. And I'm thinking I can't remember if it was a study or a book that I read about a custodian who really saw their role in helping patients in a hospital to heal and would rearrange the pictures on the walls in this hospital so the patients would have new things to look at. So this person was not a doctor -was not directly involved in the healing of the person- but was very much seeing themselves in a role of healing, and probably actually did have some meaningful impact on the patient's healing as well. So that really comes with the mindset, right? Is the mindset I'm going to show up here and I'm going to mop the floor or is the mindset the work that I do here has value and I'm going to really lean into that value. And of course, I'm assuming that rearranging the pictures is probably something that custodian did on their own time, because it would not is not financially valued by the hospital, there's probably that layer to it as well. There is absolutely honor in physical labor. Although I think that maybe it wouldn't be as hard if we paid more for food so that workers could be paid enough to live on without working as many hours. 
Jen Lumanlan:
Another thing we should be looking at is how much we enjoy our jobs. And I do enjoy my job, I wouldn't stop doing it so that I could be available to Carys all the time. Because I think we get different kinds of fulfillment from the work that we do than we do out of being with children. But I work 12 hour days most days, because most people don't pay to listen to podcasts. And I mean, frankly, I wouldn't work as much if my need for safety was met. But by which I mean my need for financial safety. And we'll say some more about that in a minute. And that is something that you do have a lot of power over right, you who is listening to this has a lot of power over my ability to meet my needs. Because I think at last count something like 12 out of the hundreds of thousands of people who listen to the podcast, donate on a regular basis to pay for the time that I spend making it. So I just wanted to sort of plant that nugget there.
Jen Lumanlan:
I think also, it's important to acknowledge that having money to escape, or to not depend on government or know that you can get through a disaster is when I talk about meeting a need for safety. That's really what I'm talking about. And so money can make some challenges easier. And I'm thinking for example, when they're wildfires were super bad here in California a couple of years ago, we were able to buy an air purifier. And my community manager was also in California and did not have a lot of money. And so I bought her an air purifier as well. And also we should acknowledge using purifiers creates greenhouse gases that are in the planets. So there's a cyclical nature to some of this. There's a lot of research on the impacts of Hurricane Katrina, where low income neighborhoods are concentrated in the more flood prone areas, more likely to be close to industrial facilities that are leaking that are spilling during floods. So the places in those neighborhoods are the owners are less likely to carry flood insurance. The more affluent people were more easily able to relocate to safer areas. So there were a lot of Black presidents who didn't have the money or the transportation to leave New Orleans and they were stereotyped as wanting a government handout. So definitely money can help us in some difficult circumstances. 
Jen Lumanlan:
But also, I think we should acknowledge that money doesn't guarantee safety. And one of the examples I was thinking about actually came from a person in the group who said something along the lines of You know, "My parents are my grandparents, and probably my grandparents were in the Holocaust, and so I always wanted to make sure that I have money to make sure that my family is safe." And yet, I was thinking about the ship, the St. Louis, in 1939 that sailed to the US. And there were almost a thousand Jews on board who paid their way onto the ship right before World War Two started and they were escaping Nazi Germany. And it took two weeks. And I'm actually not sure if it's the St. Louis or maybe it's St. Louis to sail from Germany to Cuba, and most of the passengers had visas. But Cuba revoked all the  28 of those visas that the passengers had bought in Germany. And so the ship couldn't dock. And so the ship sails on to Miami. And then the US immigration authorities reject the ship from docking. And the State Department sent the passengers a telegram telling them to get visas and to wait their turn before they could be admitted into the country. And so I think it sailed up from Miami to New York. And as it turned to sail back to Europe, it's accompanied by a Coast Guard ship to catch any desperate passengers who might decide to jump and the ship it also applied to land in Canada, but it was rejected there as well. And eventually Great Britain and the Netherlands and Belgium and France, agreed to accept the refugees and exchange for payments by the Jewish joint distribution committee. The ones who ended up in Britain were safe, but about half of the people on the continent only survived the Holocaust. 
Jen Lumanlan:
So money did help in some respects, right? Those people were able to buy visas, but it ultimately couldn't get them to where they wanted to go. And they ended up having to go back because of I mean, frankly, just absolutely heartless decisions by people in Cuba, in the US, and in Canada. And then yes, money did help once they got back again. But it wasn't their money, right? It wasn't their savings to help them. It was other people stepping in. And of course, there are obvious racist racist ideas coming out in these decisions that were made about keeping too many Jews out and not letting them in. And so we can see this also in some research, I was reading and studies of Black middle class neighborhoods in New Orleans after Hurricane Katrina, where a lot of people weren't able to rebuild because a state grant to provide funds for rebuilding require that the State offered the lower of the pre storm value, or an estimate of the rebuilding costs. And so homes in the black middle class neighborhoods are valued between
Jen Lumanlan:
In a quarter and half of homes in the white middle class neighborhoods, and so savings, yeah, they would have helped those residents a little bit. But rebuilding policies that weren't racist would have helped a whole lot more.
Jen Lumanlan:
So now that we're digging super deep into all this, I also want to acknowledge that the care work is work. And in fact, there's work that's performed for free or that is undervalued that the whole capitalist system is riding on. And so if women didn't perform this work for free, and if mostly Black and Brown women didn't perform this labor for not so much money, so that White women can have careers, then the entire capitalist system would just fall apart. And there's a fantastic book called Feminism for the 99% that really digs more into that. And it's super short, super slim, if you if you did want to take a look at that. And I was also thinking about a parent JD who contributed a story from my book and he told me that his dad had accumulated a lot of money to insulate himself from the relationships that he would otherwise have needed to take care of him, right. So he's building up this big savings account, and lots of investments and other things as well, so that he can pay for the kind of care that would otherwise have been performed for free in relationships.
Jen Lumanlan:
And so when there's no guarantee of things like time off after childbirth, and the national average cost for infant care, it can be up to 36% of the household's income. There's something wrong here. And it's not that this stuff is costing so much because teachers are so well compensated, right? They're not. So the system is not helping us to correctly value the kinds of skills that we need to have a well functioning society. Many parents can't even find childcare, right? 83% of parents surveyed in 2018, said that they were having a hard time even finding childcare. 
Jen Lumanlan:
What are we supposed to do about this right? Well, the path that I see is to try to find as many choices as we can, in a system that's deliberately restricting our choices. So if we're choosing to live in a house, and to have food to eat, that comes from grocery stores, and electricity and daycare for our children, then yeah, Daddy does have to go to work or Mama has to go to work or one of two Mamas one or two Dads, whatever is the family structure. And that is a choice that many of us are going to make. But beyond that, we have a lot more kind of real choices. When those basic needs are met, there are so many more real choices. And maybe we can help our children to be more conscious about those choices than we have been. So maybe when they're older, they might choose to live with us for an extended period of time. And when they're younger, we're not preparing them for the day, when you're going to move out that it's just kind of accepted, you may leave you may not leave; if you stay, maybe you'll contribute a small amount of money or other non financial resources to our family. Maybe we can create communities where we can provide for a good deal of each other's needs. So that we don't have to have as anywhere near as much money as we do when we're paying for services all the time. 
Jen Lumanlan:
Another thing that we can do is to talk with our children about capitalism. And we don't have to make this a huge deal. Right? It can just be something as simple as Daddy goes to work so that we can afford to live in a house and buy food and other things that we need and want. Right? So we're we're not sugarcoating the fact that this is a decision here, where I hit clear that this is a decision. And so there are some of these things that we that meet our needs. And there are also some of these things that we want. And I would say, you know, also bring it up at other times in response to other things your child is curious about. So parents didn't just arrive at this idea of a universal basic income. And it's not something I've ever told her that I think we should have. But we've had a lot of conversations about what we would do what she would do if she had more money. And I have to say she has at times more than once said that the first thing she would buy is a house big enough that she could only play in each room once never have to clean it up. We also talked about when we don't have enough money to do something. So what would we want to do to trade off so that we can do something that she's interested in? 
Jen Lumanlan:
There was a period of time when she was I think about three or four, when she was noticing a lot of tents on the side of the road. And she would ask me, "Why are there people camping on the side of the road." And so obviously, at that point, that's a massive opening to talk about capitalism, and hopefully not to lecture about capitalism, but to explain why some people have less access to money. Obviously, this has links to White Supremacy, that the work that some people do is valued less, but some people face prejudices. So they are not able to get jobs that they would otherwise be qualified for. They're not able to access benefits and services that they will be qualified for. When we're having conversations with our children about things like universal basic income, we can also point out the objections that people have to the universal basic income, right? A lot of people think that well, if you guaranteed everybody income, they just be lazy. We wouldn't ever have any innovation because what incentive would people have to innovate when their well being is a short and there are plenty of people who argue well, when your well being as a short, then you don't have to spend as much time and energy, just getting your basic needs met, and then you can be even more innovative. Maybe you won't be as rewarded financially as much as you might otherwise be. Maybe that's still Okay.
Jen Lumanlan:
We should also talk about the objections to capitalist alternatives, right? And lack of innovation is one of those things. But I always want to ask you, what are the problems that capitalism is solving, really the ones that need to be solved. And I always think, to that awful program, Shark Tank where the people invent something, and then they come on the show, and they try and convince the sharks to fund their idea. And 95% of what they're funding, what they're asking for money for is a widget that they're making in China for five cents, and they found a way to sell it for 2995. And they want money so they can scale up the production. And either that, or it's some sort of service that is trying to make life a little bit easier for rich and middle class White people. Are these the problems that we need to have solved? Frankly, my answer would be no. We can use the things that they notice, right? If there are new buildings being built, where there used to be fields. Why is that? Well, people were willing to pay a lot of money, so they could build those buildings there. And the farmer decided, You know what, I would rather have this chunk of money right now and not do this work anymore. And so then the land use changes. Why does some toys cost more than others? When they're maybe made of plastic or metal? How does that impact the amount that they're going to cost? How does it impact how long they're going to last for? When they're asking why some people's homes are bigger than others, we can ask if they think it's fair. If they don't think it's fair, how would they do things differently?
Jen Lumanlan:
Something that we talk a lot about is "Should everyone pay the same price for things?" So one day, we were coming home from Carys's school program, and she was saying that she thinks it would be fair if everybody was to pay the same amount? And I said, Well, that's interesting that you think that I have a bit of a different opinion, right? Because that school actually has sliding scale pricing. And so I was explaining how capitalism is really kind of like a race, where some people are starting at the starting line. And other people are starting way behind the starting line. And it's like saying, "Okay, go, everybody, try as hard as you can to get to the finish line, the person who gets there first is the winner." And because not everybody is starting from the same place, it's not really fair to measure where they end up in the same way. So that's why our family contributes more. And some families don't contribute as much. And because we're trying to take care of everybody's needs. And I think that idea really resonated with her. And I'm starting to see that come out in some of the ways that she's thinking now. So it's not like I'm telling her I her idea is wrong. But I'm just sharing how I perceive these things. 
Jen Lumanlan:
And I think a related issue on this is about teaching financial literacy. And I do work with parents who are absolutely terrified of raising financially illiterate children, because their parents did not do this for them. And they've made some decisions that have not helped them in their lives. And they want their children to have this skill. And so I guess what I would offer there is we don't have to do everything at once. Right? I think this is real tendency to to catastrophize that a lot of companies and organizations really play on the if our children don't get these financial literacy skills, when they're young that things are terrible things are going to happen down the line. And so there was an article when I was researching this that I found it was published in May 2019, in the New York Times, and it was called Capitalism Camp for Kids. And it describes camps where children can learn to be entrepreneurs. And this Camp for Kids KAMP camp for kids is run by the company biz innovator in Florida. And it teaches eight year olds how to monetize their hobbies, how to interview corporate executives how to shoot YouTube commercials for their prospective businesses. 
Jen Lumanlan:
There's another one nonprofit based in New York called Network for Teaching Entrepreneurship. And I think they pronounced it nifty. And that runs summer programs on opportunity recognition, delivering value to customers, it's running a pitch competition, that's a whole lot like Shark Tank. And the organization was founded by billionaire philanthropists and big businesses and consultants and "aims to activate the entrepreneurial mindset and build startup skills in youth." And they also aim to create future model employees for these businesses, right, because the vast majority people who come out of school are not going to be creating businesses, they're actually going to be employees of these businesses. And so these camps are also sort of making sure that these employees have the skills to understand what's happening, but also just kind of be a cog in the machine of these businesses as well. 
Jen Lumanlan:
There's a camp called Camp Millionaire that's based in Los Angeles, and it's teaching basic financial literacy and it has the mission statement, quote, "We want kids and teens to learn how to be financially savvy before they leave home." So they move out, stay out and become responsible, contributing members of society. And of course, this sounds innocuous enough I'm like, yes. Do I want my child to stay out and move out? Stay up, maybe now I've listened to this episode, so that might not be as high on my priority list. I want them to be responsible contributing Yes. But really what they're talking about is being a part of creating stuff for other people and buying stuff as well, right. And ultimately, what we're doing is when we're pushing people to separate, to be in your own house to be in your own space, what we're actually producing is disconnection. And this disconnection is a huge part of why we're struggling in life. And when we are feeling disconnected, we could either reach out and try to connect with other people, which is scary, we might get rejected, or we can buy something to assuage that difficult feeling. And that's what capitalism is trying to get us to do is to separate us, and then to get us to buy stuff so that we feel less separate. 
Jen Lumanlan:
And so the the person who who runs this business, ater, his name is Casimiro, I think sees entrepreneurship training as a path to financial literacy, as well as a path to freedom, especially students from low income communities. He says, "We've got to teach them that lesson. Because what they've been exposed to is multi generational thinking that government owes me something. We want to change that mindset," he said, and then he goes on, "Regardless of where and how you were born, with the right support, education, love mentorship, kids, starting with zero, let's say in poverty can become extremely successful." He said, I really believe that. And so yes, some of them can. And in a capitalist mindset, that is entirely their responsibility. It's very easy to imagine the poor Black family that he has, in his mind, as he's saying that, who thinks the government owes them something. And somehow he forgets that this country was built on generations of their ancestors' free labor. 
Jen Lumanlan:
And in this view, in his view, capitalism is seen as the Savior, right? It's the thing that's going to rescue these poor, deprived children, and not as the system that created this division in the first place, and perpetuate it now. And so yes, we want to teach financial literacy, because we can't immediately get out of this system. But that doesn't have to happen in preschool, or even elementary school. Maybe we can start from a place of imagining different systems of being with our children in these creative ways that helps them to answer the questions that they have about capitalism, and think about what new ways might be possible, and then teach them to operate within the system that we have while we still have it. 
Jen Lumanlan:
So I hope that that helps Kelsey and other folks who are hearing this question from your children, I know it was kind of an in depth answer. And I guess overall, the idea that I want to leave you with is that there's not one right way to answer this question - that you can answer it kind of with a sense of lightness when they ask the immediate question. But really what this is, is a series of conversations that every time this topic is coming up, when you read about it in books, when they're talking about something that they've done at school, when they're asking why that people are camping on the side of the road, that each of those instances is an opportunity to have a conversation about what we want the world to be like, because that's ultimately what we're talking about here. And right now, the way that the world is at the moment is not serving a lot of people. And so our job is really to help our children to see, yes, there are some good things that about it, there are some other things that are really not working for a lot of different people. And can we be a part of imagining different systems and creating different systems that really value the work that all people do? And not that just some people do? 
Jen Lumanlan:
So very much hoping for more conversation on this, if you would like to continue the conversation, you can come over to the free Facebook group, we have lots of conversations there on episodes. And if you have your own question you want to me to answer your own question through the research through kind of a synthesis of of how I see things through having research 190 or so episodes, then you can record your own question and either send a video of yourself to support@YourParentingMojo.com. Or if you want to do audio only just go to YourParentingMojo.com and look for the button on that page, where you can record your question and send it over to us and I will answer it for you if I can. So thanks so much for being here with me and I will look forward to seeing you again soon.
Emma:
Hi, I'm Emma, and I'm listening from the UK. We know you have a lot of choices about where you get information about parenting, and we're honored that you've chosen us as we move toward a world in which everyone's lives and contributions are valued. If you'd like to help keep the show ad free, please do consider making a donation on the episode page that Jen just mentioned. Thanks again for listening to This episode of The Your Parenting Mojo podcast.