6 #OwnVoices Native American books to read with children this Thanksgiving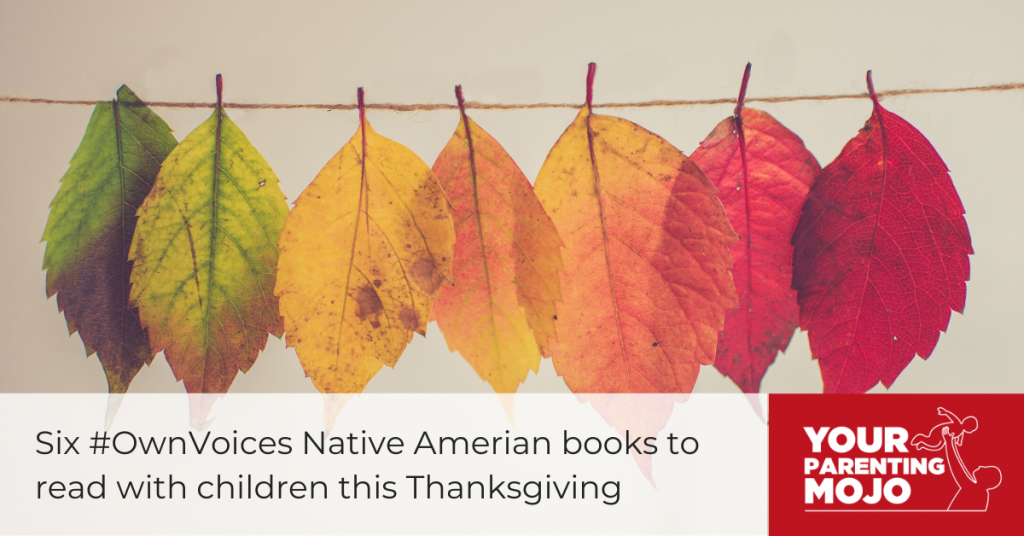 Learning the truth about Thanksgiving
As I've mentioned before, teaching children about Thanksgiving – and even celebrating it – can be extremely problematic once you look beyond the myths that have been perpetuated about it for generations.  The traditional narrative of the Pilgrims with tall black hats and "Indians" wearing headdresses (what is it about the headwear?!) who sat down together to eat turkey and sweet potatoes simply didn't happen.  There probably was a meal at some point, but the Wampanoag had been practicing giving thanks for thousands of years before White settlers arrived, so to herald this single event as the 'origin' of Thanksgiving is simply inaccurate.
And besides the inaccuracy there's the issue of setting aside a day which essentially celebrates the attempted (and partially achieved) genocide of Native people – and once we know this, how do we explain it to our children?  I believe that the best way to start is to talk with children about the ways we might have celebrated Thanksgiving in the past, and why we're choosing to differently this year.  You might choose to attend an event like the National Day of Mourning march in Massachusetts or Unthanksgiving Day on Alcatraz Island (maybe we'll see you there?).  Check with your local tribe to see if they have any events planned.
Books for Children
Another thing you can do is to read books written by and about Native Americans.  Many books on this topic are written by White authors who might even have good intentions about their depictions of Native peoples, but who nevertheless commit microaggressions in their stories.  For this reason, all six of the books I'm recommending were written by the people whose culture is depicted in the story and as you broaden your horizons on books beyond this list I'd encourage you to consider using this selection criteria as well (the #OwnVoices hashtag can be very helpful here).
Only one of these books (We Are Grateful) is specifically about giving thanks; I've selected the others to provide an illustration of the types of books about Native Americans that you may choose to seek out in the future – books about historical events; about the ways cultural traditions are still part of Natives' daily lives; about the use of story to guide children's behavior; and about ongoing Native struggles and activism.
And as a 'bonus' I include one book (1621: A New Look At Thanksgiving) which is co-written by a White/Abenaki duo along with staff of the Plimoth Plantation museum, which aims to provide "a new look at the real history that inspired the myth of The First Thanksgiving."  While this volume is a step in the right direction it also glosses over a lot, and leaves the otherwise-uninformed reader with the impression that Native people exist only in the past.  The book is included to support you in taking first steps toward a fuller understanding of the origins of Thanksgiving, while also helping you to think critically about how stories are told by outsiders.
[Note: This post contains affiliate links, which means that I earn a small commission if you purchase these books after clicking on a link here.  This does not affect your purchase price.  I would encourage you to choose whatever balance of saving money/reducing environmental impacts (e.g. borrowing from your library or purchasing used) and supporting Native authors (buying new) feels right to you.]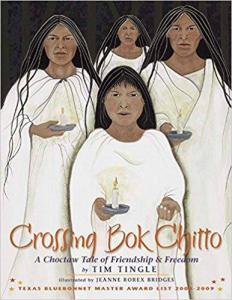 Crossing Bok Chitto – Tim Tingle (Oklahoma Choctaw) and Jeanne Rorex Bridges (Echota Cherokee)
This book is a fictional account of a Mississippi Choctaw family (where the Choctaw lived before being forcibly marched to Oklahoma in the 1830s) who helped slaves to escape.  If a slave could make it across the Bok Chitto River, they would become free and their owner could not pursue.
The Choctaw girl Martha Tom knows about the path of stones that the Choctaw had built just under the surface of the river, and uses it to cross in search of blackberries.  She strikes up a friendship with enslaved boy Little Mo, and when Little Mo's mother is about to be sold to a new owner (which would break up the family), Little Mo requests Martha Tom's help to use the secret river crossing.
Think that slavery is a topic too heavy for young children?  I encourage you to listen to this podcast episode before making that decision – there's a list of books on the topic suitable for preschoolers available to download there as well.  Age 4-8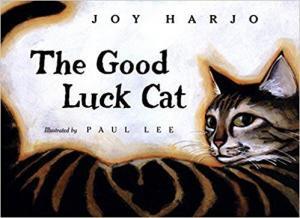 The Good Luck Cat – Joy Harjo (Muskogee-Creek) and Paul Lee
The narrator's cat, Woogie, is working through her nine lives too quickly.  Woogie gets into the tumble dryer, the street, and the car engine – and makes it out each time.  It's almost all over when the little girl puts Woogie in a box in the car to take to a powwow and then forgets about her.  There is little to explicitly mark this book as a story 'about Native Americans,' providing an opportunity for children to see modern people with concerns just like their own instead of people who exist only in the past.  Age 2-5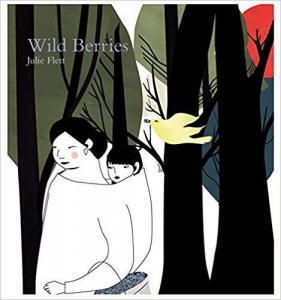 Wild Berries – Julie Flett (Cree-Métis)
This short, simple story about the day that Clarence spends picking wild berries with his grandmother is beautiful to read and look at.  Each page contains a word or phrase set apart in a script font, showing the English in black and the same word in Cree in red text.  Pronunciation will be completely unfamiliar to non-native readers, so there's a helpful phonetic guide in the back of the book.  No, your child is not going to learn enough Cree from this book to do anything useful.  But they can still learn that other people speak different languages, that a first encounter with something we don't understand is an opportunity to respectfully learn more, and how to gracefully attempt a new skill like language learning even if we don't get it right immediately.
The story is quiet and yet emotionally full, as Clarence observes the creatures of the woods – and leaves a handful of berries behind for them, and is beautifully complemented by the author's own illustrations.  I'd also recommend seeking out other books she has written or illustrated.  Age 2-5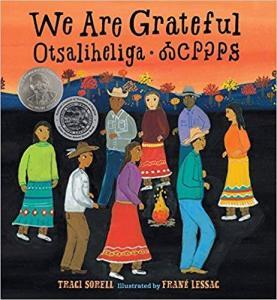 We Are Grateful/Otsaliheliga – Traci Sorell (Cherokee) and Frané Lessac
This book contains many layers beneath its deceptively simple story.  On the surface it's a book about giving thanks – the Cherokee new year begins in Autumn, but the story is a reminder to give thanks throughout the year.  And look!  Giving thanks didn't start when White people arrived!
Cherokee vocabulary is sprinkled throughout the text (with a pronunciation guide at the end of the book and you can hear the Cherokee words pronounced in audio clips here) and we see how Cherokee people celebrate the passing of seasons.  Yet we also see how children teach each other new skills (something I don't often see in WEIRD cultures!), men taking care of babies (I see this often in real life, but rarely as a random detail in a WEIRD children's book!), and the planting of strawberries to remember a traditional story about cooperation.
And, one level deeper, we see the kinds of cognitive dissonance that is embedded in modern Native American life: they book's characters collect plants to weave baskets as a reminder of their ancestors who walked the Trail of Tears – and two seasons later a relative is embraced as they head off to serve in the military of the very country that was enforced the Trail of Tears march.  These events are touched on lightly enough that you can decide how much additional information to provide to your child.  Age 3-8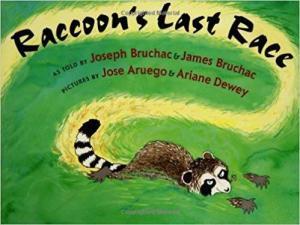 Raccoon's Last Race – Joseph Bruchak & James Bruchac (Abenaki) and Jose Aruego & Ariane Dewey
In Abenaki culture Azban the Racoon is a trickster (although never a malevolent one).  Rather than punishing children for misdeeds Abenaki parents prefer to tell stories about what kinds of mishaps can befall those who commit misdeeds and this book fits with that tradition.
Azban once had long legs and was the fastest of all the animals, but was also very boastful.  One day Azban challenges Big Rock to a race down the mountain, but falls in front of Big Rock and gets flattened.  Only the ants will agree to help Azban try to recover his former shape, but in his impatience Azban brushes them away without a 'thanks' before his legs are long again – leaving him a slower, and humbler, animal.  Age 2-5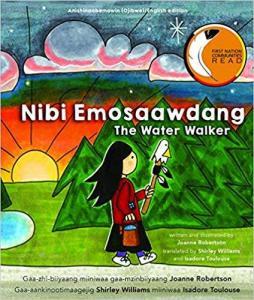 The Water Walker – Joanne Robertson (AnishinaabeKwe)
This book requires a little more effort to connect with than the average children's book – effort is ultimately richly rewarded.  I found the first few pages difficult to understand because unlike most books by Native authors, this one uses Ojibwe language in the text without translation or explanation on the same page (yes, Nokomis (Grandmother) and Nibi (Water) are both translated on the dust jacket which does appear before the first page, but I don't always read the dust jackets first…).
One of the things I like most about this story is the way it connects traditional ideas and culture to present-day life and activism as Nokomis walks around the Great Lakes to draw attention to the need to protect our water sources.  Nokomis loves the water and is depicted paddling a traditional canoe – but the story is very much set in the present.  The wise leader uses a microphone to spread his message about the need to protect water; factories, power plants and pipelines threaten water supplies, and Nokomis lives in a very modern house.  Even as Nokomis' sneakers connect her with her ancestors' migrations, they also connect her with the children of today who will be able to put into context how many steps it takes to wear out one pair – never mind seven!
Nokomis sings thanks, respect and love to the water – but also gets three knee replacements to enable her to keep walking to bring attention to issues impacting water, and is equally at home using the internet to organize activists as in front of TV cameras.  The author shares enough details about the ceremonial aspects of the walk for the reader to understand that this was a different experience than the kind of walk that many people might undertake, yet keeps the details of these private – as they should remain.
At the end of the book the reader is challenged to think of ways that they will help to protect water – and an address is provided where they can mail letters telling about their work to Nokomis.  Age 4-8.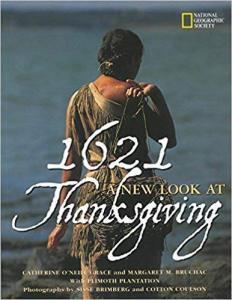 1621: A New Look at Thanksgiving – Catherine O'Neil Grace and Margaret M. Bruchac (Abenaki), with Plimoth Plantation
If you've only ever heard the "Native Americans sat down and had a nice meal with the Pilgrims" version of the Thanksgiving story then this book will be an eye-opener.  The book makes it clear that the Pilgrims didn't even call themselves Pilgrims at the time, Native Americans were not a monolithic group (the settlers interacted primarily with members of the Wampanoag Nation), and what events really (most likely) happened at the time we now think of as the first thanksgiving.
Yet the book also glosses over a lot.  European people imposed "their culture, politics, and religion onto Native people" and the Native people have "persisted through plagues, war, and invasion," but it seems like the word 'genocide' was just too difficult to include.  Even the United States government acknowledges the "official depredations, ill-conceived policies, and the breaking of covenants by the Federal Government regarding Indian tribes," but voter suppression, denial of the rights of tribes to manage their own lands (by the Federal government, no less!), and the Federal government continues to weaken environmental regulations that protect land and water on which Native Americans depend are ongoing.  No, this book can't cover everything – but it could make a better attempt to describe the scope of impact that White settlers had on Native people, and also acknowledge that they are still here and carrying forward cultural traditions in their modern lives.
This book is published by National Geographic which has now acknowledged the racist nature of its magazine coverage and while this book is a step in the right direction it's far from perfect.  I include it here as an example of the way that even well-intentioned Whites' descriptions of Native perspectives can leave readers with an incomplete picture – which can itself provide a useful conversation starter that supports the development of critical thinking.
The book is a bit long to read with younger children, but you might use the text as a jumping off point to discuss the images with them, even as you'll need to provide additional detail not found in the book.
If you'd like to learn more about ways to celebrate Thanksgiving respectfully this year, please check out this post.