SYPM 016: Getting it right from the start with a new baby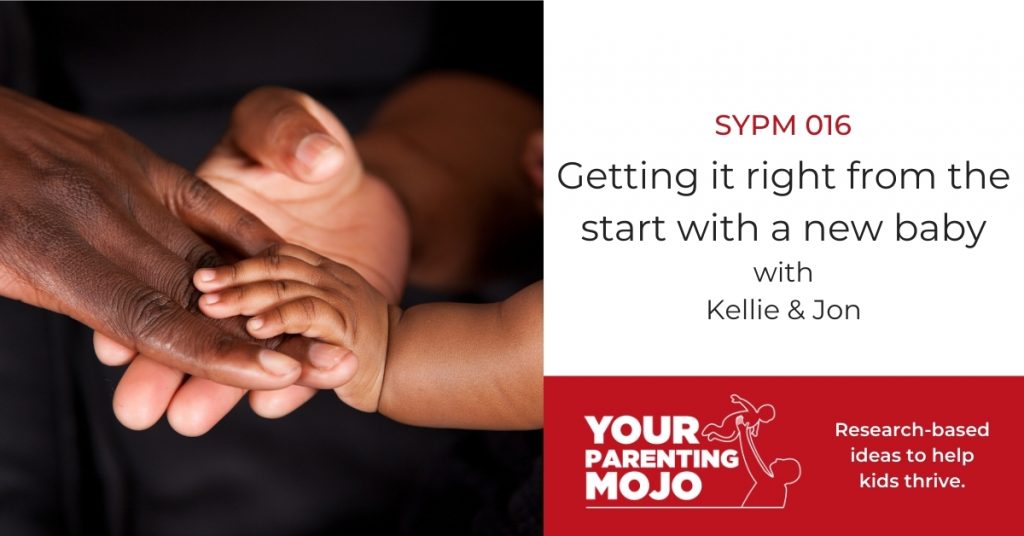 In this episode we do something we haven't done before – talk with podcast listeners who aren't parents yet!
Kellie and Jon are an amazing couple living in Tennessee.  Kellie is a bit of a planner (by which I mean that during her Ph.D program Jon noticed Kellie was getting stressed about when they were going to have a baby, so she led them through a four-hour planning session factoring in the baby's birth and ages at likely dates for her to enter post-doctoral programs and fellowships and landed on February 2021 as the optimal time to conceive – so they started trying in February and she got pregnant in February!).
Jon, by contrast, is a go-with-the-flow kind of guy.  He's the kind of person who just knows everything is probably going to turn out OK without needing to worry about the details too much.  He already knew Kellie was going to be a great parent, while she was much less convinced – although now she knows that babies drink milk rather than water, she's off to a running start!
Kellie devoured all the pregnancy podcasts she could find (my favorite is the Pregnancy Podcast – host Vanessa basically does the same thing I do here at YPM for the pregnancy stage) and then moved onto the child development podcasts, which is how she found YPM – and she was drawn to the research-based information she found here.
Jon describes the whole experience as an "uncertainty sandwich" – there was a lot of uncertainty in the beginning about whether and when they'd be able to have a baby: "and then it really certain really fast!"  And after that it became uncertain again as they looked to figure out what life with a baby would be like.
If you're expecting a baby or have a child under the age of one, the Right From The Start course can help you to find the right path forward for you.  We'll help you navigate sleep, feeding, play and development, what we communicate to our babies through the ways we interact during routine activities like diapering and dressing – and so much more.
But beyond the knowledge, you'll also find an amazing community of like-minded parents who are on this journey with you – so you'll feel less alone, and more able to cope with the challenges you face.
Click the image below to learn more about Right From The Start – enrollment is open now through Wednesday November 3, and we start together on Monday November 8!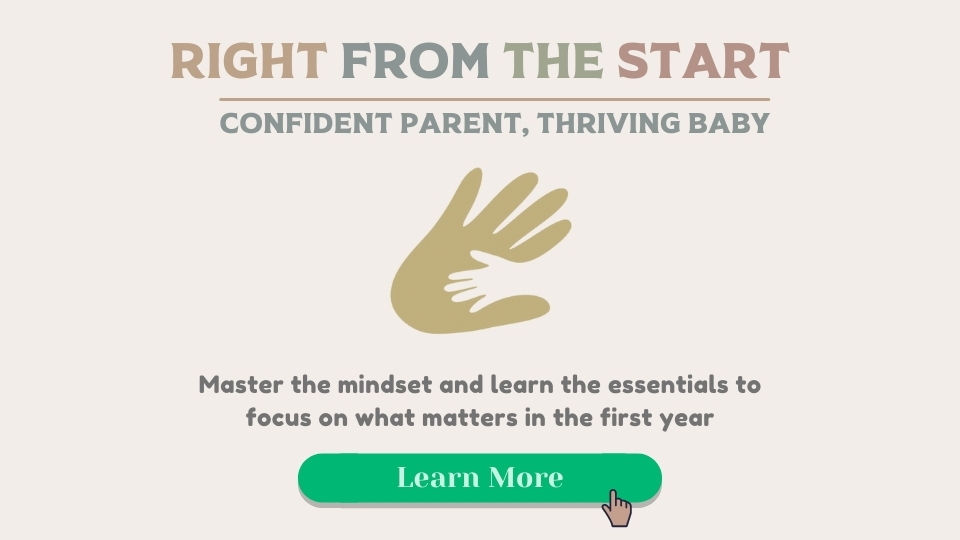 Jump to highlights:
Links to resources:
Click here to read the full transcript
Jen Lumanlan  00:02
Hi, I'm Jen and I host the Your Parenting Mojo Podcast. We all want her children to lead fulfilling lives, but it can be so hard to keep up with the latest scientific research on child development and figure out whether and how to incorporate it into our own approach to parenting. Here at Your Parenting Mojo, I do the work for you by critically examining strategies and tools related to parenting and child development that are grounded in scientific research and principles of respectful parenting.
Jen Lumanlan  00:29
If you'd like to be notified when new episodes are released, and get a free guide called 13 reasons why your child won't listen to you, and what to do about each one, just head over to YourParentingMojo.com/SUBSCRIBE. You can also continue the conversation about the show with other listeners in the Your parenting Mojo Facebook group. I do hope you'll join us.
Jen Lumanlan  01:00
Hello, and welcome to the Your Parenting Mojo Podcast. I think today we're going to do something we've never done before. We're talking with people who aren't parents yet. So here with us are Kellie and Jon who have just been through the last round of the Right From the Start course which I run with Hannah and Kelty of Upbringing. The course is designed to help people who are expecting and who have children under the age of one to get it right from the start. And of course, by that we don't mean there's one right way to parent and we're going to teach you how to do it, but that we're going to help you to find the right way for you. The Right From the Start course is open for enrollment right now through Wednesday, November 3. So we can start as a group on Monday, November 8. We'll cover nine modules of content over eight weeks, that includes all the practical stuff like sleeping and feeding and how not to lose yourself as you become a parent. Parents who have been through the course say they signed up for the information, and yes, they found the research-based content to be useful, but what they most appreciated was what they didn't know they needed the community of parents who are all figuring this out together, and the conversations they've had with Hannah and Kelty, and me on four group coaching calls during the course. So if you're expecting or have a child under the age of one, we'd love to see you in the Right From the Start course. You can sign up right now and sliding scale pricing is available so you can join no matter what your financial circumstances. And without further ado, welcome to Kellie and Jon, I wonder if you can tell us a little bit about who you are, where you are in the world and what's going on in your lives.
Kellie  02:25
I'm Kellie. I am currently seven months pregnant. I'm originally from Kansas City, but right now we're in Nashville, Tennessee. I'm a student working on my PhD in Neuroscience. And… yeah!
Jon  02:39
And I'm Jon. I'm originally from outside Chicago but now also here in Nashville, as you can see working on finishing up my Master's in Community Psychology. And yeah, we're really excited to be here. Thanks for having us.
Jen Lumanlan  02:53
Yeah, thank you. And so what kind of families did each of you grow up? And what was it like growing up for you.
Jon  02:59
So I grew up mostly with my mom, my grandmother, my sister. And then as I got a little older, and my sister came back to live with us, my four nieces. So it was me and the ladies in the house together. And I had a lot of, you know, cousins around and friends and stuff like that. But I think that growing up with women who are both older than me and caretakers, and both women who I had a hand in taking care of young women who are at hand and taking care of and rearing definitely made an impact on you know who I am as a person.
Jen Lumanlan  03:35
In what way I'm curious about both the older people in your life and also the younger people in your life. What How did that impact you?
Jon  03:42
Definitely, I think that I've always kind of wrestled a little bit with what it means for me to be a man and like what manhood means relationally. And it wasn't really until I say that my niece's get here that I started to think a little bit differently about what kind of man I want it to be and what kind of caretaker. What kind of examples am I say? How have I been socialized? And how is that affecting now how my nieces are coming up, versus how I would maybe want our children… you know, at the time I didn't thought of Kellie's so I thinking my kids to be socialized . And so it really just started a lot of self reflection into what I was doing, how I was relating to people, the power that I held, privileges that I had, and how I could sort of, I guess, detoxify some things that I have internalized over the years. Yeah, I think that I'm now in a much better place than I was when I was 16. Although I feel like most folks can say that.
Jen Lumanlan  04:43
Yeah, Hey, I know the feeling. And so Kellie, what was your life like growing up and was it similar to that in some ways or very, very different?
Kellie  04:54
It was pretty different. I mean, I grew up with my mom and then two younger sisters primarily in the house. Dad occasionally in the picture, more so as I get older, but mostly growing up goes, just as for ladies.
Jen Lumanlan  05:08
Aha!
Kellie  05:09
So I guess in that way there's a lot of women in the house but I know them. And so me being the oldest of the three kids, my two younger sisters are very close in age to me where there's only three years total between the three of us with that, you know those, I guess I kind of also felt like a caretaker. So maybe similar in that way too where a lot of the responsibilities of kind of taking care of my sisters and things fell to me because my mom was, you know, busy taking care of us. And that way it was similar and I think pretty different in that you know, our lives revolved basically around going to school and then all three of us did gymnastics. Basically every day was go to school, go to the gym for four hours or so, and I come home: dinner, homework, and that was repeat. That was kind of our lives, we're very much entrenched in that identity of being gymnasts and this idea of strength, I think was a really big one for us. You know, we'd like to prove we were all stronger than all the boys and everything like that physically and mentally.
Jen Lumanlan  06:20
But that's still going on today. It looks like the eyes that I'm getting from the other side of the screen. And a lot of discipline, it sounds like right? This is a really disciplined lifestyle. This is what happens at this time and every day and things are gonna happen the same each day. And do you see that still carrying through to your life today?
Kellie  06:36
I think so. I feel very much like schedules, I like plans, I thrive on knowing what to expect next.
Jen Lumanlan  06:47
Ahhh. And so at some point a decision was made, or maybe a decision wasn't made, but something happened and a baby came into being. And all of a sudden there was a whole lot of uncertainty. How did that play out for each of you? What was this process like?
Jon  07:06
Well, actually, it started out it was like an uncertainty sandwich where it started out with uncertainty. And then it got really certain really fast and working out very well. and then the uncertainty started moving again. So you know, when we had decided that, I guess we really, really liked each other. At some point, we started talking about a future together and what kids would look like and all that stuff, we started, well, we got engaged, we got married, and we were now living in Nashville. This is around May of 2018. And Kellie, loving plans, it's like, alright, so you know, this is what I plan to be done with grad school, I need to get a postdoc at this point. This is the ideal window for me to apply to these fellowships, and I don't want to be super pregnant or like, you know, on leave when I'm doing these things. So how are we going to optimize this baby situation? And I was like, you know, it was just whatever happens, it happens, you know, it's just whenever you're ready. Just holler at me. Up until about a year ago, maybe June of last year, this past summer, Kellie was very upset and stressed out, I noticed for like a couple of weeks consecutively, more stressed out than normal, like being in grad school and stuff like that. I was like, baby, what's wrong? And she's like, I'm just trying to think about finishing up my work and everything that's going on, and it's a pandemic, and like, when are we going to have a baby? And so all that. And so I was like, okay, as someone who did not have nearly as much structure and regimen and is very cool with just go on with flow. I was like, Alright, you know what, I see that you need this, maybe this will be good for me, too. Let's just sit down and let's plan it all out. And we sat down for like four hours, and then we brainstormed what would be the ideal time to start trying such that the delivery would come at certain times such that the baby would be old enough, such that when we're moving and she's going into her postdoc and applying for fellowships, there's the least amount of distractions and other things as possible. And we settled on starting to try in February and she got pregnant in February.
Jen Lumanlan  09:17
Was it 9:02pm on a Friday or whatever, in February?
Jon  09:20
I think it was on a Wednesday, right?
Kellie  09:22
Yeah, yeah. It was.
Jen Lumanlan  09:26
Kellie, tell us more. What was this like for you?
Kellie  09:33
No I mean, I think he hit all the highlights. We recognized that we couldn't actually plan everything but having an idea was really good for me because it also gave me time to prepare ahead of time, set this in place like I said last summer in 2020. So then I had several months to try to find resources and mentally prepare for this. So I knew I wanted a family but the process of going from not having a family to family like that whole interim stuff is terrifying to me. I didn't know anything about pregnancy or…
Jen Lumanlan  10:08
But then there's a fun part of the beginning, right? Most of the time.
Kellie  10:13
That's true. I had a pretty good handle on that.
Jen Lumanlan  10:15
Okay. So that was the middle of the uncertainty sandwich. And then the the rest of it came afterwards. Is that right?
Kellie  10:24
Yeah. So once I got that, you know, positive, all right, this is real, like this is happening. And then that's when the whole uncertainty – other piece of the bread – came to the… really hit me anyway of recognizing that, wow, I have very little control over this process. Little to none. And I'm just here for the ride. So I mean, they're obviously you know, things I can do take care of myself, etc. but there's so much that's just very out of our control.
Jen Lumanlan  10:57
Pat on the shoulder, it looks like other people are here for the ride too. So I wonder, Kellie, if we can start with you and just kind of talk through what this has been like, and then Jon's perspective on what we hear. So I can imagine that for a person who grew up in a very structured environment, and who thrives on that structure and that sense of control that once that moment of certainty has passed, and you're getting into that *sharp inhale* moment that there's a whole lot of worry, and anxiety and other stuff going on. Like what kinds of thoughts are going through your head? What stories were you telling yourself? Were you're getting reassurance from other people or were other people, and I'm not necessarily looking at the person sitting next to you, but other people in your life, or you know, what, how did that play out?
Kellie  11:42
I feel like it was a whole bunch of conflicting narratives all, all hitting me at once. Because on the one hand, Jon, and you know, some other people in my life, there's a couple of other students in my academic setting who have become parents who were, you know, reassuring, like, it all works out, like, it's all fine, things are going to be great warring with my own internal voice saying, I don't know what I'm doing, I have no idea what to expect. I can't, you know, plan out my timelines of when I want to get things done, because I don't know when anything is going to happen. Also, this hasn't been particularly smooth pregnancy, I mean, like, generally healthy, but like first trimester just feeling awful and just like generally been struggling with like my identity of, like, I'm this person who gets things done. And now I just like physically and mentally can't, and worrying that now this is my permanent identity. And I'll never be able to get anything else done again, at the same time hearing some voices: academia is a weird mix of very supportive and very unsupportive for parenting.
Jen Lumanlan  13:04
In what way? What, what kinds of ways do those two things intersect?
Kellie  13:08
It's very person-dependent. Like there's a lot of structures and people in positions of power, who have expectations, or I guess, outdated feelings about, you know, women in general and about women who have kids and trying to be productive. And then at the same time, this narrative of a lot of, you know, females, or women in science who have kids who have promoted this narrative of, you just work super, super hard, and just like work yourself to the bone, and it's like this competition of who can get back to work the fastest. Like, I've heard many a story of like, Oh, well, I came back to work a week later, oh, I was back in the lab two days after giving birth and it's like this…
Jen Lumanlan  13:58
It's gonna be hard to beat that.
Kellie  13:59
And then there's some voices that are like, no, maybe that's not healthy. And so trying to sort through those and recognize that those views are probably problematic, but you know, you hear these voices nonetheless and being very junior in my career, just like thinking about a lot of that stuff was terrifying, and stressful. And then on top of that, just generally being a mom, like the thought of it has its own whole set of expectations more so I'd say from like, my family. A lot of my extended family is very good with kids. A lot of them are teachers and my mom majored in home ec when that was a thing that she could do. I mean, she works in computers now. Yeah, people just like have this expectation of like, oh, like you just naturally know how to take care of children. And I don't. I have basically no experience the kids don't like found out probably shortly after we had the conversation when we're gonna decide to try that, like, babies don't drink water. I didn't know that. So like, really started from ground zero.
Jen Lumanlan  15:19
Well, fortunately, sitting next to you is somebody who has some experience with younger children. So Jon, I'm curious about what it was like to I mean, obviously participate in this, and also in a way you sort of see this process playing out in her mind as an observer and also have your own journey going on. Can you tell us what was happening for you in that period of time?
Jon  15:39
Yeah, definitely. I felt like, I felt like I was kind of, like, we were sitting in the car together and we were about to go driving through this huge obstacle course that is terrible and treacherous, but I can see the other side of it, and I'm like, Oh, yeah, it's gonna be great. It's gonna be fine. And I see Kellie's palms sweating as she's staring at the 300 feet or whatever-so that are in front of us. You know, it's kind of it was a little bit like the opposite, not in the arrogant way, at least, I hope you know, out. But I was just confident. I've been excited to be a dad since like, I don't know how long for a very long time. And we've talked about what to expect from her career, and how, you know, she's told me about these stories about the things that she's going to have to face and challenges as a woman and stuff like that. And so you know, I'm thinking, well shoot, I got more experience with kids anyway, I'm really excited for this, I'd be perfectly happy, you know, holding down the fort being the parent that if need be, my career, it takes a backseat, or if I need to be a stay at home dad, well, that would  only be the greatest thing ever to happen in my life. So I would be perfectly happy being househusband and she can kick butt in the world of science and have zero hindrances to her social life because well, not zero, but she, but much easier time going through those things, because I'm perfectly happy holding things down on the homefront. And so, it for me was kind of, at first, it's like, hey, let's just relax, it's gonna be okay. And I was realizing for my wife, that's really not how that works. But what really works for her, is having plans and getting information and learning. She's an amazing scientist. She's brilliant. And she's so good at taking things apart systematically and understanding that. And so what really, where I noticed a huge boon in her confidence was when she started listening to podcasts doing her own research. It's the truth. She's like, wow, they combined evidence with babies, and I can listen to them while I'm doing other things. This is perfect! Jon, you should listen to them too. And at the time I was like, I don't really need to listen to them.
Jen Lumanlan  17:57
I already know what I'm doing.
Jon  17:58
Right, right. I was like, I'm fine. I'm fine. But I was like, you know what, I'm not baking a human being so the least I could do, I guess is listen along. And like attend the classes. Because also I can learn something. And I feel like I have. So for me, I think a lot of this part of the uncertainty sandwich – the latter bread was really about trying to find a way to help Kellie feel comfortable in her preparation style that made sense for her, while also trying to contain my incredible excitement about being a dad, and not blab to everybody about what the name and sex of the baby is, before Kellie said what it is.
Jen Lumanlan  18:40
What I love about that is that you see… So many couples, and we want to support the other person we try and support them in the way that we want to be supported. And what you see so clearly is that doesn't work for her that you can try and say Oh, just relax. Everything's gonna be fine. I know everything's gonna be fine. And you know, that doesn't land for her. And you're able to support her in learning in a way that makes sense for her. Because Do you know that when she learns that she will be comfortable, she will get to the same place that you're going by a different route, and you're able to support her through that. I love that so much. And so Okay, so then enter parenting podcast into the scene from stage left. How did you find it and what made you start listening to a parenting podcast and not a pregnancy podcast?
Kellie  19:27
Okay, so I did start with a pregnancy podcast.
Jen Lumanlan  19:30
Okay.
Kellie  19:30
Finished that. Labor and delivery podcast. Finished that and then moved on…
Jen Lumanlan  19:37
What's next? Toddler years! Bring it on!
Jon  19:41
You're joking…
Kellie  19:46
Yes. I started with pregnancy and then worked my way through…
Jon  19:53
College preparation.
Jen Lumanlan  19:55
Yeah, yeah.
Kellie  19:55
But I honestly I think I just googled top parenting podcasts and Your Parenting Mojo popped up.
Jen Lumanlan  20:05
Okay.
Kellie  20:05
I may have heard, or like heard mention of it on one of the other podcasts that I've been listening to, at some point, and I honestly don't remember.
Jen Lumanlan  20:14
Yeah, I've interviewed on the pregnancy podcast as well. So it's definitely possible if that was one of them. Okay, so you heard about this podcast. And then you heard that Hannah and Kelty and I are working together to launch the Right From the Start course and in its second iteration when you joined. So what made you say, yes, this is what I need compared to all of the other resources that were out there.
Kellie  20:33
I don't know if this is cheesy, but a feeling of trust in you Jen. Your thoroughness, looking at the whole picture, and not just taking sound bites or a single study and being like, oh, now this applies to all children everywhere. I felt comfortable and confident to know that, like, information that I would get from this course, would be thoughtfully presented. And, you know, holistic in its approach, because I've seen, you scroll through any form of social media, Pinterest, Instagram, everything, and it's like, do these five things, and your baby will never cry again, it's like, okay, but then this says, you know, do completely the opposite. And then there's this other resource that has the secret, and then this one has the secret. And so that was fairly overwhelming. And I felt like I was, I didn't really know how best to sort it all out. And I felt like, what I had heard on your parenting Mojo, for toddler years really resonated with my values, our values, and kind of how we wanted to pair it. And so the question that was remaining to me was, how do you start I understand if it's like a person who can kind of interact with you, but like when it's this infant, like I really don't know how to like merge that gap.
Jen Lumanlan  22:01
Well, you start by feeding it water and…
Kellie  22:04
Right. That's the hydration.
Jen Lumanlan  22:08
Yeah. That would be an excellent place to start. Okay, and so you're signed up and to either convinced Jon or just told him, volunteered/voluntold him that and then what was it like to learn in the community and also to be on the group coaching calls that was one of the most fun parts of this round of the course, I think for me of having you on the group coaching calls, so I'd love to hear about what you learned that has been helpful, but also just sort of how it felt what was it like.
Kellie  22:38
It felt amazing. There were so many other like minded parents who were there who were like, we want this evidence based approach, but we also want to recognize that like, there are multiple people in this relationship which I think was one of the big takeaways of the class is that it's not all about like taking care of the baby, but it's also about taking care of yourselves and other people who were like, yeah, we want to do that. I think that was really great to get to interact and see that like, at least for me that like I'm not alone in wanting to also meet my needs when it comes to parenting. That is actually a good thing and a healthy thing and like promotes a strong relationship with with your child. So I really enjoyed that when I started going to the classes It was the first time when I actually felt excited to parent as opposed to just feeling like nervous and anxious because everyone always asked like Oh, are you so excited? I'm like yeah, sure I'm so excited I have no idea what I'm doing. Like I'm happy to plan like this is what we wanted I just like excitement. I haven't gotten there yet. As I started attending these courses I like started feeling like oh, I can do this. Yeah, I think like this is a new challenge for sure. But like I'm excited to try to meet this challenge now that's how it felt for me.
Jen Lumanlan  23:02
And what was it like to see that unfold, Jon?
Jon  24:10
Oh, to see that unfold?
Jen Lumanlan  24:11
Yeah.
Jon  24:12
Oh, it was amazing. It was amazing. It was like I was watching her become this iteration of herself I know you're in there like Kelly who is confident and and not which is not to say that you know my wife always has to be confident or I expect her to never have a no wavering moment or moment weakness anything like that. But I'm like you know, I'm talking to like my mom and my sisters and stuff like this and like Kellie's worried she's not going to be a good parent. They were like, What are you talking about? Kellie's gonna be the best mom ever. Like we're all so sure but that doesn't really help unless it's coming from here to right and so watching that it's just like yes, it's like when you've gone through this whole movie and you know maybe like you're watching Star Wars and the Empire is kicking rebels butts but you know that there they're gonna rally in like the 11th hour. That's what it was like, for me, I'm a big Star Wars nerd. And so I was like, Yes, Kellie, embrace the force, you got this, you can do this baby. And you know, just having her in a place where she could feel comfortable saying, you know, I am nervous. Yeah, I'm excited, I'm maybe at the place where anxiety and excitement meet up for a little dance or a little drink or two or something like that. But I am worried or Hey, I'm not doing great today. But you know, thanks for asking, not feeling like she has to put on a fake smile or, you know, be plastic and inauthentic in front of folks. Where she can feel how she feels a place where she could complain, a place where she could like, tell me the things that she needs. And that she's worried about without feeling like this means that she's inherently a bad mom, or under qualified or something like that. And so just watching her come in to herself was really amazing. And still seeing her do it. Because you know, she's still really amazing. But it made me feel awesome that we got a chance to do this together, too.
Jen Lumanlan  26:03
That's so amazing to hear. And of course, we see it as well in the two of you and that confidence blossoming. Going from being very, very uncertain, very, very nervous to it seems like a greater sense of groundedness is super cool to watch. And so Jon, you talked about the shift in Kelly, I'm wondering if maybe there was a shift of any kind in you as well, you don't have to say that there was but if there was, I know I enjoyed our conversations about existential crises.
Jon  26:33
So for me, I think the biggest piece was getting to interact with other folks, especially during this time of isolation, the pandemic and everything else that's going on. But also, as I took some more time to like, just reflect about what I got from the parenting podcast and from our interactions in the classes, and relative to my own background and upbringing, I realized that I had previously kind of conceptualized parenting as this very, for lack of a better word, authoritarian or autocratic process, right? Where there is this benevolent kind of ruler, for lack of a better word who guides the inexperienced offspring along the path that they need to go along. And not in a sense that, you know, I was the iron fisted ruler, and no one could tell me otherwise. But in the sense that the idea of co-creating understanding, meaning of how to introduce consent, as opposed to just setting up these barriers and things unilaterally, and then hoping that they stay bouncing in between, like the bumpers at a bowling alley, without you know, going off the rails or something like that. Knowing that that was possible, and getting sort of practice really, honestly, in conversation with other people. And if you and Hannah and Kelty, it was really eye opening for me, you know, I had not thought of parenting as this potentially really diplomatic, really egalitarian loving process. And I'd always associated, maybe a lack of control with a lack of expertise, or that means that you know, I'm just going to not care and let whatever happen to strap me in. And I'm not going to be the person who's guiding and leading when, you know, I realize now Oh, you can change how you're looking at this, you can apply a different theoretical framework and still keep a lot of values and morals that are important to you. But you can also introduce a child-centered, need space, still very, very loving, and very well structured model of parenting that takes into account honestly, in an even better way, what kind of family we want to be and what kind of little people we hope to introduce into the world. You know, little people that are thinking about consent and thinking about what is the other person in this relationship, doing and feeling. And so for me, it was kind of like a big aha moment where I'm coming back to, oh, when my nieces came around, I was thinking about, like, who I am as a person, as an older, you know, man in someone else's life. And now I get to think about, okay, how can I empower our kids? How can I you know, continue to empower Kellie, not just by staying at home, doing the dishes and bouncing the baby while she's kicking butt in the science world, but also in making sure that their needs are met. So for me, that part was really like the pièce de résistance where I had to, like, sit back and go, Oh, wow, man. Like I knew she was right. But because right this is great idea.
Jen Lumanlan  29:51
She's always right. It's a good lesson to learn now. Yeah, and that is why Hannah and Kelty and I do this work is to not just equip parents with the confidence that they need to, to actually do this because they can do it but to really help all of us because we've gone through this journey as well, where we see that the way that we were raised, you know, our parents did the absolute best that they could with the tools that they have, they could not have done any better for us. And yet, we have so many problems out in our world today, we have so many problems that we have personally in our relationships with other people, because we don't understand each other's needs, we don't know how to meet each other's needs, and at the same time, know that our needs are just as important and hold those two together. And when you think about doing that with a baby, who's drinking water? And who can't even communicate with words yet, how can you understand that baby's need and yet you can understand, to some extent, what is going on with them what they're trying to do, you can try and meet their needs, and also hold with just as much reverence your needs as a person as a parent, because you have the right to get those needs met as well. So yeah, I'm totally hearing you on that. And then Kelly, I'm wondering, how does that fit in with you to your values to the structure that you're looking for it to me, it seems as though what john is describing is sort of just enough structure to feel safe, and also enough flexibility to say, you know, what we're going to flux based on how this child comes out, we don't know what this child is going to need, right now we're going to figure that I was like, how is that how it feels to you or is there a little different from that?
Kellie  31:31
I don't really look at it as like, oh, we're not going to have structure so much as this is going to be a learning process. And maybe it's my science brain, but it's like, we're going to try this thing. And it'll be kind of like an experiment, and we're going to see what happens. And then if it doesn't work, we're gonna go back and revise. We'll just keep going from there. And we don't have to know exactly how we're like what's gonna work best. From the start, we can figure it out together. And I think that was something I know I really appreciate about the class was that it opened up a lot of dialogue for us to then discuss, like, okay, so kind of where our boundaries when it comes to putting on coats to go out the door. Remember, that was a conversation we had when it was like, if the child doesn't want to put on a coat? How do we feel about that? How are we going to respond in a situation like that? And what are we comfortable with. And so I think, having an opportunity to have those conversations, and then also using it as a reframing of what it means to parent and what it means to to learn. One of the roles that discusses being that observer may have helped it all kind of mesh together in like a cohesive, like, this makes sense to me. And I'm really happy with how we plan to approach parenting.
Jon  32:52
So have you ever heard someone more beautifully say, I'm excited to experiment with this baby? That she did just then. I can't say that I have.
Jen Lumanlan  33:02
At least she said experiment with and not experiment on. Right? I mean, it could be worse. So that actually leads me where I was just thinking about I heading with this, which is how do you feel about parenting right now? Like, how do you feel about this baby that's on the way and in a couple of months, and I'm excited to experiment with-slash-on it, I guess is one way of putting it. But what's the overall feeling for you right now.
Kellie  33:28
But I'm really excited to see what this baby likes and what he doesn't and learn how to meet someone's needs. I feel like it's a mountable challenge. I'm looking forward to like this new kind of test, per se, but this new opportunity to like, push myself and grow and learn. So I guess that's how I feel.
Jon  33:56
Yeah. She meant what she meant when she said test her mining. I mean, Kelly really likes tests. She really does.
Jen Lumanlan  34:06
And so Jon, what's it like to hear her say that not necessarily just the testing part, but all of it, knowing where you came into this from the you know, the confidence that you already had coming into this? I'm curious about your thoughts on her experience? And also, what is your own experience? How are you feeling about parenting right now?
Jon  34:24
Yeah, I feel like, I am not only feeling like, yes, this is a challenge that we can meet, like, we can rise to the occasion. But honestly, I'm feeling more hopeful. So during, you know, like we were talking earlier, there is this whole thing about existential crises to bring to the forefront in one of our classes, and really just thinking about, yes, I feel like not that I know everything or that, you know, we're not going to have hard times or struggles or challenges that we're going to know what to do in every single situation, but I feel like we're not just going to be okay, like we can actually thrive and that our baby can actually thrive. Because we are going to be approaching this with open minds and open hearts and willing to be more flexible, willing to change and morph as needed to support one another. And as our baby changes and grows up and has their own little personality and turns into a little human of their own, like, their own a human, which still, I mean, like, little likes and dislikes in their own voice, it blows my mind when kid has their own voice. You just used to sound like all the other babies just going ba-ba-ba-. But I mean I'm hopeful is what I'm trying to say in too many words, I'm really hopeful. I feel like we are in a good place. And even though things are tough right now, even though you know, I'm looking for work. And ideally, we could be millionaires. And that will be you know, probably a little bit easier on us. But I still feel like and I feel like if we hadn't had a platform to really interrogate a lot of these things about ourselves and even ask the questions that we didn't know we had, we might not have gotten to this point as early on in this process as we have. And as the partner of a an ardent planner, that makes both of our lives easier.
Jen Lumanlan  36:38
I love that so much. Thank you so much for being here and sharing your story with us. It was truly our honor. Hannah and Kelty and I it was an absolute honor to have you in the course and to get to interact with you on the coaching calls and and to see this journey play out in real time. And you two are going to be amazing, amazing parents. And you have the skills you need, you have the tools you need to be able to in any difficult situation, you know, yes, you might initially think, Oh, I have no idea what to do in this situation because it wasn't covered exactly in the course. But then you know how to step back and say, What are my values here? How am I going to respond in this situation? You have what you need, you're going to be amazing parents. So thank you so much for sharing your story and your time with us. I'm so grateful.
Kellie  37:22
Thank you for inviting us to share and thank you putting together a really, really awesome course. So…
Jen Lumanlan  37:27
Thank you.
Kellie  37:28
…to Hannah and Kelty and the whole team. Thank you.
Jen Lumanlan  37:31
Yeah, absolutely. And so anyone who's interested in partaking in the next round of the Right From the Start course can find information on that at YourParentingMojo.com/RightFromtheStart. Thanks for joining us for this episode of Your Parenting Mojo. Don't forget to subscribe to the show at YourParentingMojo.com to receive new episode notifications, and the free guide to 13 reasons your child isn't listening to you and what to do about each one. And also join the Tour Parenting Mojo Facebook group. For more respectful research based ideas to help kids thrive and make parenting easier for you. I'll see you next time on Your Parenting Mojo.