164: Supporting Neurodivergent Children with Dr. Hanna Bertilsdotter-Rosqvist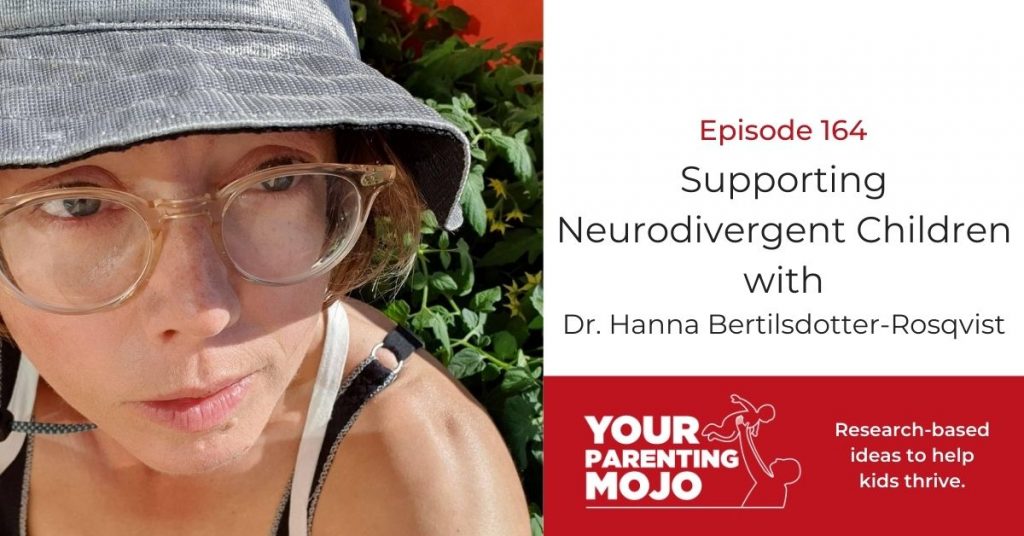 Parents have been asking me for episodes on neurodivergence for a while now so I'm hoping this episode will become the start of a mini-series. In this first conversation I talk with Dr. Hanna Bertilsdotter-Rosqvist, co-author of the new book Neurodiveristy Studies: A New Critical Paradigm. We look at this topic through the lens of autism, and I share some information I found to be pretty surprising when, out of curiosity, I took the Autism Spectrum Quotient screening online.
We discuss ways that schools, workplaces, and the wider world could better accommodate neurodivergent people, both so neurodivergent people can live the fullest expression of themselves, and also so everyone can benefit from their ideas, experience, and expertise.
While this episode uses autism as a lens through which to discuss neurodiversity, the ideas in it can be applied to other types of neurodiversity including Asperger's syndrome, dyslexia, dyscalculia, ADHD, synesthesia, obsessive-compulsive disorder, and Tourette syndrome.
I also see neurodiversity as much more broad than the typical way this term is used, which tends to be used to mean "a person with a disorder that makes them not as good as a normal person." I see us all as neurodiverse, each with our own unique combination of talents and struggles, so we should support children in learning in the way that's uniquely suited to them.
If you'd like to learn how to do this, come and join my FREE You Are Your Child's Best Teacher workshop, which is coming up between August 29 and September 9. Enrollment is open right now – just click the banner below!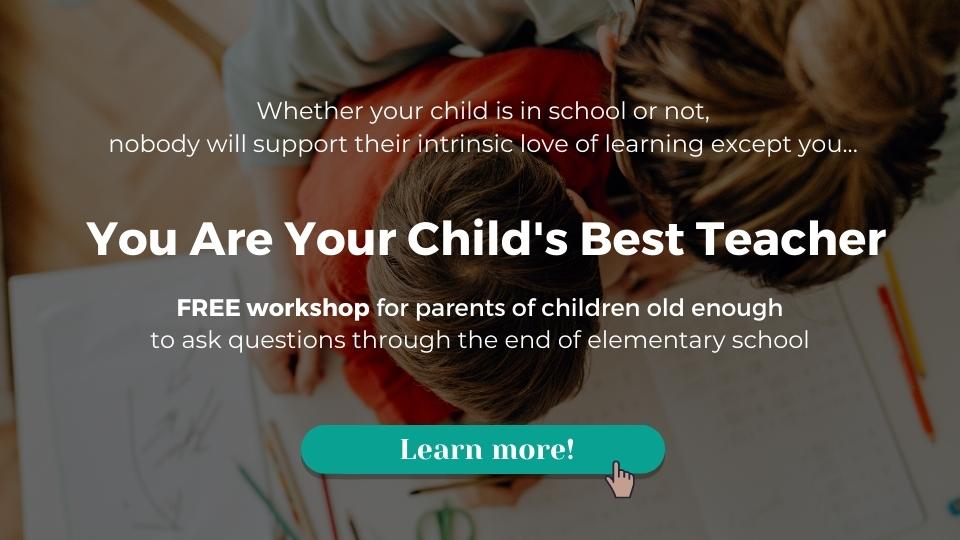 Dr. Hanna Bertilsdotter-Rosqvist's Book
Neurodiversity Studies: A New Critical Paradigm (Routledge Advances in Sociology) (Affiliate link).
References:
Bertilsdotter-Rosqvist, H., Chown, N., and Stenning, A. (2020). Neurodiversity studies: A new critical paradigm. London: Routledge.
---
Bertilsdotter Rosqvist, H. (2019). Knowing what to do: Exploring meanings of development and peer support aimed at people with autism. International Journal of Inclusive Education, 23(2), 174-187.
---
Bertilsdotter-Rosqvist, H. B., & Brownlow, C. (2015). "What's the point of having friends?": Reformulating Notions of the Meaning of Friends and Friendship among Autistic People. Disability Studies Quarterly, 35(4).
---
Bertilsdotter-Rosqvist, H. (2013). Doing adulthood through parenthood: Notions of parenthood among people with cognitive disabilities. Alter 7(1), 56-68.
---
Bertilsdotter-Rosqvist, H. (2012). Practice, practice: notions of adaptation and normality among adults with Asperger syndrome. Disability Studies Quarterly, 32(2).
---
Bertilsdotter Rosqvist, H., Brownlow, C., & O'Dell, L. (2015). 'An Association for All'—Notions of the Meaning of Autistic Self‐Advocacy Politics within a Parent‐Dominated Autistic Movement. Journal of Community & Applied Social Psychology, 25(3), 219-231.
---
Brownlow, C., Bertilsdotter Rosqvist, H., & O'Dell, L. (2015). Exploring the potential for social networking among people with autism: Challenging dominant ideas of 'friendship'. Scandinavian Journal of Disability Research, 17(2), 188-193.
---
Egner, J.E. (2019). "The disability rights community was never mine": Neuroqueer disidentification. Gender & Society 33(1), 123-147.
---
Lovgren, V., & Bertilsdotter-Rosqvist, H. (2014). 'More time for what?' Exploring intersecting notions of gender, work, age and leisure time among people with cognitive disabilities. International Journal of Social Welfare 24(3), 263-272.
---
Metell, M. (2019). How we talk when we talk about disabled children and their families: An invitation to queer the discourse. Voices: A world forum for music therapy 19(3), 1-12.
---
O'Dell, L., Bertilsdotter-Rosqvist, H., Ortega, F., Brownlow, C., & Orsini, M. (2016). Critical autism studies: Exploring dialogues and intersections, challenging dominant understandings of autism. Disability & Society 31(2), 166-179.
---
Ross, H. (2021). "I'm dyslexic but what does that even mean?": Young people's experiences of dyslexia support interventions in mainstream classrooms. Scandanavian Journal of Disability Research 23(1), 284-294.
---
Starke, M., Bertilsdotter Rosqvist, H., & Kuosmanen, J. (2016). Eternal children? Professionals' construction of women with an intellectual disability who are victims of a sexual crime. Sexuality and Disability 34, 315-328.
---
Stenning, A., & Bertilsdotter Rosqvist, H. (2021). Neurodiversity studies: Mapping out possibilities of a new critical paradigm. Disability & Society 36(9), 1532-1537.
---
Walker, N. (2021). Neuroqueer heresies: Notes on the neurodiversity paradigm, autistic empowerment, and postnormal possibilities. San Antonio: Autonomous.
Transcript
Emma:
Hi. I'm Emma, and I'm listening from the UK we all want our children to lead fulfilled lives. But we're surrounded by conflicting information and clickbait headlines that leave us wondering what to do as parents. The Your Parenting Mojo podcast is still scientific research on parenting and child development into tools parents can actually use every day in their real lives with their real children. If you'd like to be notified when new episodes are released, then get a free infographic on the 13 reasons your child isn't listening to you and what to do about each one. Just head on over to YourParentingMojo.com/subscribe, and pretty soon you're going to get tired of hearing my voice read this intro, so come and record one yourself at YourParentingMojo.com/recordtheintro
Jen Lumanlan:
Hello, and welcome to the Your Parenting Mojo podcast. Parents had been asking me to do some episodes on neurodiversity for a while now and I'm glad to kick off what I hope will be a mini series on this topic. Today, we start at the beginning with a look at what neurodiversity is and I will say that as I prepared for this episode, it reminded me very much of the episode we did last year on Giftedness, both episodes have the sense that our children are graded on a bell curve and there's really only one precisely normal child at the top of that curve, and the ones that are on the right side of the curve are called gifted, and the ones on the left side are called neurodivergent. Honestly, it seems to me that the labels aren't really helping us very much here because really everyone except that one child at the top of the bell curve is neurodiverse. We all struggle with some tasks and excel at others. The term neurodivergent has been used to indicate different from the norm in a bad way but I think we really need to take that turn back and say that we need to be much better at identifying the specific talents that each of us has and the specific ways we struggle, and find ways to let people excel in deploying their talents, and support them with skills development in the areas they struggle if they want and need it. Related to this, I also wanted to let you know I'm running the You Are Your Child's Best Teacher workshop for the second time this year. Last year, so many parents who took the workshop came out of it seeing their child's learning in an entirely different way. They saw that their child was a very capable learner even when it looks like what they were doing was playing or worse - messing around. This year, we're going to run it with fairly similar content but instead of being five emails of content in one week, we'll spread it over to and I've deliberately scheduled it over the Labor Day weekend here in the US. So hopefully, you'll get some extra time with your child to use the tools during the workshop. The whole thing is completely free including the pop-up community where you can ask me questions as you're working through the content and get ideas from other folks whose children have had similar interests as your child. While the workshop isn't specifically designed to support children with learning challenges, many parents of children with learning challenges will be there, and we'll find that the methods we use in the workshop will help you to support your child's own unique learning style whether that's normally referred to as gifted or neurodivergent, or anywhere in between to join just go to YourParenting Mojo.com/bestteacher and sign up. We'll get started together on Monday, August 29th. To help us dive into our topic of supporting neurodivergent children. Today I'd like to welcome our guest Hanna Bertilsdotter-Rosqvist, who has generously agreed to allow me to call her "Hanna", who is associate Professor in Sociology and Senior Lecturer in Social Work at Södertörn University in Stockholm, Sweden. Her research is primarily oriented toward disability but also on gender, sexuality and space. And she's co editor along with Nick Chown in understanding of the book Neurodiversity Studies a New Critical Paradigm. Welcome, Hannah.
Dr. Hanna:
Thank you very much.
Jen Lumanlan:
And so, I wonder if we can start off with a question. Even before we do that, I just want to acknowledge that I am very much new to this field and it is entirely possible that I'm going to mis-step and say something that is unintentionally misguided in some way, and I invite you to correct me if I do that. And so I want to start out with something with an understanding of what does it mean to be normal? And so from there related to neurotypical or neurodivergent, how do all those ideas fit together?
Dr. Hanna:
So actually, I want to speak now as a sociologist and I'm thinking about American sociologist, Erving Goffman, who's talking about the front stage and the backstage and I would say that there's a kind of communication barriers between neurodivergent people and empty, or neurotypical people, while NT people are kind of fluent in the front stage behavior, they're really good at acting what they want to kind of present. They're presenting themselves in everyday lives and I think both ADHD and autistic people are quite bad at that and sometimes not really interested in this either, and that's the complication. So I think us as an neurodivergent people we are kind of more at the back stage that we are kind of openly doing what we are doing and talking about what we are thinking, and quite honestly so. So it become a kind of translation difficulty as to integrating with people who is on the front stage and expects us to be at the front stage because that's part of the rule, and then we keep on being backstage, and we want to be on backstage because that's what we are, we are kind of, "This is me. I'm talking about what interests me and what makes me tick or whatever, and you've tried to kind of present yourself and that is conflicting conversation."
Jen Lumanlan:
Oh, my goodness, you're kind of blowing apart the plan that I had for this interview already and I didn't know if this was even going to come up, but it's here. I told Hanna this already, but in preparation for this interview just out of curiosity. I took one of the tests for adult autism and as a cutoff point of if you get over a score of 32, out of 50, there's a high likelihood that you are autistic and I scored, I think 38. So what you just said about the front stage, the backstage, and the idea of presenting a front and understanding other people's fronts, I'm like, "Yes. I don't understand other people's fronts. I don't understand why other people want to see my front." And so that mind blown in the first three minutes of the episode. And so one of the ideas that I read about as I was researching for this episode was this idea of miscommunication and that it's sort of deemed to be, and we're going to talk probably a fair bit about autism just as sort of an exemplar. I think of potentially other mental illnesses conditions. It's deemed to be the autistic person's fault, right? If the NT - neurotypical person doesn't understand and you see it as a bit different from that, right?
Dr. Hanna:
So, once in minority, to think about who they are and what are their kind of communications problems, because it's really difficult to communicate with person that is never really in the backstage, because I really want to know that person, actually. I don't want to know that kind of presenting ourselves because it's unimportant for me. I think we have to understand that we have different goals or motivations, interactions. So what does it mean to interact with a person who has totally different goals with the interaction? and that's the kind of translation barriers, and that I think it's important that it's not about difference, actually, but it's communication, translation difficulties. There's no, never type who has any kind of communications deficits, but we all of us have difficulties translation between us, so it's much easier for me to communicate with an autistic person or ADHD actually, than with neurotypical person, because we have kind of similar common grounds, and I think that's hard when you can, for instance, I mean, social work. So when you're neurotypical social worker and want to work with an autistic person, it's really hard because you're communicating differently, and perhaps you're not aware of that. So you have the first step is to understand, "Oh, I'm a neurotypical person and I'm communicating at front stage where the person who is communicating backstage."
Jen Lumanlan:
Okay, so where did these ideas come from? Like, where did the idea that there is a normal, "a normal person, a neurotypical person," and that everybody else is somehow different from that and deficient?
Dr. Hanna:
At first, I think it was the movements. As the both the UK movements, and the American, I'm not sure the beginning of it. It's really a movement thing, it's not like researchers getting the idea, but the movements is formulating this alternative way of thinking. And that's the born of the idea of neurodiversity, that we are all different in this kind of idea of all different, it's also how people are differently in a hierarchical way being positioned, like in gender, or in sexuality is the same thing. That we are all the ways categorized differently, and some categorize is kind of given more power than others, and here is the formulation so neurotypical, as the heterosexual, or the white people, or the men, whatever, they are having that kind of rights interpretation, and that they worldview is kind of the normal one or the expected of one, and other people's worldviews or other, or strange, or kind of not really the mainstream idea of how life is going to look like or be.
Jen Lumanlan:
Yeah, it seems to me to be very much linked up with the idea of testing, and because before there was testing, like, how would you even know if somebody was normal, or not normal? And then we had all these intelligence tests and during the war and trying to separate out the normal people who should go to war, and the not normal people who shouldn't. And then in school, of course, it's much easier if everybody is the same, because then you can teach one group of 30 kids and they're all essentially supposed to be the same. I imagine it creates enormous difficulties for anyone who is not the same enough as the mainstream class.
Dr. Hanna:
Yeah, and I think most people are not normal. That's also the problem. It's like, expect it's like looking at the very kind of at the top on the normal curve. We're looking at that student and almost never the a such student. It's complicated for all students but it makes it more complicated for some than others because some can pass, and some kind of almost be in the middle.
Jen Lumanlan:
Yeah, I imagine that's what I've been doing for most of my life is passing in that way and instead of recognizing that I have certain things that I do very well in certain things that I struggle with, and I guess in my case, I'm lucky that the things I do well align with what society says is acceptable and wants to see. And there are other people whose strengths are in a very different arena and their strengths are not recognized.
Dr. Hanna:
Yeah, I would say it's same for me because I'm kind of happened to go out into the academia, and the career that was really suiting me. So it's not a problem to be autistic in my position, in my way of being autistic.
Jen Lumanlan:
Yeah, this brings up a language point and I want to be very intentional about the language that we're using today, and you're saying being autistic person. Why do we say that instead of a person with autism?
Dr. Hanna:
I think it's a matter about, again, the personhood that if you're thinking autism is something bad, you don't want to kind of connect that to a person, you dream, or your hope for the person to try to get rid of the autism, but for me, autism is my way of functioning. So I can't rip the neurotypical illness from a neurotypical person because it is part of the personhood. And for me, it's the same thing I can't rip it out on me because it's my way of being, but the differences between if you have an identity, that's a next step, almost, you can have an feeling that this is your way of functioning, and that's fine, but perhaps you don't want to identify with it, and then it became a kind of difficulty that you still want to kind of identify with a neurotypical identity or in a neurotypical community because then you always are in a kind of trouble because you know, you can't really become neurotypical, but do you really want to. So I think it's very similar to the queer community that you may have a normal sexuality or be homosexual, but you really have to identify as homosexual in order to get a good life in some way because otherwise, you always will feel like you're not really cool in some way and think.
Jen Lumanlan:
Yeah, and so this idea of curing autism and curing other types of mental illnesses seems to be grounded in the medical model of seeing people, I guess, really. Can you tell us a little bit about how you see that model and whether it works for us?
Dr. Hanna:
So, I think the misunderstanding on your neurodiversity paradigm is that it doesn't acknowledge people's difficulties because I think it's not about not acknowledging, it's more like we all, we have different functionalities and you have to be acknowledging your whole function, and that might imply that you have psychiatric illnesses, such as social phobia, or depression is really common among autistic people get depression and suicidal, and that is not autism that is a mental or psychiatric illness which we support with. But it's not about curing autism is not like, "Oh, I'm successful now because it doesn't look, you can't see on me that I'm autistic rather than I don't want to be depressed, and I want to have support with my depression. I don't want to have a mental illness but that doesn't mean I don't want to be autistic." So I think the medical movement is kind of misinterpreting what is the problem, and I think the problem is a high amount of people, autistic or ADHD who have a lot of mental illnesses, that you have depression, that you have anxiety - that is the problem. And you also have a lot autistic people who have difficulties to get employment - that is not about autism or ADHD, that's about you need employment in order to become an adult person, and to live a good life where you can support yourself. It's a matter of direction as the medical model is focusing on that person, that the person is something who is needed to be adapted or cured. When I'm thinking about neurodiversity is more aligned with a sort of model disability where it's like, "Well, I do have difficulties, I do need some support. But that's mostly because I might pretend a way of functioning isn't suitable in this kind of society." Like in school, if you have this kind normal curve, and I'm not in the highest position on the normal, I will need some support in order to survive school to learn something at all.
Jen Lumanlan:
Yeah, and it seems that the medical model is trying to cure us and push us as close as possible to that norm figuring that if you're cured of autism, your problems of depression and everything else won't be there because you won't be autistic, you won't have autism anymore. Instead of saying, "Why is this person depressed?" Is it because society is telling them, "You can't have a job because you don't function in the way that we want you to function in that job," instead of changing society and making society more accepting, let's just make the person change and fix themselves.
Dr. Hanna:
And I think, it sounds good in a short way, just adapt the person then everything will be fine, but I think as people have been saying, "If you change the environment or the work environment, it will probably be better for everybody." Since it's not like everybody's thriving in this work life. It's more like some people are really surviving, but it's almost like some people try to survive, and some people do it all right. There's no thriving. That's the difference.
Jen Lumanlan:
Yeah, and so there are a couple of other models of ways of looking at this and one of them is called the Social Model, and it's the idea that it's not that having any sort of physical disability, as an example, is not a problem. It's the fact that buses are not accessible to people with physical disabilities, that's the problem. And I've seen criticism saying that this still requires some kind of comparison with, "normal functioning," and requires that we see some sort of deviation from that. Do you find the social model to be useful or do you see those same flaws?
Dr. Hanna:
I think some criticism getting in Social Model is coming from Marxist, so it's kind of the database, is that its social structures, "If you can change the society everything is going to be fine." That's the Marxist idea, so just when you think about neurodiversity is really inspiring form by social model, but it's also acknowledging neurological different. So it's not a problem to say that, "My neurological way of functioning is this." I don't think of it as a social construction itself, but it becomes something in the meeting between the safety and norms, and the people I'm countering.
Jen Lumanlan:
Yeah, it reminds me of homosexuality being in the Diagnostic and Statistical Manual, as a diagnosable illness for a long period of time. Autism is now in the DSM; do you think it should be in the DSM?
Dr. Hanna:
Yeah, again, back to the needs in society that if you're going to give some people and not everybody support, in this certain situation some people do need support, it's similar to the trans people because I think that's a bigger question if you don't want to have a diagnosis but you identify as a person who is transgender, or by gender views, and so on. But you still need the medical support, you have to have a diagnosis because the medical system has one data or does not compute. That's a kind of tragic between the sneads in this particular society and your identity, because you may not think about yourself as a disabled, or that's not your identity, but you kind of have to say it, "I'm a disabled person in order to get the support I truly need."
Jen Lumanlan:
Yeah, okay. And then the third model that I've seen that I have to confess, I understand that least well of the three, which is this value-neutral model, the idea that disabilities can come with things that make life harder locally, like with the things I'm doing right now, that that it isn't inherently bad for global well-being, and the example that I found was in North America, hearing voices is really bad, like this is a sign that something is not right in your head. In Ghana and in India, they're often seen as benign and playful and not a problem at all. Can you help us along in our understanding a little bit of that value-neutral model and how it's helpful?
Dr. Hanna:
How we think about functionality - everybody has functionality. We have different kinds of bodies and minds and if you're in the right place in the right time, it's not a problem, we have certain kinds of functionalities that was above the norm, that if I have that kind of functionality, which happens to be the most normal right now, it's very good, you get a privilege. But if you happen to have another kind of functionality, you won't get that kind of privileged position in life, to be similar to gender or sexuality, as of what kind of sexuality not only hip sexuality but its particular kinds of hip sexualities is happened to be norm right now with this particular society.
Jen Lumanlan:
Okay. And it's just by accident where you happen to be born, what culture you happen to be born into, that says, "Well, what you have, what you are, is accepted or not."
Dr. Hanna:
Yeah, because some parts of my Swedish way of living wouldn't be acceptable in other parts of the world. Like, "I'm living solo, I'm a middle-aged woman living on my own, in my little flat," for me, it's comfortable and functional, and quite normal in Stockholm, the capital of Sweden, but if I went outside somewhere else, maybe people would think, "Oh, you have to get a partner."
Jen Lumanlan:
So I know that researchers in the field of autism have sort of led the field in terms of neurodiversity research, which is why we're focusing on autism, even though we're talking more broadly about other kinds of neurodivergences, but I'm just wondering about the ways that autistic people communicate with the world that can be very different than what neurotypical people are expecting, for example, being difficult to pay attention to things that have multiple layers, right? And conversations or, or things that have multiple layers, "Right now, you're watching my face and my hands, and you're listening to the sound, and trying to read my body language a little," and then it can be difficult for autistic people to do those kinds of things. What should neurotypical people who are interacting with autistic people know about those interactions that maybe they don't know because they haven't had exposure to us as people.
Dr. Hanna:
I want to say something about the difference in nonverbal communication, because I don't think autistic people generally lack abilities to communicate with nonverbal communication, but they are not looking like they're doing it. So when I can, I mean, in the face with only autistic people, or in an ever-mixed crowd, I feel a lot in my body, and that has been actually a research by I think it's an Australian Education Researcher, Stephen Shore who's talking about a effusing, and it's also been said in circles among neurodivergent psychologists that they can feel from the clients, what the clients are feeling, and there's a lot of non-verbal communication going on. But neurotypical people may not have that possibilities, there's differences in non-verbal communication, so neurotypical people have their own way of doing nonverbal communication and autistic people are doing their way on nonverbal communication. I think that's also hard for researchers to get that when I can encounter perhaps for the first time as I was doing when I were doing my first admin field work with autistic people, I just had to understand that they are not going to give me that kind of, "Hi, how are you? blah, blah, blah," this thing, and they're not going to communicate with their faces, but I feel a lot of things from them. And I have to be kind of aware that they're communicating the nonverbal experiences to me in different ways, and what do I do if I'm a neurotypical person who really can't get that? Because I think some neurotypical persons and researchers, they are quite sensitive so they can kind of do the kind of translation thing, including getting those kind of nonverbal signs, but if they're looking in the wrong direction, if you are a person who is kind of perhaps doing classroom observation, if you're in medication, you may not see what nonverbal communication is going on, because you're not really adapted to looking at that. So I think for neurotypical persons is a lot about being aware of your way of communication and barriers that communication is doing. As if I'm communicating with an autistic person, in a neurotypical way that person is going to start to try to interpret and try to adapt to your communication, and I think, the thing for neurotypical persons and research specialist training is how can we avoid that adaption to start because then I won't get that actually that insider perspective, which actually wanting to have. When you see research where neurotypical researchers saying, "This isn't a first-person story, it's supposed to be honest, it's supposed to be that kind of real, honest, autistic story," but maybe it's only an autistic person trying to adapt to the neurotypical person's way of communication, and what the person is interested in asking as the kind of questions, neurotypical research is asking, "What if people may not be relevant?" I don't say they are un-irrelevant, but sometimes it's like they try to, but they're missing the point, because they don't really get it. I think that's part of why so many autistic autism research is now coming along, and it's really very recently that they're starting to ask other questions as other ways of asking of the methods.
Jen Lumanlan:
Yeah. What other kinds of questions are they asking? And how are they asking them that makes the answer is different?
Dr. Hanna:
At first, only talking about myself, when I was starting to try to get other stories, I realized we have to started to make more of phrases when an autistic person is answering my questions, he or she will answer them in a way they think I want them to be answered. So in order to get other stories, I need to make new ways of asking, and for instance, currently, I work quite a lot with ethnographic ways of researching, so we are writing groups with different kinds of neurodiversity people who's writing about our experiences, and in that collective writing you start to work out and narrate different stories, so for instance, if I am writing about my anger, at first, I was started kind of talking about or writing about anger in a certain way, but when I kind of interact with other people's stories of anger, it will kind of my own way or my kind of own story about my anger will develop. And it's not to say that the anger is a social construction, of course, it is, but it's also about enabling other ways or other stories about anger. So, I think that's a bit of a problem if a neurotypical person is trying to get that story, this actually, perhaps not the deficit lower than a story which is stored in relationship to the DSM manual, but actually wants some other story that person need perhaps to go in that story building to, like, during getting it don't keep on your distance, but get into the story and try to come part of the story. I'm not sure if I'm make them clear.
Jen Lumanlan:
Yeah, I think what you're getting at is that it should be autistic people who are asking the questions and saying how the questions should be answered, to get to a point where the research is actually useful to autistic people. If it's only about the neurotypical researcher asking the questions and saying how the questions should be answered, then we never really get the whole story. I guess I'm thinking how that links to the ways that children learn because it's probably a neurotypical question on a curriculum that is being asked by a neurotypical teacher, and you never fully allow the autistic child to express what is really true for them in that paradigm. Is that right?
Dr. Hanna:
Yeah, I think it's very common that what you think about reading and writing difficult is a different way of reading and writing. It may not be as linear or in the kind of coherent way because maybe as an autistic child, you focus on the small details, you get rid of most about them, but you miss a big point. And the teacher is asking you what did the stories did tell us about, the child said, "Well, it was about the red book over there," and started talking about little red thing in the corner, and the teacher said, "It's not about this. This is not the story, your're kind of missing the point," and I will say, "What is the point? What is the story we are going to tell about the book we have read? And how are we going to write about it?" As a really acknowledged difficult with dyslexia and so on, but I think it's also when it's another way of reading and writing, and it's not acknowledged, rather made into a deficit way or even writing.
Jen Lumanlan:
Absolutely, I mean, I'm just reminded of every curriculum that I've ever read that says that by whatever age, the child will be able to read a short story and understand what the point of it is, and if the child can't do that, then the child is deficient, so yeah, that's absolutely hitting home. And I think related to that, I think other challenges that children can happen have in schools is when autistic children are making physical movements, making sounds that are considered to be distracting to the class, and are seen to be something that needs to be squashed, and you know, when you're not doing that, then things are going to be better for you and also for the rest of the class, and I learned a bit more through doing this research what autistic children are actually doing when they're making these movements when they're making these sounds. Can you tell us more about that?
Dr. Hanna:
Yeah, probably. I think is about this moment, that you're in a class which is really, really stressful for you, so you need to kind of manage that stress energy. It's almost like your body's kind of constantly getting a lot a lot, a lot of impressions, you can't really process them in the time it's needed so you need to kind of get that pressure out, or try to make the processing go smoothly. So for instance, I'm in a situation where I need to kind of focus maybe I will write during the dialogue, or I will write when I'm listening to something because that makes my mind more focused on what I'm actually listening to, all my hands are stopped. And I think, "Oh, oh, does it?" Yes. Because that's also part of perhaps for me to keep the focus to kind of support my processing or hearing as a young child, "No. You should keep your hands folded. Don't do that." Yeah, quiet hands. And it helped me to focus on what you're saying, "Yes, but you should look in my eyes instead of doing this with your hands, but if I just look at your eyes, and won't be able to do this, I won't hear what you're saying." It's really a matter of acknowledging different ways of processing impressions and in the kind of, I hope a lot of pupils want to listen, want to learn, but there must be given the possibilities to do it in their own way.
Jen Lumanlan:
Yeah. So I think this goes back to again, what you opened up with the idea about these communication difficulties, I know that there's a big sort of thread of the research in the autism literature on whether autistic people have theory of mind, which is the idea that other people have different thoughts from you. And it almost seems as though neurotypical people lack theory of mind related to autistic people. Yes, I think neurotypical people shouldn't be taught how to navigate these situations, right? It shouldn't be the autistic person always having to change the way they interact with the world. What should neurotypical people do when you encounter somebody who is using these techniques as a soothing calming method?
Dr. Hanna:
At first, I think you need a curious mind when I look at that person doing that thing, understand what is meaning? What does it mean to that person? So perhaps, as a teacher, ask, "Why do you do this? What does it make you feel?" And also to observe, as a person, perhaps start to do this, in particular situations, when they are really kind of stressful situation in the classroom, perhaps a person starts to move more and oh, there might be connections between what is happening in this environment, and the person movements, and to kind of understand that kind of movement, or the way of people behaving, or in the interaction with a social environment.
Jen Lumanlan:
Sort of moving on from there into what children are actually learning there was a chapter in your book, written by Matthew Belmonte, I'm not sure how to say his last name but it's about a residential summer course that he wanted to attend, and the children determined what they were going to learn each day. And the program was designed to make this optimal match between the student's abilities and the skills that they were learning and the whole thing was sort of constructed as a recreational activity rather than therapy and yet they found it therapeutic. I really think what he's saying is it's therapeutic for autistic individuals to follow their interests and define their interactions which sounds so much like interest-led learning, which is what I do with my daughter, and which I think neurotypical children all children would benefit from following their interests and interacting with others in a way that supports their own skill building. Do you think there should be more space in school and in other learning environments for this kind of learning?
Dr. Hanna:
Yes, because I think if the main point of school is that people are going to learn something, if it's not, okay, then we don't have to do this, but if we want people to learn something then we should change the ways of our teaching. And I don't think a problem because I was quite interested in some religious cults for some part of my life and I was able to do special work about that for the whole term, I cannot deep into that and make a lot of things, and that was fine because that was part of the curriculum. Yeah, and a similar thing when I was starting to learn English, it was really hard for me to learn English because I was so uninterested in trying to get the verb rights. I was not passing my English tests so I got an alternative opportunity and then I was able to just read English books, and then write about them. Then it was just fine, but sometimes it's not like, I just have to be able to do what I really like, but can you change the way of teaching that child won't be able to, perhaps learn English through listening to different kinds of grammatical and interesting ideas or sentences, but to read books, or to listen to soap operas? Whatever, because what do you really want the child to do? "Well, the child is gonna learn English. So it's fine to look at soap operas because, in some way, you're going to get English from them.
Jen Lumanlan:
Yeah, I'm staying with a friend who is a fluent French speaker and learned English from TV comedies, basically. And yeah, she could have taken a course and progressed step by step, but she learned English very effectively from sitcoms, so yeah, there are multiple ways of learning something. Sort of shifting gears a little bit, linking back to the idea that you opened with, which is the sort of front stage backstage, what we present to the world, I know that Greta Thunberg, is autistic and she says she has a really low value on social conformity, and she doesn't tend to pick up on other people's social cues or thoughts, and if she had, maybe she would have done something different with her life that has been less effective than some of the things she's doing. I was wondering, it seems as though we need people, it's not just that we have to find out how to accommodate them but we need people who are wired differently, who are willing to say things that other people are too scared to say, can you tell us a bit more about the value that you see neurodivergent people bring to society?
Dr. Hanna:
Yes, the person is born and we don't know the value of that person in life but we can expect that if the person is giving the right opportunities, he or she is going to be more of a value to society, than if not, so I think is, for me, it's again, back to if I think about when I do research about work life, sometimes I really think, "What is work-life actually about? Are you going to produce or you're going to be social with your friends during the coffee breaks? So that's different kinds of values. So if you really, really value productivity, or if you really, really value, social ability at the coffee breaks, it's different kinds of work life you want. But at least for me, work is about production in some way. It's not only about the coffee breaks. So if you want people who's brilliant that coffee breaks, maybe you shouldn't do work-life maybe should do some leisure, I think that's a place for being social at coffee breaks is to be in your leisure time, but if you want people to be productive maybe the coffee break is not for everybody, I think it depends on some people do need coffee breaks to be productive, and they really not need that support, because I think their coffee breaks in Sweden, we have laws, you have to be on your coffee break, and your lunch, that's part of the law. That's fine for some people but for some people, if I have a kind of work content, which means I need to do this, and that I can do that in four hours, I don't need eight hours do it. If I have to go on coffee breaks, it won't be possible for me to do what I'm supposed to do, but for some people, they do need coffee breaks and they need eight hours in order to make what I can do in four hours without coffee breaks. So I think it's just a matter of give the people the opportunities they need in order to supposed to be doing. I think parenthood or work life, what is the thing? "Are you going to bring up a child who is happy or quite functioning? Or are you going in your work life to be quite productive person?" Yes. But what do you need them, you know, to become that parent or that work person?
Jen Lumanlan:
And that sort of takes me to a bigger question about how we can support neurodivergent people more effectively than we are right now because right now it seems like such a struggle, right? This structure that you're saying that 8hr. workday, where you take coffee break, take lunch at a set time is just the norm. And yeah, when we first had COVID shutdowns, and people are saying to me, "Well, do you miss going to the office?" I'm like, "No, I don't miss going to the office, I don't miss the coffee breaks and the water cooler chitchat, all the stuff, and I'm quite happy to leave that behind. Thank you very much." Maybe sort of starting with workplaces, what are some of the kinds of things that workplaces can do to be more welcoming of neurodivergent people and not just sort of with the goal of including them, but with a goal of truly seeing their strengths shine? So maybe we start with workplaces and then we can look at some other places where we need to do work here as well.
Dr. Hanna:
Yeah, but also think that if you have a company, what do you really want to be done? So do you want to certain production be done? Well, then you have to kind of enabled all of the workforce to do that what you're supposed to be doing. So I think it's a matter of is that what is your main goal, is not to be including all different kinds of minds, but you want to have a certain kind of production, and then different kinds of minds needs different things in order to be as productive as possible. So if you don't have to have a person at the coffee breaks every day because you prefer the person to be productive, then you shouldn't put force, as it's really a well, why do you force the person to be at coffee breaks if that disable that person's productivity? What is the problem to say that everybody have different ways of functioning and some people do need coffee breaks in order to be productive, and that's fine, too.
Jen Lumanlan:
But not to force people into one mold that we assume works for everybody when actually doesn't? What about parents? This seems like there's a really a big topic here because the parent is probably the one who first gets the diagnosis, who is interacting with the doctor and figuring out well, what support does the child need? I imagine for many parents who are on this journey, that there can be a period of mourning where we have this idea that we're going to raise the perfect child, and all of a sudden, they're not perfect in some way. What do you see is the parent's role in effectively supporting neurodivergent children?
Dr. Hanna:
At first, look at themselves, most times people who get autistic children, are autistic themselves, but they're perhaps not acknowledging that and that's the problem when you own a person yourself, and you don't want to be autistic and then to try to force your child to be as non-autistic as possible, because that's you have been brought up to do. So I think, first is to kind of get your own kind of self-knowledge and to understand how you actually are functioning, not how you're supposed to function, but how you actually are, and then try to learn or teach your child to manage, is similar to I think, when your black child in a white neighborhood, your parents have to teach you how to navigate in this white dominated society or neighborhood. We did need that tools as a child.
Jen Lumanlan:
Yeah. And we wish that wasn't the case. No, we don't have to have those conversations anymore, and I think that speaks to the role that neurotypical people can play in this, I have read some of the research on the ways that autistic people do and don't form friendships, and there's sort of this idea that autistic people fail to form friendships, when actually what they're not looking at is that pretty often, the neurotypical people are hostile towards autistic people and this is somehow seen as a failure on the autistic person's part to make friendships, and so it seems to me there's a really big responsibility on neurotypical people to shift the way that they are perceiving autistic people, neurodivergent people.
Dr. Hanna:
But it's also about what is friendships? Again, back to motivation when I'm thinking about my teen time, I was not a problematic teen, but there was quite a lone teen because I really didn't get the girlhood thing, that the girl gangs and I think for me, it's better when I cannot just together with one person, we are not doing that girl thing together, we are just people having a nice time together, but I really felt it was difficult to be in that girl situation because you expect it to be in this kind of hierarchical thing that you're kind of you're positioning yourself with very, very small means. You're trying to position yourself in that group as a normal girl and that can be quite hard. You're really at risk of being ostracized, that's part of the show, also, that in the girl gang, you're ostracizing, perhaps one girl at a time, and this week is that girl, next week if it's the next, as it will always be some perhaps in the gang. It's a friendship thing that you can stress.
Jen Lumanlan:
Yeah, we just did an episode on this a few weeks ago, very deep into this. So much of that is about reading signals, right? And all the subtleties and all the different conversations and what this conversation with this person and that with that person, and it's a lot to keep track of and understand and manage and navigate, isn't it?
Dr. Hanna:
Yeah, and if you don't feel that it's actually, alright, because I heard an autistic trans was saying that I hated to be in that girl group, because I didn't think it was right of them to treat that person that it's not only about me, it's also, they're treating each other very bad. And so in that way, I think neurotypical communication sometimes is really bad, that's part of it is to kind of make different kinds of power games. It's not good for people to be in that kind of power games, but it's kind of teaching into neurotypical adulthood where you're supposed to be able to manage those kinds of power games.
Jen Lumanlan:
Yeah, and you also did a study where a participant, and it was Helen, I think, said that family and friends make greater demands for women to adapt, and to sort of conform with neurotypical norms and that they feel very affirmed by parents when they do adapt. What should we do to not force that adapting? Like, how do we even know we're doing it?
Dr. Hanna:
Yeah, and I think it's really hard because sometimes you know, that your child will survive in the short moment, better if you try to adapt, to try to kind of pass, but you will be aware of that, in the end, that will lead to depression and anxiety and perhaps withdrawal. So it's like in the short run, you can say, "Oh, I'd really want my daughter to be part of that group to have friends." But that will be perhaps a very costly decision that this will mean that person will have difficult later in life or just later in her teen.
Jen Lumanlan:
What would the school system look like if it was supportive of neurodivergent children?
Dr. Hanna:
A little bit back to what you say about the corona pandemic, I think a lot of neurodivergent people actually find it quite good when we have this pandemic, and we could kind of more do what we were going to do, we're listening to the call recorded or the live zoom lectures, and then we yeah, we just did our homework and so on, perhaps our parents for supporting us. So I think there's a lot to be learned from the pandemic, in that case, as perhaps a lot of people learn how to learn in a better way in a more kind of secure situation because they were told they were taught by the parents or in some kind of remote situation, which were kind of more safe in different ways.
Jen Lumanlan:
Yeah, and I'm just thinking back to one of your studies where one of the participants said, "I wish I could just lie on a mat in school." You know, that's not cool, right? If you're not sitting up in a chair, eyes on the teacher paying attention, then you're not learning. That's what learning looks like. How could lying down possibly be learning, we get stuck in this idea of what learning looks like, and we can't conceive that a person could actually learn more effectively by lying on a mat on the floor in the classroom.
Dr. Hanna:
Yeah, so then back to the front stage, you want to see the person performing a certain pupil. In this case, it looks like the learning itself is unimportant as the learning when it comes to content, but the thing which is important is how to learn, and how to perform yourself. That's how it was graded. Do I look like a pupil? Or do I not?
Jen Lumanlan:
Yeah, and not what the purported lesson is, which is what's actually supposed to be on the curriculum, which again, is written from a neurotypical perspective. The obstacles are sort of everywhere we look, aren't they? everywhere, everything is designed for the neurotypical individual at the very top of that bell curve, it seems like it doesn't work well for most children, and yet we continue to try to force the system. What therapies do you think we should offer and to whom?
Dr. Hanna:
Again, back to my connection to the gay community. So the thing when people stopped trying to make people heterosexual as a reverse in reverse therapies and things like that. ABA, as Applied Behavior Analysis is a close custom too, that's also important to say that Gay vs Therapies and the ABA is kind of connected, it's from the same idea about how to try to make a person into something else. So I think we should just get rid of that and try to think about how do we make happy quiz, as how do we affirm queer people, to become what they are? I think the same thing as neurodivergent people, how to affirm people's ways of doing even if it doesn't look right, but how to kind of make people strive as possible. And then I don't think you have to have the right mindset, you have to think about neuro divergence as something fine, is normal itself, because if you keep on having the deficit focus, you will try to make the person something else.
Jen Lumanlan:
Yeah, and that sort of brings up ABA-style therapies, which I know there's a lot of research there. And I was almost thinking that it seems as though the person who is receiving the therapy should have to provide an informed consent to participate in this, which obviously, is very challenging for very young children because it's usually the parents saying child, "You need this therapy. You're going to go," but I don't see another way of avoiding what is essentially teaching autistic children not to show their coping mechanisms, right? Do you see any use on those therapies at all? And if not, how should we avoid using those since they're so prevalent, and so common now?
Dr. Hanna:
Yeah, and I think that's part of the industry that they're making a lot of money, always hard to kind of work against. But think, again, back to the thing about mental illness, if you want to have some kind of happy adult who is not going to be suicidal or depressed, you can't do this as you have to kind of, I think there's some, I don't know all of them, but the kind of affirmative kind of training, but when you look at Pelago gait who's never affirming, they are kind of more where the child is and try to understand again, what the child is doing, and if a child is kind of unconstructive coping strategies, how to kind of support the child produce other kinds of coping strategies that will be affirming say that the child himself is fine, but understand that we need certain coping strategies in order to kind of survive in this environment, "Can we think about alternative coping strategies?" For instance, it's very hard if the child is doing some coping strategies publicly.
Jen Lumanlan:
For example, I'm just trying to tease out the difference between making things more convenient for neurotypical people and actually supporting the neurodivergent person in using more effective coping strategies.
Dr. Hanna:
Other classical example is perhaps when the child is hitting her or his head in the wall. It's not good for anybody. So if you can find out the coping strategy, and when it's too much, perhaps make it dance. I didn't know what something was. Maybe the body needs to move in some way. Yeah, particularly do that in a more kind of constructive way.
Jen Lumanlan:
Okay, yeah, the key here is not the teacher is finding this distracting in a classroom, but that this is actually causing some kind of harm to the person in which case, then a different strategy is useful, so great, thank you. Thank you for that. I'm also curious about supporting neurodivergent people in becoming parents, because there seems to be sort of an acknowledgment that maybe neurodivergent people shouldn't become parents in the neurotypical world, because they're not going to do a very good job of it. What can we do to more effectively support neurodivergent people as they make this transition into adulthood?
Dr. Hanna:
I said, firstly, I need or we need, or people need a support groups like neurotypical people, because in Sweden, people get into different kind of support groups. If from the beginning when you're pregnant, you get into support groups for other parents. And I think a need would be to get into support group for neurodivergent parents. So you kind of kind of learn from each other what is actually needed here, like a friend of mine, she's talking about because she has an autistic child and she has ADHD herself, and she said, "When people telling me how to kind of, or how to do my parenting style, it should be more low emotional. It doesn't work for me because I'm an ADHD person, so I need to have other kind of coping strategies, and it wouldn't work either for my child if I was going to low emotion to her, because she wouldn't feel like I'm authentic, it's better if I just go out, if I get upset and she gets upset, we just move into different spaces." So, I think this also kind of strategies, it will be emotional, always. So as a parent, it's emotional. So, you need to kind of learn different coping strategies, again, then neurotypical parents would need. I think it's the back end to the support and peer support that you need to learn from each other, and if you're not a social worker, or nurse, acknowledge the differences between neurotypical parents and neurodivergent parents is, but think the neurodivergent parent is just to be in the same group as neurotypical parents then neurotypical parents won't go there. Yeah, and back to the basic, "What do you want as a nurse or a social worker? Do you want people to learn how to do parenting? Then you have to adapt to the different ways of functioning."
Jen Lumanlan:
Yeah, and not assume that the neurodivergent parents way of interacting with their child is somehow deficient, because it doesn't look like how a neurotypical parent interacts with their child. Thank you so much. As we wrap up here I'm just wondering, is there something that you wish neurotypical people knew about working with, living with, being in life with neurodivergent people that they don't know enough?
Dr. Hanna:
I think it's back to the front stage and backstage, as the thing that I can't if I communicate with autistic person, I have to get rid of my idea that we are both acting and communicating on the front stage because, otherwise, it will be a problem that keeps thinking or keep doing some things which is not really working well because you're on different stages. You're on the front stage or you're on the backstage. How are you going to find a middle way or find a middle space?
Jen Lumanlan:
Yeah, and a place where you can meet and actually potentially understand each other. Yes. Well, thank you so much for agreeing to talk with us today. Your voluminous research was amazing to read through. So I'm really grateful for your time.
Dr. Hanna:
Thank you very much.
Jen Lumanlan:
And don't forget that links to Hanna's book Neurodiversity Studies A New Critical Paradigm, along with all the other references for the show and information about the You Are your Child's Best Teacher workshop can be found at YourParentingMojo.com/neurodivergent.
Emma:
We know you have a lot of choices about where you get information about parenting, and we're honored that you've chosen us as we move toward a world in which everyone's lives and contributions are valued. If you'd like to help keep the show ad-free, please do consider making a donation on the episode page that Jen just mentioned. Thanks again for listening to this episode of The Your Parenting Mojo podcast.