192: What to do with the myth of Polyvagal Theory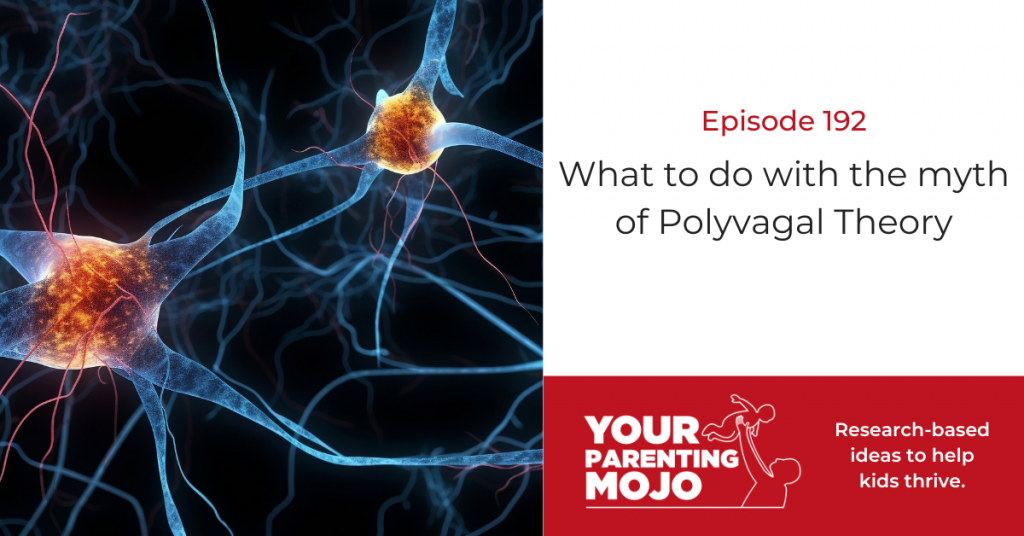 Polyvagal Theory is everywhere these days.
Psychologists talk about it; parenting coaches talk about it; if you're in
the mental health field you're probably referring to polyvagal theory in some way. So one would assume that there's lots of evidence for it, right?  Well, maybe. Maybe not.
In this episode I dig into the foundational principles of Polyvagal Theory and find that there's a lot less evidence supporting it than you might think, given how many places it's used.
So what's going on? Is it legit? Should we be using a different theory to understand our experience instead?
But all may not be lost! Maybe there are aspects of the theory that we can still use…the episode suggests a path forward on this.
Taming Your Triggers 2023
Do you often find yourself caught in the whirlwind of your child's challenging behavior?
Are you seeking ways to foster calm and connection in your parenting journey, even during the most trying moments?
Look no further—Taming Your Triggers will help.
If you:
Often feel triggered by your child's difficult behavior…
Want to find out how to get your child to stop doing the thing that drives you up the wall
Know you want to respond calmly to your child but can't seem to do it in the moment…
Want to parent with love and connection even on the most stressful days
Feel like gentle parenting techniques won't 'work' with your child
Then Taming Your Triggers is for you.
This workshop will empower you with the tools, insights, and support to navigate the ups and downs of parenting with confidence. It helps in all relationships – spouses and parents/in-laws too!
Click the banner to learn more and sign up!
01:26   Introduction to this episode
04:05   Three defining principles of the Polyvagal Theory
09:01   The challenges in reconciling PVT's popularity with the lack of scientific evidence supporting its core premises
21:09   Dr. Stephen Porges' 1995 paper on Polyvagal Theory (PVT) is examined, including references to Charles Darwin's support, removal of a premise, and disagreements with Dr. Paul Grossman
24:35   Dr. Stephen Porges' 2007 paper on Polyvagal Theory introduces four principles about heart regulation and the vagus nerve's role in social engagement behaviors
32:12   Dr. Doody challenges the assumptions behind Polyvagal Theory
36:34   Experts challenge Polyvagal Theory (PVT) by refuting its foundational premises, raising the need for alternative models and further evidence examination
42:05   Bloggers and experts offer mixed views on Polyvagal Theory (PVT): some argue it can adapt without changing its core, while others label it a myth
45:31   Jen evaluates the usefulness of Polyvagal Theory (PVT) considering evidence both for and against it
48:01   The existence of alternative theories to Polyvagal Theory (PVT) is a key consideration in evaluating its validity
48:35   Polyvagal Theory (PVT) is still debated, with limited evidence both for and against it, and alternative theories lacking strong support.
55:24   The cultural context and alignment between a therapist's explanation and a client's understanding are essential for therapeutic success
01:06:23   Indigenous perspectives emphasize the importance of understanding dynamic systems in place and time, which aligns with Dr. Porges' attempt to examine a broader system in polyvagal theory
01:11:55   The Safe and Sound Protocol (SSP), based on polyvagal theory (PVT), lacks substantial scientific evidence supporting its effectiveness 
01:15:08   Wrapping up
References:
Agger, I. (2015). Calming the mind: Healing after mass atrocity in Cambodia. Transcultural Psychiatry 52(4), 543-560.
American Museum of Natural History (n.d.). What is a theory? Author. Retrieved from: https://www.amnh.org/exhibitions/darwin/evolution-today/what-is-a-theory
Barret, L.D. (2017). How emotions are made: The secret life of the brain. Boston: Houghton Mifflin Harcourt.
Barrett, L.D. (2023, March 25). Peripheral physiological changes during emotion. Chapter 1 endnote 26 from How emotions are made: The secret life of the brain. Author. Retrieved from: https://how-emotions-are-made.com/notes/Peripheral_physiological_changes_during_emotion#cite_note-8
Benish, S. G., Quintana, S., & Wampold, B. E. (2011). Culturally adapted psychotherapy and the legitimacy of myth: a direct-comparison meta-analysis. Journal of counseling psychology, 58(3), 279.
Bird, A. (2021). Understanding the replication crisis as a base rate fallacy. The British Journal for the Philosophy of Science. Retrieved from: https://d1wqtxts1xzle7.cloudfront.net/56560473/Replication-base-rate-fallacy_FINAL-libre.pdf?1526290158=&response-content-disposition=inline%3B+filename%3DUnderstanding_the_Replication_Crisis_as.pdf&Expires=1689372953&Signature=HnUWKVi40YZrjWv4RyYGjB8GSt2wRxNSyYdmUe3wNG~NwYkkbMv0rG0Y~PWotaD7xlq6b9DcfQXnwx1ddLVT7nkmX4teXXs9B7iI16d7JnEKVUAzcVXBOuVajgdMQXR~3y1fq1xNfMUXBE-zsqHNV3bSQdReBEMvuIr-l9pNFs~PiSnAaeUe91b-eYy5QCEzvKrTsGN~R-Y~qfEXb3NecIO6kokPLph9H4w0K7cpvu7x72RoBqBT3yIsQmQ5MAoGDrBFW0FnKZuJVUF1LlHBeSGC1ToTJ03feIhLc9OkJJB8i-s3crTxvN5BFdq9oKh-qRUSMAHRE6zmCG-XQ9jR8w__&Key-Pair-Id=APKAJLOHF5GGSLRBV4ZA
Brennan, M.A., Emmerling, M.E., & Whelton, W.J. (2014). Emotion-focused group therapy: Addressing self-criticism in the treatment of eating disorders. Counseling & Psychotherapy Research 15(1), 67-75.
Das, A. (2021). Testing the Longitudinal, Bidirectional Relation Between Respiratory Sinus Arrythmia and Perceived Emotion Regulation (Doctoral dissertation, Miami University). Retrieved from: https://etd.ohiolink.edu/apexprod/rws_etd/send_file/send?accession=miami161688520539524&disposition=inline
deVries, Y.A., Roest, A.M., Turner, E.H., & de Jonge, P. (2019). Hiding negative trials by pooling them: A secondary analysis of pooled-trials publication bias in FDA-registered antidepressant trials. Psychological Medicine 49, 2020-2026.
Doody, J.S., Burghardt, G., & Dinets, V. (2023). The evolution of sociality and the polyvagal theory. Biological Psychology 180, 108569.
Frank, J. D., & Frank, J. B. (1993). Persuasion and healing. Baltimore, MD: Johns Hopkins University Press.
Grossman, P., & Taylor, E.W. (2007). Toward understanding respiratory sinus arrhythmia: Relations to cardiac vagal tone, evolution and biobehavioral functions. Biological Psychology 74, 263-285.
Ekman, P., Sorenson, E.R., & Friesen, W.V. (1969). Pan-cultural elements in facial displays of emotion. Sicnce, New Series, 164(3875), 86-88.
Ekman, P., & Friesen, E.V. (1971). Constants across cultures in the face and emotion. Journal of Personality and Social Psychology 17(2), 124-129.
Graziano, P., & Derefinko, K. (2013). Cardiac vagal control and children's adaptive functioning: A meta-analysis. Biological Psychology 94(1), 22-37.
Hanazawa, H. (2022). Polyvagal Theory and its clinical potential: An overview. Brain Nerve 74(8), 1011-1016.
Harmer, C.J., Duman, R.S., & Cowen, P.J. (2017). How do antidepressants work? New perspectives for refining treatment approaches. Lancet Psychiatry 4(5), 409-418.
Kawai, H., Kishimoto, M., Okahisa, Y., Sakamoto, S., Terada, S., & Takaki, M. (2023). Initial outcomes of the Safe and Sound Protocol on Patients with Autism Spectrum Disorder: Exploratory Plot Study. International Journal of Environmental Research and Publich Health 20(6), 4862.
Laborde, S., Moseley, E., & Mertgen, A. (2018). A unifying conceptual framework of factors associated to cardiac vagal tone. Heliyon 4(12), e01002.
Lehrer, P. (2013). How does heart rate variability biofeedback work? Resonance, the baroreflex, and other mechanisms. Biofeedback 41(1), 26-31.
Luck, A. (2022, October 29). Polyvgal Theory: A critical appraisal. Author. Retrieved from: https://alyssaluck.com/polyvagal-theory-a-critical-appraisal/
McCraty, R. (2011). Coherence: Bridging personal, social and global health. Alternative Therapies in Health and Medicine 53(3), 85-102.
Poli, A., Gemignani, A., Soldani, F., & Miccoli, M. (2021). A systematic review of a polyvagal perspective on embodied contemplative practices as promoters of cardiorespiratory coupling and traumatic stress recovery for PTSD and OCD: Research methodologies and state of the art. International Journal of Environmental Research and Public Health 18(22), 11778.
Polyvagal Institute (2023, February). Polyvagal Theory: Summary, Premises, and Current Status. Author. Retrieved from: https://www.polyvagalinstitute.org/_files/ugd/8e115b_f8f82f01065b41dc85e7698fd4f99818.pdf?index=true
Porges, S. (2021). Polyvagal Theory: A biobehavioral journey to sociality. Comprehensive Psychoneuroendocrinology 7, 100069.
Porges, S.W. (2007). The polyvagal perspective. Biological Psychology 74(2), 116-143.
Porges, S. (1995). Orienting in a defensive world: Mammalian modifications of our evolutionary heritage. A Polyvagal Theory. Psychophysiology 32, 301-318.
Rutherford, B.R., & Roose, S.P. (2013). A model of placebo response in antidepressant clinical trials. The American Journal of Psychiatry 170(7), 723-733.
Shaffer, F., McCraty, R., & Zerr, C.L. (2014). A healthy heart is not a metronome: An integrative review of the heart's anatomy and heart rate variability. Frontiers in Psychology 5, 1040.
Siegel, E. H., Sands, M. K., Condon, P., Chang, Y., Dy, J., Quigley, K. S., & Barrett, L. F. 2018. "Emotion fingerprints or emotion populations? A meta-analytic investigation of autonomic features of emotion categories." Psychological Bulletin, 144(4), 343-393.
Turner, E. H., Cipriani, A., Furukawa, T. A., Salanti, G., & de Vries, Y. A. (2022). Selective publication of antidepressant trials and its influence on apparent efficacy: Updated comparisons and meta-analyses of newer versus older trials. PLoS medicine, 19(1), e1003886.
Unyte (n.d.). Polyvagal Theory: Start with safety. Author. Retrieved from: https://integratedlistening.com/polyvagal-theory/
Unyte (2023, June 22). Disrupting overactive survival reactions with the Safe and Sound Protocol (SSP). Author. Retrieved from: https://integratedlistening.com/case-study/disrupting-overactive-survival-reactions-with-the-safe-and-sound-protocol-ssp/
Yasmin (2023). What is the hierarchy ladder in Polyvagal Theory? Polyvagal Teen. Retrieved from: https://polyvagalteen.com/polyvagal-theory-101/what-is-the-hierarchy-ladder-in-polyvagal-theory/
Transcript
Jessica:
Do you get tired of hearing the same old intros to podcast episodes? Me too? Hi, I'm not Jen. I'm Jessica. And I'm in rural East Panama. Jen has just created a new way for listeners to record the introductions to podcast episodes, and I got to test it out. There's no other resource out there quite like Your Parenting Mojo, which doesn't just tell you about the latest scientific research on parenting and child development, but puts it in context for you as well. So you can decide whether and how to use this new information.
Jessica:
If you'd like to get new episodes in your inbox along with a free infographic on 13 Reasons your child isn't listening to you (And what to do about each one), sign up at YourParentingMojo.com/subscribe, and come over to our free Facebook group to continue the conversation about this episode. You can also thank Jen for this episode by donating to keep the podcast ad free by going to the page for this or any other episode on YourParentingMojo.com.
Jessica:
If you'd like to start a conversation with someone about this episode, or know someone who would find it useful, please vote it to them. Over time, you're gonna get sick of hearing me read the center as well. So come and record on yourself. You can read from a script she's provided or have some real fun with it and write your own. Just go to your parenting mojo.com And click Read the Intro. I can't wait to hear yours.
Jen Lumanlan:
Hello and welcome to the Your Parenting Mojo podcast. Now I have to say this may be one of the most uncomfortable episodes I've ever done--more uncomfortable than episode 175 where I revealed my autism self-diagnosis which you can find at YourParentingMojo.com/me. Definitely more uncomfortable than episode 18 on Dr. Lisa Miller's book, The Spiritual Child where in the course of preparing for the episode when I was still really new to podcasting, I dug into the papers cited in the book and found that some of them had conclusions that were opposite from the ones described in the book. And even more uncomfortable than episodes 131 and 132 on implicit bias where I first tried to pin Dr. Mazharin Banaji down on what exactly implicit bias is, and I wasn't able to do it. And then I had to produce an entire second episode where I outlined my belief that while implicit bias may be a thing, and it may be important, it probably isn't as important as the explicit biases that people have and want to hide.
Jen Lumanlan:
This episode is uncomfortable for me because it involves potentially saying that somebody else's work isn't all it's made out to be, even though I've been using the ideas that are implicated in that work in my own workshops and memberships. But while I also admit that I don't fully understand the research, and can't reach a definitive conclusion. There's not much scarier to an autistic person who wants to understand everything and who has a well developed case of imposter syndrome. Except doing all that among what is a pretty big squabble going on in the psychology field on this topic, and potentially having the eyes in that squabble turn toward me.
Jen Lumanlan:
So what is this topic that has been such mental gyrations? polyvagal theory? It's everywhere these days. Psychologists talk about it. Parenting coaches talk about it. If you're in the mental health field, you've probably referred to polyvagal theory in some way. So one would assume there's lots of evidence for it right? Well, maybe. Maybe not. So let's start with a brief definition. And then we'll hear the listeners question that prompted the episode and then I'll tell you the messy story about why it's taken so long to create this episode. And then we'll dig into the research to understand what we can understand about polyvagal theory which I'll call PVT from here on although some researchers call it PT. So I'll also use that abbreviation where they do. By the end we'll have something of a past to understand whether and how I'm going to continue to use it in my work, and whether and how you can continue to use it to help you as well.
Jen Lumanlan:
PVT was developed by Dr. Steven Porges. He runs the Polyvagal Institute which says that PVT consists of three defining principles. The first principle is the hierarchy of the autonomic nervous system which has three main states and the safe state the parasympathetic ventral vagal system is activated. And that means the person feels safe and open to social engagement and play. And you may hear this being referred to as "being in a ventral vagal state."
Jen Lumanlan:
In the mobilized state, the sympathetic nervous system is activated, which is not related to sympathy, it's a different thing. And the person is ready to respond to a perceived threat ready to fight or flee. And in the immobilized state the parasympathetic dorsal vagal system is activated and the person has shut down and unable to move. These states don't always act independently but can also be activated together. The Polyvagal Institute doesn't actually explain how these three states form a hierarchy, even though the first defining principle is this hierarchy of the three states. Other practitioners, including Dr. Deb Dana, who also works at the Polyvagal Institute, have talked about the top rung being the ventral vagal state where you're calm And relaxed. The middle rung is where you're mobilized for fight or flight. And the bottom rung is where you're shut down because of numbness or disconnection as you move up and down the ladder as you feel more or less safe.
Jen Lumanlan:
The second principle is that the regulation of the autonomic nervous system with the ANS, which has the three states we just defined, is done by what's sort of a built in surveillance system that's always evaluating risk. So we're scanning our bodies, we're scanning other people and the environment for cues about safety and danger. And sometimes this system this neuroception can be faulty, especially if we've experienced trauma. And we're constantly expecting risk And threats when actually, the situation we're in is safe, which means we ended up spending a lot of time getting ready for fight or flight.
Jen Lumanlan:
The third main principle is co-regulation, which means we naturally and unconsciously send and receive signals of safety or danger to and from each other. PVT says that all of these things happen through what's called our social engagement system, which is where neural pathways emerging from the ventral vagal complex in the brainstem, calm our reaction to a threat and let others know we're open to friendly communication.
Jen Lumanlan:
We've said the word "vagus" a few times by now already so I want to be clear what that is - Dr. Hisashi Hanazawa says that the ventral vagus is "a myelinated nerve (and myelinated seems to mean they're insulated with some sort of fat) that has newly emerged in mammals and in coordination with cranial nerves which are at the back of your brain. And they regulate the muscles of the face and head to form the ventral vagal complex, which enables social engagement via exchange of safety cues and downregulating sympathetic defense reaction."
Jen Lumanlan:
Now I also want to mention some of the advisors who are listed on the Polyvagal Institute's website. There's Dr. Bessel van der Kolk, who wrote The Body Keeps the Score, Dr. Gabor Mate who's written a number of books on trauma, Dr. Ed Tronick, who created the still face experiment back in the 1970s, and Dr. Dan Siegel, who wrote The Whole Brain Child and a number of other widely respected books. So just hold those names in your head for a little bit if you can. And now let's hear from listening to Nanita, who submitted a question to me on this topic a little while ago:
Hey, Jen, this is Nanita. I'm calling from Brooklyn, New York. I've been having some interesting conversations with a friend who is a neuropsychologist. And she has been talking about the idea of interpersonal neurobiology, all the things that you know, Mona and Stephen Porges, like everybody was dancing or what everybody's talking about. And she says that this is all based on very faulty science. And I'm like, clutching my pearls about it since I'm really based a lot of things around it, around interpersonal neurobiology. So I'm just wondering if you could like maybe do a deep dive and it's like, you know, Stephen Porges, like, onto something real, is it's just something sort of, you know, I know that some people call it like pseudoscience, polyvagal theory, even though it sounds so good. And I love it. Anyway, I'd really love to, I'd love to hear your deep dive on interpersonal neurobiology and what that's all about. And if Bessel van der Kolk and everybody is on the right track, are we all just sort of saying something that just sounds good, and sounds like we want it to sound but isn't necessarily based in science. And then as soon as I say that, I'm realizing what we call quote unquote, science is not always the thing that we need to be looking at in that whole white supremacist, capitalist, patriarchal scenario. So anyway, lots of questions, I'd love to hear what you have to say.
Jen Lumanlan:
The first person I need to mention is "Mona," who of course is Dr. Mona Delahooke and this was actually my own entry point into the possibility that all might not be what it seems in the world of PVT. You might remember that Listener Jamie and I interviewed her back in January 2020 for episode 104, on how to help a child to overcome anxiety. I really believe in so many of the ideas in her book, which are about seeing children's behaviors as indicators of unmet needs, and I saw how much of her work is based on Polyvagal Theory, which I wasn't too familiar with at the time. Dr. Porges provided both the front cover blurb for her book and also the first blurb on the first page inside the book. And on page 1 of the introduction she writes: "In my experience, the neuroscientist Dr. Stephen Porges's work - his Polyvagal Theory, and specifically the concept of neuroception - offers the best new way to view and support behaviorally challenged children and their families," and toward the end of the introduction, after explaining that she has greatly simplified the neuroscience concepts to make them accessible to a broader audience, she also says "I'm indebted to Dr. Porges for generously taking the time to read some of my clinical translations of the Polyvagal Theory over the past several years, to ensure that my version reflects an accurate understanding of the concept of neuroception."
Jen Lumanlan:
So then I thought: Okay; clearly I need to be able to understand what this Polyvagal Theory is, before I do this interview, and I started doing some research. By this time, I have a fairly well established process - I usually start by doing general Google searches on unfamiliar terms, and then I look at Google Scholar for some recent meta analyses and other articles giving an overview. I put in my search term and add the word "feminist" because I usually find that gives me an outside in-perspective on the topic, and I put in the search term and the word "criticism" so I can find if there are people who offer different perspectives, and what those are.
Jen Lumanlan:
Once I put in the word "criticism," up pops a post on ResearchGate, which is a place where academics can share their papers and also have discussions. On January 18th 2016, Dr. Paul Grossman at University Hospital Basel in Switzerland, posted a question: Question was after 20 years of polyvagal hypotheses, is there any direct evidence for the first 3 premises that form the foundation of the polyvagal conjectures? Now, these are different I should mention from the principles we've already discussed. The premises of the ideas that the principles sit on. Dr. Grossman goes on to cite the premises which are also cited in Dr. Porges' 2013 book Polyvagal Theory, which are (and I will say, be prepared to not understand much of this if you're not neuroscientists because I don't understand much of it either):
Jen Lumanlan:
So premise 1 Neurogenic bradicardia and Respiratory Sinus Arrhythmia (RSA) are mediated by different branches of the vagus a need not respond in concert. Premise 2: Neurogenic Bradycardia associated with orienting is a phylogenetic vestigial relic of the reptilian brain and is mediated by the dorsal motor nucleus. We'll get through these, I promise. Premise 3: Withdrawal of cardiac vagal tone through Nucleus Ambiguus (NA) mechanisms is a mammalian adaptation to select novelty in the environment, while coping with the need to maintain metabolic output and continuous social communication.
Jen Lumanlan:
All right, so all three of these premises were developed in Dr. Porges' 1995 article where he first described PVT although I was interested to see there were two more premises included in that article that seemed to have been dropped since then. The fourth premise is: The ability of NA to regulate special and general visceral efferents may be monitored by the amplitude of RSA," and the fifth is that "Emotion defined by shifts in the regulation of facial expressions and vocalizations will produce changes in respiratory sinus arrhythmia and Bronchomotor tone mediated by the NA." In describing PVT, Dr. Porges says that some of these premises are "firmly grounded in neurophysiological and neuroanatomical data, and others are more speculative. The first premise articulates the neuroregulation of bradycardia and RSA. Based on the initial premise, it is hypothesized that the neurogenic bradycardia associated with the orienting reflex are mediated by Dorsal Motor Nucleuses and that the suppression of heart rate variability (ie reduced amplitude of RSA) is mediated by an NA." Again, I don't fully understand what's going on here, but it sounds like a bit of jiggery pokery - so far as some of these premises (plural) are "firmly" grounded in data, and then it sounds like the first premise "articulates" an idea for which there is data, but the following four premises are more speculative. Dr. Porges has said several times that theories generally and polyvagal theory in particular, cannot be proven or falsified, and that PVT should be "informed by research and modified." Instead, it seems like the two of the original five premises have since been dropped. But the first three are still there, a exactly the same words in which they were expressed in 1995, even though there is now considerable evidence in favor of other explanations of how these systems work than PVT.
Jen Lumanlan:
So ResearchGate doesn't provide the dates of all of the comments on these posts. But apparently some years later, Dr. Grossman added a comment that begins "After more than 93,300 views of my question, and more than 20,000 views on associated projects, and no positive replies (and several personal ones highly critical of the polyvagal conjectures), it seems that new or older positive evidence may not be available. It appears increasingly unlikely that someone will come up with something to support the polyvagal suppositions." So I knew this going into that conversation with Dr. Mona DelaHooke and you will notice that we don't discuss PVT at any point in that interview. I really found myself in kind of an awkward position. And to some extent, that's where I still was when I started working on this episode. Essentially, that position is if I really respect Dr. Delahooke's work and some of Dr. Dan Siegel's work and a good deal of Dr. Gabor Mate's work and Dr. Bessel van der Kolk's work and those are all based on PVT, and if PVT doesn't have much in the way of evidence behind it, then what does MY work stand on?
Jen Lumanlan:
Now I think at this point, it's worth taking a few minutes to understand the T part of PVT which is theory. And one of the best definitions I found was from the American Museum of Natural History was super helpful and it firstly reminds us that in everyday use the word "theory" often means an untested hunch, a guess without supporting evidence. And then it goes on to say "but for scientists, a theory has nearly the opposite meaning, a theory is a well-substantiated explanation of an aspect of the natural world that can incorporate laws, hypotheses and facts. The theory of gravitation for instance, explains why apples fall from trees and astronauts float in space. Similarly, the theory of evolution explains why so many plants and animals some very similar and some very different exist on earth now and in the past as revealed by the fossil record. A theory not only explains known facts, it also allows scientists to make predictions of what they should observe if a theory is true. Scientific theories are testable. New evidence should be compatible with a theory. If it isn't, the theory is refined or rejected. The longer the central elements of a theory hold, the more observations it predicts. The more tests it passes, the more effects it explains the stronger the theory.
Jen Lumanlan:
Many advances in science-- the development of genetics after Darwin's death, for example, have greatly enhanced evolutionary thinking. Yet, even with these new advances, the theory of evolution still persists today, much as Darwin first describes it, and is universally accepted by scientists."
Jen Lumanlan:
So there are a couple of ideas that I want to pull out here. Firstly, that a theory is an idea that doesn't just come from nowhere; it's substantiated by the evidence we have available at the moment. Even if nobody had looked at that evidence in the way we're now looking at it. That doesn't mean our theories are always right. Over the last several 100 years, people have believed that since parents could give birth to albino people, Adam and Eve were originally White and White people could give birth to different colored races, and that people of different races had specific characteristics. Carl Linnaeus, the Swedish physician, botanist, and zoologist, who developed the binomial nomenclature system for flora and fauna, decided that five "varieties" of human species could be classified to and as you might imagine, White people had all the nicest qualities and people of other varieties or races had less desirable characteristics. Another highlight came in at 1839 when Dr. Samuel Morten published the book Crania Americana, which compared measurements of skulls from people of different races, and concluded that Caucasians had the biggest brains, Native Americans were in the middle, and so-called Negroes had the smallest brains. Morten had measured skulls to generate scientific data in support of this theory, which legitimize the theory. And not withstanding the racist action of commandeering skulls from places where people almost certainly didn't consent to having them used in this way. And not withstanding the more recent findings that Morten essentially falsified some of his data to fit the conclusion he wanted to find that White people are superior to everybody else, we can now look back on this type of theory and say: "That theory was wrong," even though there was 'evidence' in support of the theory available at the time. Now, I'm not in any way making the argument that PVT is a racist theory. But rather, I'm illustrating the idea that a key component of a theory is that it's supported by evidence, and that we should continue to find more evidence in support of it. When we try to look at the subject in a way where we're not deliberately manipulating the data, we can test elements of the theory and sometimes we end up replacing one racist theory with another. But over time, we should work toward an understanding of the topic where we're either refining the theory as we go, or we're tossing it out. And we're saying no, there is clearly no basis for the connection between brain size and race. And in this case, we replaced the theory linking brain size with race with human evolutionary genetics. We may in the future, find the elements of that theory are inaccurate as well and continue to refine it. Replacing it seems unlikely at this point, but it is theoretically possible as it were.
Jen Lumanlan:
When we're thinking about PVT, we're looking at those three core premises, and we want to find evidence in support of each of them. The more evidence we find, the stronger we consider the theory. If we find evidence that seems to counter the theory and suggest that things work in a different ways and we consider the theory to be weaker. And we either update its premises or we say that it doesn't explain what's happening. And we propose a different theory that seems to better account for the evidence we found. That's why it's kind of strange to me that in a 28 years since Dr. Porges first proposed PVT, two of the five premises have been dropped. But the other three are still listed on his website, described in exactly the same words, as they were articulated in 1995. Twenty-eight years of research doesn't appear to have generated any data that would cause the first three premises to be revised or updated or improved at all. This was especially surprising when I started reading Dr. Porges, his 2007 paper called The Polyvagal Perspective, where he further outlined the theory and said in the overview that "The polyvagal theory provides a "perspective" to frame research questions and is not a static theory. Thus, as knowledge of Neurophysiology increases, testable hypotheses will shape and expand the theory" - but this doesn't seem to have happened.
Jen Lumanlan:
Another thing that struck me as I was reading the 1995 paper was the number of times Dr. Porges, cited Charles Darwin - yes, the same Darwin as developed the Origin of Species. Darwin's 1872 book The Expression of the Emotions in Man and Animals is cited as offering support for Premise 1, as Dr. Porges said: "it provides "historical insight into the potential importance of the vagus in bidirectional communication between the brain and the heart. Although Darwin focused on facial expressions in defining emotions, he acknowledged the dynamic relationship between the vagus and the central nervous system activity that accompanies the spontaneous expression of emotions."
Jen Lumanlan:
Later, the same book provides support for now deleted premise five, because Darwin "suggested that certain emotions have as their substrate and innate neural basis, and because these emotions are neurally based, they are universally expressed and understood across cultures." Now, I'm kind of wondering if Premise 5 has been dropped beacuse the idea that there are universal facial expressions of different emotions has been pretty thoroughly debunked by now. It's understandable that Dr. Porges would include this back in 1995, as Dr. Paul Ekman had been doing research over the last 20 years or so, in which he and his colleagues would take photographs of we assume White people, purportedly showing basic emotions like anger and fear and show them to people and lots of other countries, including Japan and Korea, and members of the Fore people in Papua New Guinea who had little contact with the Eurocentric world. And all of them could identify the correct emotions. The idea that there are universal facial expressions for emotion seem to be on safe ground at that point. But much of Dr. Ekman's research involved telling a story and then showing the subject a set of three photos of faces, and asking them which showed the emotion appropriate to the story. And it turns out that that context is critical. Without the context of the story, people are much less able to tell what emotion a face is supposed to be expressing. So more recent meta analyses have found that there are connections between facial expressions and emotions. But in the notes from her book, How Emotions Are Made. Dr. Lisa Feldman Barrett describes how these flawed studies reach conclusions that aren't supported by the data. She and her former graduate student Erika Siegel conducted a meta analysis with 223 studies, nearly 22,000 test subjects and found there was so much variation in physiological responses for each emotion across different studies, that it was impossible to detect any emotion specific fingerprints. Apparently, Dr. Porges got this memo and remove this principle from the PVT model.
Jen Lumanlan:
The final thing I was surprised to see in the 1995 paper was Dr. Porges, disagreeing with some conclusions that were reached in earlier papers by none other than Dr. Paul Grossman. I found Dr. Grossman's ResearchGate post before I started my deep dive into the literature, and I invited him to come on the show to discuss the topic. We had exchanged a couple of detailed emails, but he ultimately declined. And it seemed to be because he thought this kind of discussion should take place in journals, rather than in the public press, which sort of did surprise me given that ResearchGate's blog is not peer reviewed. And he's been talking about this stuff on Twitter for a long time - his Twitter handle is Paulyvagal.
Jen Lumanlan:
So as we move into Dr. Porges, his 2007 paper where he further develops PVT, he says that "by investigating the phylogeny of the regulation of the vertebrate heart, four principles can be extracted that provide a basis for speculations regarding the neural mechanism underlying social engagement, as well as fight-flight and freeze behaviors." Now I didn't know what phylogeny is so I had to look it up. It can mean a model, but I'm guessing he's using it to mean the evolutionary history since the first principle is a phylogenetic shift in the regulation of the heart, from endocrine communication to unmyelinated nerves, and finally to myelinated nerves, which seems to describe an evolutionary change. There are principles around opposing neural mechanisms of excitation and inhibition that regulate metabolic output, a connection between the muscles of the head and the muscles of the heart via the vagal pathway, and that the cortex in mammals controls the brainstem as well as the heart, the bronchi and thymus as well as the muscles of the face and head.
Jen Lumanlan:
All of that leads to a description of the vagus nerve functioning as a vagal brake, "in which rapid inhibition and disinhibition of vagal tone to the heart can rapidly mobilize or calm an individual." The expression of social engagement behaviors is dependent on this state regulation. If the vagal brake can't regulate homeostasis, then a person won't exhibit social engagement behaviors, and social engagement behaviors are seen as a good thing. When vagal tone to the heart's pacemaker is high, the vagus acts as a brake limiting the rate the heart is beating. When vagal tone is low, there's little or no inhibition of the pacemaker. Support just then links lowered RSA to behavior regulation problems in children and higher RSA with greater emotional expressivity. Clinically anxious subjects exhibit lower and less suppression of RSA And RSA level parallels the positive effects of treatment for depression in patients who are responsive to treatment. Dr. Porges seems particularly interested in how this shows up in autistic people, and says that defects in the somatic motor system for example, not making eye contact, not showing emotions on your face, not varying your speech patterns and difficulties in chewing, as well as in the visceral motor system, for example, difficulties in regulation resulting in cardiopulmonary and digestive problems. He believes that deficits in the social engagement system would compromise these things, and that unspecified interventions that improve the neural regulation of the social engagement system, "hypothetically"would enhance spontaneous social behavior, state and effect regulation, reduce stereotypical behaviors and improve vocal communication, including variation in speech patterns, and the ability to extract human voice from background sounds.
Jen Lumanlan:
But even if that were true, I didn't see any evidence of a cause And effect relationship. I haven't seen evidence that what Dr. Porges describes as quote unquote deficits are actually related to the social engagement system in such a way that you could improve neuro regulation And that making eye contact And better digestion would follow. I wonder if it's possible that training someone to make eye contact could somehow change the nervous system. Given the number of people who have been subjected to applied behavior analysis treatments that autistic people describe as abusive, that actually train autistic children to make eye contact, I assume it would be possible to empirically test this, but I'm not aware of anyone who has done it.
Jen Lumanlan:
And of course, all this also assumes that not making eye contact and not showing emotions on your face actually does represent a deficit rather than a normal human variation. When people in other cultures show varying degrees of eye contact and sharing emotions on their faces, and wouldn't be described as autistic. An autistic person with these characteristics is only deficient because eye contact and showing emotions on your face is prized in our culture. But of course, it's the autistic person who's at fault here, not the cultural norm. In a conversation on ResearchGate, in response to a question in Hungary, about the premises of PVT Dr. Grossman responded that the effect sizes of the relationship between RSA and social engagement are small (about 0.3, which I would argue that some researchers would describe as edging towards moderate but definitely on the small end of moderate) and that since publication bias means that positive findings are more likely to get published, it's likely the actual effect size was smaller. And if the relationship was so important from an evolutionary standpoint, shouldn't the effects be clearer?
Jen Lumanlan:
The 2007 paper concludes with a section on limitations and expanding explanations in which Dr. Porges states "The polyvagal theory does NOT (and not is underlined), propose that the vagus is the ultimate cause of individual differences in social engagement behaviors or emotional regulation. The efferent vagal pathway originating in the nucleus ambiguous is one of several output systems related to emotion and social engagement behaviors." But then everything about how PVT is described by Dr. Porges on his website, and when clinicians use PVT focuses entirely on the vagus nerve. So what's the point of PVT if the vagus nerve isn't the ultimate cause of differences in social engagement behaviors or emotion regulation?
Jen Lumanlan:
Concluding paragraph of that section is worth reading in its entirety. The polyvagal theory leads to theory-driven research that will provide a plausible neurobiological foundation for the explanation and assessments of variance of social emotional behavior and disorders, including the compromised social behavior observed during physical illness and psychiatric disorders. The polyvagal theory supports research that breaks the tradition of single variable psychophysiological research by identifying theoretically relevant variables involved in regulating social engagement behaviors. In addition, the theory provides a neurophysiological basis for understanding several relevant issues in health psychology, including the benefits of social support and face to face communication on visceral regulation and health. Perhaps most relevant to psychophysiology as a science, the theory leads to testable hypotheses that will, in turn result in modifications to the theory."
Jen Lumanlan:
So overall, I have to say I appreciate the effort to move beyond single variable research which can never explain the complexity of our experience. But Dr. Porges, appears to invite research that would lead to updates to the theory which haven't been done so far. But maybe it is finally time. Dr. Grossman recently edited a special edition of the journal Biological Psychology whose purpose pretty much seemed to be to undercut PVT. In one of the papers in this special edition, biologist Dr. Sean Doody and his colleagues took the premise that states that social mammals are evolved from a social reptiles to task with about as much humor as you ever see in a journal article. He begins by quoting Dr. Porges as emphasizing the neural adaptations that enable cues of safety to downregulate states of defense, which became possible after the evolution from reptiles to mammals. This transition resulted in the capacity to functionally retune the autonomic nervous system, thus fostering social engagement behaviors and permitting physiological state co-regulation through social interactions. He goes on to quote that the theory emphasizes the need for social interactions in regulating the human autonomic nervous system, and in frustrating functions that try to return us to a generally stable state from an unstable state.
Jen Lumanlan:
Then Dr. Doody looks at each of these assumptions and provides evidence that undermines all of them. Firstly, he argues there was no evolutionary transition from a social reptiles to social mammals. Mammals just did not evolve from reptiles. Reptiles can interact in socially complex ways which and can include communal breeding complex and prolonged parental care, lifelong monogamy, extended families with permanent social bonds and many other forms of social interactions that mammals exhibit two. He then argues that mammals on average are much less social than people think. And the mammal is familiar to the public like large primates dolphins, large hoofed animals And canines are atypical representatives of mammals. More than three quarters of all mammalian species are rodents, bats, shrews, small marsupial's, small carnivores and other groups, where most species are no more social than most reptiles if you don't include nursing. The second largest group often rodents are bats which roost together but forage alone and usually have simple sociality. Even among primates, there a species that are no more social than a typical viper or crocodile. Rather than being a simple dichotomy that mammals are social and reptiles are non social, there's actually a great deal of variation in how animals live, hunt, and interact that make it difficult to put them on a non-social to social continuum.
Jen Lumanlan:
The second assumption that Dr. Doody calls into question is Dr. Porges statement that "The transition of the autonomic nervous system enabled mammals unlike their reptilian ancestors, to derive a biological benefit from social interactions." Dr. Doody says that it would be "absurd" to consider that the social behaviors we've just described as occurring in reptiles evolved without providing a biological benefit. He explores some potential alternate meanings that Dr. Porges may have intended by his statement and discounts each of them. I'll quote part of this paper is concluding summary: "In the worst case, if PT depends on a postulated transition from a social reptile to social mammals, then it is demonstrably false. In the best case PT has misused the term social and asocial. In this case, however, PT would still need to identify a particular behavior or suite of behaviors found in mammals and not reptiles that could be associated with or explain the transition of the ANS, and then replace the a social and social labels with more specific descriptors. As currently presented, PT appears to rest upon 20th century folk interpretation of vertebrate evolutionary biology, rather than on current scientific understanding of it."
Jen Lumanlan:
So is this the only premise that needs revisiting in a rather less inflammatory paper in the same issue of Biological Psychology. Doctors Winifred Neuhuber and Hans-Rudolph Berthoud spent a good deal of their paper describing the functional anatomy of the vagus system. And then buried two thirds of the way into the paper they dropped this little nugget, "Several of the PVT's proposals appear prima vista sound. However, the PVT by construing a "new ventral vagal complex" and composing the entire break here motor column ascribe to the vagus nerve, much more than it can actually serve." They argue and I'm gonna simplify their terms to make it understandable and I hope I don't lose accuracy in the process here that the vagus is not responsible for the biggest physiological responses to stimuli because signals originate in other places, and other effects that don't run through the vagus affect heart rate variability, and the theory distracts from the important contributions of other parts of the nervous system. They go on to say that a certain kind of nerves that Dr. Porges is only found in mammals is actually found in other species too and conclude, "The PVT may have "heuristic" value. Narrowing down the complexity of a social engagement system to a "new ventral vagus" should however, be avoided." I had to look up what heuristic means to confirm my understanding and there are a variety of definitions, but the most relevant one seems to be a mental shortcut that allows people to solve problems and make judgments quickly and efficiently. Let's put a pin in that and we'll come back to it before we end.
Jen Lumanlan:
The special edition concludes with an article from Dr. Grossman himself and as you might expect, it provides evidence that refutes the main components of PVT. I'll spare you the ins and outs of it and I'll just share the conclusion, "The polyvagal conjectures comprise a psychophysiological model based on the foundational premises cited in this article. Therefore, the behavioral/psychological postulates must be evaluated in terms of the accuracy of underlying physiological assumptions. There is broad consensus among experts specialized in the vertebra evolution of the autonomic nervous system, vertebrate evolution of sociality and neuroanatomy of the brainstem and the vagus nerve, that each basic physiological assumption of the polyvagal theory is untenable. Much of the existing evidence upon which these consensuses are grounded strongly indicates that the underlying polyvagal hypotheses have been falsified. In a nutshell, specifically, there is no support for the continuing polyvagal assertion that the dorsal vagal motor nucleus mediates massive bradycardia in mammals and may be responsible for vasovagal syncope or trauma-related dissociative or emotional freezing responses. In fact, as reviewed above, there is a substantial body of evidence to the contrary, nor is there evidence that the brainstem vagal system in mammals "was repurposed in order to support and express sociality," and he's quoting Dr. Porges there. Because these notions remain such central assumptions of the polyvagal thinking and the very source of the "poly" in "polyvagal," physiological corollaries grounded upon the five basic premises must be called into question or provided with other explanations. There are alternative models which attempt to explore relations between the structure and function of vagal and physiological processes. There are alternative models which attempt to explore relations between the structure and function of vagal and psychological processes. Although perhaps more plausible than the polyvagal conjectures, they also require further in depth examination of their supporting physiological evidence."
Jen Lumanlan:
Now, I should say that there is an 'acceptable way that disagreements are handled in the scientific world, which is that you published journal articles providing evidence that the theory you think is false is false. And ideally, you propose an alternate theory. One thing that is not done is to post on ResearchGate asking other people to provide evidence in support of a theory you think is false. Another thing you're not supposed to do is post an article on your own website stating that our recently published peer reviewed article or a special edition of a journal that's full of articles refuting the theory you developed on your own website. But if your name was Dr. Stephen Porges and if you were to publish such an article on your own website, it might say something like, "The foundation of polyvagal theory PVT is based on the extraction of well accepted principles from the scientific literature. Given its strong scientific foundation, there has been little criticism of the theory in the scientific literature. There have however, been misrepresentations of the theory that have been used to argue that the theory is not scientifically supported. In general the misrepresentations can be traced to two sources, publications by Edwin W. Taylor And colleagues And social media posts by Taylor's colleague Paul Grossman. Taylor's research has had a decade's long commitment to understanding vagal function and especially respiratory heart rate interactions from a comparative approach that has provided a theoretical descriptions of vagal circuits and functions in several vertebrate species. Unfortunately, in several papers, he and his colleagues have blatantly misrepresented polyvagal theory. While Taylor has used peer reviewed publications as a vehicle to disseminate his misinterpretations. Grossman has become a social media influencer promoting and at times, creatively elaborating and extending Taylor's misrepresentations. Grossman and Taylor have systematically structured a straw man argument based on misrepresentations of PVT to create the appearance of scientifically valid arguments. In Taylor's case he has used false attributions of PVT to highlight the importance of his findings. In contrast to Taylor, Grossman has not conducted research to generate data to falsify PVT. Instead, Grossman has elaborated on Taylor's misrepresentation to position himself on social media as the "debunker" of PVT. Since the points of contention are not supported by facts, the work by Grossman and Taylor fails to challenge any of the tenants embedded in PVT. Rather than identifying points of disagreement, their straw man argument is dependent on faulty attributions of the theory and not on PVT. The net result of their efforts has been to sow confusion around the theory, especially among those not familiar with the foundational papers." He then goes on to provide a point by point refutation of Dr. Grossman's recent paper, and this is the problem with trying to understand the PVT literature. So Porges says: "PVT works like this," and Grossman says "No, it doesn't." Porges says: "You only think it doesn't, because you're misunderstanding of theory." And Grossman responds, "I'm not misunderstanding the theory; the theory is wrong," and they go around and around in circles. And none of this really gets us much closer to understanding whether PVT actually explains our experience or not.
Jen Lumanlan:
There are a lot of blog posts out there, some of which are written by therapists who have written off PVT as 'dead,' but a post on Medium by someone called TraumaGeek, who says they've been studying PVT for five years, wrote an article that responds to the debate between Porges and Grossman. And so as you could actually concede all of Grossman's main points without changing the core of the working model. Another blogger named Alyssa Luck, who wrote 13,000 very balanced and considered words on the topic, concluded that while PVT has helped us to think about connecting biology with understanding the experiences we have in our bodies and our brains, And provided an idea for others to investigate and push against that ultimately, PVT is a myth. It's a story. I think that's really important. So we're going to come back to that at the end of the episode as well.
Jen Lumanlan:
So then I thought, well, Dr. Grossman mentions alternate theories. So what alternatives are there if PVT doesn't explain what's happening? Are there other better explanations out there? And it turns out, there are alternative theories. There's the Neurovisceral Integration model, the Biological Behavioral model, the Resonance Frequency model, and the Psychophysiological Coherence model. I looked at each of these models and in some cases, there are more similarities between them and PVT than there are differences. The models that look at heart rate variability all state that greater resting heart rate variability is linked to positive emotional, behavioral, social, and health outcomes, with relatively low resting heart rate variability being correlated with less adaptive perceived emotion regulation, and increased emotion dysregulation. PVT is the only one though to state that the internal systems regulate social behavior. The Neurovisceral Integration model uses heart rate variability as a measure of the degree to which a system provides flexible adaptive regulation of the brain body system. In other words, the way it helps us to self-regulate. The biological Behavioral model was proposed by Grossman and Taylor, and focuses on the regulation of energy exchange by synchronizing breathing and heart related processes during metabolic and behavioral changes. The Resonance Frequency model proposes that a delay in the feedback loops that control the cardiovascular system creates a person's unique resonance frequency. And apparently, it's possible to learn to breathe at a special rate that creates the most efficient gas exchange and oxygen saturation. Although the authors say that's connected to emotional reactivity, but they don't really explain how.
Jen Lumanlan:
The Coherence model refers to physiological coherence, which is when our bodies including our heart rates become more coherent. During what the models authors call "positive" emotions like appreciation and compassion, compared with "negative" emotions like anxiety, rage, and fear. Coherent internal systems lead to a flow state that we feel when we're connected to our deepest selves, and also to others which can be achieved more often when we can more consistently self regulate our emotions. When more individuals can do this, then more families, workplaces and communities increase and stabilize their coherence baselines, which leads to increased social and global meaning around the world not global within a person coherence. None of these models have a ton of research behind them. It's possible that one of them better explains what's happening than PVT does. But it's pretty hard to say that right now.
Jen Lumanlan:
So as we head towards some thing approaching a conclusion, I want to try to understand what to do with all this information. And this isn't just an academic exercise for me or for you either if you've taken my Taming Your Triggers workshop in the past, or are considering it this year. Well, I don't reference explicitly polyvagal theory anywhere on the information page or in the content itself. A lot of my work draws on the ideas in polyvagal theory. The fight-flight, freeze, fawn responses to trauma, the window of tolerance, which describes your capacity to be in stressful and demanding situations without going into one of those fight-flight, freeze, or fawn responses are both core ideas in Taming Your Triggers. And their ideas that I found incredibly useful. And folks who have taken the workshop have found to be incredibly useful. So just as with Dr. Delahooke's work on understanding children's behavior, where I want to know how I can use her ideas when the evidence in support of PVT is really not incredibly strong. I also want to know whether I should keep using PVT to guide my work in Taming Your Triggers. And so here's the framework that I use to guide that decision in this case, and really, anytime I'm looking at evaluating these kinds of theories. Firstly, I want to know if there's substantive evidence against the theory I've been using and whether that outweighs the evidence in favor of it. And in this case, our answer is "maybe." Certainly there are problems with PVT around the edges of it and maybe with its fundamental ideas as well. Dr. Porges cites lots of evidence in support of it but both his writing and the neurological and physiological ideas themselves are so dense that I can't fully understand them. Dr. Grossman's ResearchGate posts which requested evidence in support of PVT, and which turned up no responses defending it, is a point against PVT. But that we're looking at a few papers and a special issue and research by Dr. Grossman and Dr. Taylor as being the main points of refutation of PVT seems to me to be a point in favor of it. Surely, if PVT were completely invalid, there would be an absolute dog pile of research from people anxious to disprove it. There's been a lot of work over the last few years to try to replicate previous studies to see if the new researchers get the same result as the original ones. And somewhere around half of the time, they actually don't manage to do that. I have to think they're starting with studies they think are less likely to replicate. And I haven't seen a flood of attempted replications of research on heart rate variability yet.
Jen Lumanlan:
Secondly, I want to know if there are alternative theories. As we've seen, there are other theories that potentially explain some of the same ideas that PVT explains. If we were to find more evidence in support of those theories, it's possible we could conclude the PVT is not supported by the evidence. But right now, that isn't the case. There's a lot less conflict in the research that I can find on the other theories. But there also doesn't seem to be a preponderance of evidence saying, "PVT probably doesn't explain what's happening, and this other theory does explain it much better."
Jen Lumanlan:
Finally, I want to ask: is it possible that anyone could be hurt by using this approach, even if it isn't valid? When you start reading around on PVT, you pretty quickly find a whole lot of people saying they have friends who've experienced a lot of trauma, and who are highly articulate in the language of PVT and can use it to explain exactly what's happening for them. And they're still not functioning any better. That functioning has to be a key indicator of our success. And if it isn't helping, we should look for other explanations or myths to understand what's happening instead. And this may actually be where the scientific research leads us astray with its supposedly objective view of our experience, and trying to find the one intervention that works for everyone, instead of trying to understand what framework will help this person in this situation who has had this experience. Of course, the real challenge comes when you're thinking about spending money on some sort of learning or therapy, and you want to know if it's going to help, and in some ways you can't really know if it's going to help you until you've done it. But I do want to leave you with a question that might help. The question may seem controversial, and it is: does it matter which theory is right? You might be thinking well of course it matters. And to some extent I agree with you. We always want to know if we can know how something works. And that matters here because if we believe heart rate variability is the reason why we overreact in difficult situations, then that might lead us to do different things than if we believe it's more connected to your breathing rate. But right now, we don't know which it is. PVT was originally proposed almost 30 years ago. Are we going to wait another three decades for some sort of definitive evidence in favor of one or other of these theories? What are we supposed to do in the meantime, as we live our lives?
Jen Lumanlan:
And that's why I'm not sure how much it matters whether there's evidence for PVT or not. My conversation with Dr. Chris Niebauer, on his book, No Self, No Problem was a really pivotal episode in helping me to understand things like this. You can find that at YourParentingMojo.com/self. In that conversation, we learned how the things we think are real and true, actually aren't real or true. They're our interpretation of what happened. And when another person was involved in that situation, they have their own interpretation of what happened to each of these interpretations, is shaped by our previous experience, and we fit the new situation into that previous experience. So the whole thing makes logical sense to us. I specifically asked Dr. Bessel van der Kolk, who wrote The Body Keeps the Score about this when I interviewed him. He told me that: "When you're traumatized things are oftentimes so confusing and so scary and so unclear who is causing what that your head is in a great muddle, and then finding a way of making meaning for yourself is enormously helpful." And maybe one day, we will get definitive evidence that polyvagal theory really does explain what's happening to us. Maybe we won't. But the point I'm trying to make is that if the ideas and PVT help us to explain our experience, in a way that makes sense to us, then maybe all the evidence wars don't really matter. I'm also thinking back to the episode where I told you about my autism self diagnosis, which is at YourParentingMojo.com/me, I'm calling it a self-diagnosis because it was based on some advanced screeners rather than a full diagnostic battery of tests, although the results were confirmed by a psychologist based on the screening results, as well as my interactions with her. And as you heard in that episode, I walked you through how I was using that information to make sense of my experiences. It explains why I found the social dynamics of high school to be just impossible to navigate, and how I process information so quickly, and why I find noise to be overwhelming. But ultimately, all of these things are stories. The self-diagnosis is like a macro story that holds all of the individual micro stories together. It's a heuristic, that Drs. Winifred Neuhuber and Hans-Rudolph Berthoud referred to earlier that heuristic or myth or story creates coherence for me, which helps me to feel a sense of autonomy. As Dr. van der Kolk says, we are meaning-making creatures. And I've used the self-diagnosis to make meaning out of events that otherwise seem difficult to understand and explain.
Jen Lumanlan:
And that's what I think PVT can do for us. If we look at the window of tolerance, And we think: "Oh, now I understand how I'm feeling and why I'm feeling that way. The way that I had been making meaning out of what's happening in our family is that either I have an anger problem, or that my child is doing things that are excruciatingly irritating. And if they would just stop doing those things, then I wouldn't need to explode. So they should change their behavior." And the challenge with those explanations is that thinking I have an anger problem doesn't give you much information about what to do differently. My child is irritating me and they should stop gives you a path to making a change but it's not very realistic one, because changing someone else's behavior is really hard. But if the story of you have a window of tolerance, which is connected to how well your needs are met right now, And how well they've been met in the past, And when you're feeling dysregulated, then it doesn't take too much to push you outside the window, and there are things you can do to widen that window, and then you won't feel like every little thing your child does is quite so irritating, then that actually gives you some really useful information. It helps you to form a coherent story that doesn't make it all your own fault, or your child's fault, but there is a reason why this experience is hard for you that's partly connected to biology, partly to the trauma you've experienced, and there's something you can do about it. That's a story that's easier to own and to actually do something about. When you believe that story, you can start to see a path to doing something differently. And that is ultimately what I think matters. Believing in that story helps me to see when I'm feeling depleted, and to know that when I'm depleted, I'm less likely to be able to respond to my daughter in a way that's aligned with my values. And I don't want to do that. I want to do anything I can to have my interactions with her be in alignment with my values as much of the time as possible. When I take care of myself, I know I have more capacity to respond to her with care and compassion, rather than with snappiness and shaming. And I know I don't need to wait for the snapping and shaming and then apologize after it, I can see it myself when it's likely to arise. I know when I'm feeling tired or hungry or annoyed, and I can try to rest or eat or step outside for a few minutes, and then I do feel better. I can call that a widened window of tolerance or an open door of possibility or whatever metaphor I want. It doesn't really matter.
Jen Lumanlan:
In our culture, we want scientific evidence of how something works to consider it real. But that evidence not only doesn't always exist, but it often doesn't exist. Maybe you might be as surprised as I was to learn, we don't really have much of an idea how antidepressants work. We know that creates some kind of response and about half the people who take them, but not in the other half. And that compares to about 30% of people who have a similar response when they take a placebo pill or sugar pill, thinking that it's an antidepressant. And that rate of 30% is climbing over the years. In children, the rates of placebo response are even higher 46% on average, compared to your medication response rate at 59%. We also know that studies finding antidepressants to be more effective, are much more likely to be published. Studies finding the placebo to be just as effective or less likely to be published. So the actual response rates are probably even more similar than the numbers I said. And that even discounts the argument that there's really not much wrong with depressed people themselves, but actually, it's our society's failure to create an environment of belongingness for everyone. That's the real problem. But setting that aside, prescription antidepressants are still considered to be an effective treatment for depression. The placebo results indicate that one driver of this response may be that in our culture, people expect to feel better after they take a pill. The story they've created is the pill will make them feel better. As long as they do feel better, and as long as taking the pill doesn't cause difficult side effects. Is this a massive problem, if we don't have the ability to shift how our society operates fast enough to actually create the belonging that we really need?
Jen Lumanlan:
I'm not the only one who's decided to approach it in this way. This comment by therapist Andrew Cook is one of the hundreds that appears on Dr. Grossman's ResearchGate post asking for evidence on PVT which I actually found the common quoted on Blogger Alyssa Luck's website and he says:
Jen Lumanlan:
"I agree that it meaning PVT is mythological. And that is a problem. I've actually seen people get a lot of benefit and then abandon what they found experientially useful, because some asshole who read an article that they only half understood, told them that it wasn't scientifically valid."
Jen Lumanlan:
So this idea of a therapeutic approach being a myth is pretty widespread. I immediately thought of cross-cultural research on topics like PTSD. There's been quite a lot of research done with survivors of the Pol Pot regime in Cambodia, and how they conceptualize and navigate the trauma they experienced during and after being physically tortured in truly awful ways. And 1000s of people died in that genocide. Well, some of the ways that they conceived of and navigated their experience mapped to a Eurocentric diagnosis of PTSD. They also use their own culturally specific ideas as well. One female survivors said she saw her husband shadow in a dream, so she conducted a ceremony for him and felt better after doing that. Several said that survivors suffer partly because the victims of the Khmer Rouge weren't ritually attended to after their deaths. So attending ceremonies were amongst prayed and chanted help them to feel relief. One specifically said the ceremony that involve praying and chanting "calm down my feeling, so that I am not furiously mad at the cruel behavior of the Khmer Rouge." Now, we might wonder, how could hearing someone else chanting possibly help someone to feel better about them or their loved ones having experienced torture? But you could reasonably imagine a Cambodian person asking, "How does imagining your reactions to stressful situations is operating within a window or on a ladder possibly help you?" In a fascinating paper Dr. Steven Benish and his colleagues say that the most important factor in whether a treatment works is the degree of fit between the therapist's explanation of illness and the client's understanding of illness and suffering. If you're a Cambodian person living in Cambodia, and your therapist says, "You may be having trouble because nobody chanted for your dead relatives, and you attend a ceremony for them, you may well feel better." If you're from the US and you're living in Cambodia, and you receive that advice, you probably wouldn't, because there isn't a fit between your beliefs about why you aren't feeling good, and your therapist explanation for it. If you're living in a Eurocentric country, and a therapist tells you that you feel like you're at the end of your rope because of trauma you've experienced in your past and helps you to understand that trauma in a way that gives you more autonomy over the situation, and part of that explanation involves windows or ladders, then if that fits your cultural expectation of what causes difficulty, it's likely to help you feel better. Of course, this has massive implications for immigrants to Eurocentric countries where there may be limited therapeutic options that incorporate their cultural beliefs.
Jen Lumanlan:
In their book Persuasion and Healing: A comparative study of Psychotherapy, Drs. Jerome and Julia Frank see psychotherapy as a CULTURAL healing practice with four essential components. Firstly, a confiding relationship with a culturally recognized And sanctioned healer. Secondly, a context and or a setting that somehow different from the ordinary. Thirdly, a rationale or a myth providing a plausible explanation for the illness. And fourthly a ritual or intervention believed by both the therapist and the participant, to be an effective means of restoring health. Now, that explanation in itself, pretty much tells us why sugar pills are almost as effective as antidepressants. You walk into a room that feels clinical with a person wearing a white coat. And you're told that the chemistry isn't working properly in your brain, which fits with what you learned in biology class in high school, and the person in the white coat hands you a pill and says it will make you feel better. And because everyone around us take, it takes pills and feels better, we assume that we will to. Perhaps the real problem here is our endless searching for the biological basis of the change we want to see when that's really very, very difficult, and may actually be impossible to understand. Maybe it doesn't matter if information about how safe we are passes through the vagus nerve, or a whole bunch of different nerves for us to find the polyvagal myth useful. As long as we acknowledge that that's what it is. A myth. A story.
Jen Lumanlan:
So here's where I think we land with this. Firstly, I think this framework of the four components of a cultural healing practice is enormously useful when we're evaluating something we think might help us. We can ask ourselves do I recognize the person I'm thinking about working with, as someone who has useful skills in this area? In our culture that often involves related qualifications, it may involve looking at the peer reviewed evidence for this approach, to the extent that this exists, and points in one direction rather than another. Is that person going to create a container in which healing can occur, and what is that container like? Can I imagine being held in that container? Thirdly, does the way the person explains what is happening to me make sense to me? Does it fit with my cultural beliefs? And finally, do I think the thing they're going to tell me to do will actually help me if I do, there's a decent chance that it might. And I think that's why Taming Your Triggers "works." If you sign up for the workshop it's because you believe that I'm a person who knows enough about this stuff to help. Maybe my master's degrees provide some assurance on this and the trust that you've presumably built built up through listening to the show for some period of time. The setting of the workshop really is different from the ordinary, and their introductions, at the very beginning of the workshop, people share things with the community that maybe they haven't shared with anyone else ever. And that creates a container for people to know, this is a space where I can see what's really going on, and know that I won't be judged or shamed for it. And I know that for many parents, even just seeing all the other parents introduced themselves in that way, is profoundly de-shaming because it helps them to see this as not a unique failing on their part, and that lots of other people struggle with it too. We start our group coaching calls with a mindfulness practice that says this space is a part of but also a bit apart from your everyday life. Even if there's nobody in your in person life, you can really talk about this stuff with we are here. We will witness your struggle. And for many people that is incredibly freeing. There's a good deal of research indicating that one of the most useful parts of group therapy is both having someone else witness your description of your struggle, as well as witnessing other people in their struggle, which brings awareness and insight into your own challenges. Therapy is actually a relatively new intervention. We existed for 1000s of years without it. We used to process our challenges in group rituals and ceremonies. So that's essentially what we're doing here.
Jen Lumanlan:
And then we have a shared myth or a story about what has happened to us, and what we can do about it. In our case, the shared myth is a reapportioning blame and responsibility. Our culture says that if we're not successful in our society, there's something wrong with us, the individual. And the method I work with says that no, this is not your fault, that it's our society that made things so difficult for your parents and caregivers, which is why they did things to you that created so much shame in you, which is why you overreact to your child's behavior now. Understanding that it isn't your fault creates space for you to not beat yourself up as much, which then opens up the opportunity for self-compassion. And from there, you can find a path to being less reactive and more responsive to your child's behavior. And if you believe that this will actually help you, then there's a better than even chance that it will, and that may sound awfully unscientific, but ultimately, the entirety of what we're talking about is beliefs. I believe something happened that hurt me. I believe that's impacting the way I interact with other people now. So why not believe a different story that grants us a greater sense of autonomy over our lives today. That's essentially what the vast majority of therapy does. Psychotherapy tries to modify our beliefs about what happened. Cognitive Behavioral Therapy tries to directly change our beliefs today. Classic Behavioral Therapy says our beliefs don't matter, which may be why the people who go through it can possibly change their behavior, but the underlying hurt didn't go away.
Jen Lumanlan:
And then the second aspect of this is, we should make sure that it is helpful. And this can be difficult because healing isn't always linear. We can wallow around in the muck for what can seem like a while before we see that we weren't just wallowing. We were taking in new information, we were processing it until we were ready to move forward. If we've been keeping a lid on things, then peering underneath that lid to see that there's more inside can feel like we're even taking a step backward. But I guess I would hope to see at least some improvement over a period of a few months at a minimum. If it seems like all you're doing is getting more literate, describing what's going on with you without healing and improving your ability to live in alignment with your values, then you might want to try a different myth, a different story.
Jen Lumanlan:
And finally, I think we can't ever forget that if we do believe it's a mismatch between our needs and our culture, and how this culture was practiced by our parents and caregivers that created this trauma response in us in the first place, then when we're taking steps to interrupt the cycle of intergenerational trauma and heal ourselves, and be in relationships with our children that see them as whole people, and meet their needs, rather than some average child's needs, we're working towards creating a world where everyone has the capacity to do that, then we'll be doing what I consider to be perhaps the most important work that it's possible to do.
Jen Lumanlan:
It often takes me weeks to develop podcast episodes; this one represented at least two weeks of solid work spread over several weeks of time. I often write content that I ended up cutting, I kept 2000 words from this episode to make it more manageable. And I add ideas that come up as I'm investigating related topics, but at some point, I have to call it done and record. And then very often later that same afternoon, I record the episode an idea will come up that I wish I had included.
Jen Lumanlan:
And in the week since I recorded this episode, a few of those ideas have come up. So I decided to record this addendum as it were.
Jen Lumanlan:
The first idea is that I want to be clear that I don't think that science is only or even the best way of understanding the world. But Dr. Porges is trying to have his cake and eat it on this one. I think there's a lot that science leaves out or that doesn't consider relevant that could be very relevant. I've referenced Tyson Yunkaporta's book Sand Talk: How Indigenous Thinking Can Save The World in a number of recent episodes, because the ideas in it are so relevant to many of the things that we talk about. I listened to it while I was out on long bike rides and halfway through Yunkaporta sets up a story about an old woman who's in kidney failure, but who sits on the side of a river fishing salmon for months because her kidneys have failed she can't have dialysis due to recent heart bypass surgery. And I'll quote from the book: "She's been told she only has a few days to live but the fish fat keeps her going for months until the salmon run passes. The research into fish oil has delivered mixed results though so doctors aren't about to start prescribing handlines and casting nets for kidney disease anytime soon." And then the story goes off onto a tangent which is sort of the point of the book and then 10 pages later Yunkaporta describes how colonists try to synthesize compounds out of plants and animals that are supposed to treat diseases, but it's always from a reductionist perspective. We'll extract it We'll put it in a pill, which may or may not actually capture the real benefit of the experience of catching and eating the thing in its raw form. Yunkaporta wonders how can we bring reciprocal relationships with dynamic systems of life and knowledge into dialogue with science in ways that will actually help? I nearly fell off my bike when I heard the next couple of sentences he says perhaps the first step would be a subtle shift in the focus of inquiry to include an indigenous orientation examining multiple interrelated variables situated in place a time. We might ask where the fish oil comes from, that we are using in our kidney trials, and in what season it was harvested. That might explain why our results are so variable and might send our research in new directions." I just can't imagine anyone is looking at this we colonizers see a fish is a fish is a fish And we catch them where it's easiest to catch them. We don't consider the broader system or the differences in that system might be causing differences in the study results. So this is a point in favor of Dr. Porges' attempt to examine a broader set system. But unfortunately, scientific research is not supported polyvagal theory. Dr. Porges draws on previous research to support it. But there is no research confirming aspects of the theory. And Dr. Porges draws a lot of legitimacy from writing in scientific journals and drawing on scientific discourse when he describes the theory. And in my opinion, it isn't really fair to do that and to benefit from scientific credibility, without any real research to support aspects of the theory or the theory in its entirety.
Jen Lumanlan:
I'd reached out to Dr. Edwin Taylor to see if he would be interested in being interviewed for this episode, and he sent a very thoughtful response after I had recorded the episode expressing cautious interest with the caveat that he is a physiologist rather than a psychologist. He described the core elements of PVT in a couple of paragraphs that basically confirmed the description I've given in this episode, which was reassuring, I have to say. He said that the vagus nerve does "project from the nucleus ambiguous via myelinated, rapidly conducting efferent axons and controls heart rate, including the generation of RSA, so to this extent PVT is physiologically accurate. However, PVT also claimed that the "vagal" system is responsible for social interactions such as facial expression and head turning. These functions are reliant on cranial nerves other than the vagus, which do not have their cell bodies in the nucleus ambiguous, so should not be referred to as part of a vagal system. I consider this to be an artificial conflation of structure and function." So I wanted to be sure that Dr. Taylor's ideas come through here that even if the PVT's description of the body structure is accurate, that doesn't mean the vagal system is involved in social interactions, because we do not have evidence supporting that central aspect of PVT.
Jen Lumanlan:
And this leads us to thinking about what do we want to do with this information? What benefit does it have for our lives? And I realized that I didn't include information on the treatment that Dr. Porges developed. The only treatment that Dr. Porges has created based on PVT is what he calls the Safe and Sound Protocol, where a person listens to some sort of special music through headphones, And then is better able to access the celebrated ventral vagal state of calm sociability.
Jen Lumanlan:
Just as with PVT the Safe and Sound Protocol, which I'll call the SSP has very little evidence in support of it. In a 2021 paper, Dr. Porges said that "When the initial patient was awarded for the technologies embedded in the Safe and Sound Protocol, the specific claim that the acoustic stimulation functioned as an acoustic vagal nerve stimulator was accepted." He's saying that because the people at the patent office approved the patent, that acoustic stimulation does stimulate the vagal nerve as if this offers the same legitimacy as a clinical trial.
Jen Lumanlan:
A pilot study of six autistic participants was published in 2023. And the results are decidedly mixed. There are no scientific papers describing the applicability of the SSP to symptoms related to traumatic responses. Although there are lots and lots of case studies published on the website run by Unyte which markets the SSP, all of which describe incredible improvements in one single patient never using a standard protocol. So there's no set number of sessions or set thing that happens in a session or any aggregation of results. It's just one case study of one person repeated many times to give the impression that there's lots of evidence supporting the SSP.
Jen Lumanlan:
Here's an example from one of the case studies. And so it says the therapist name but the therapist shares that after completing the Safe and Sound Protocol (SSP), the clients hands hardly ever sweat when experiencing mild stressors or triggers. And if they do, it is mild and short lived. She feels less immobilization and stays in ventral vagal more often accessing her adaptive coping strategies more easily and having clear thoughts. Her sleep has also improved during the SSP. This is not scientific evidence. Hands sweating is not a commonly studied indicator across these case studies. And we don't know how "mild" and "short-lived" are defined. We don't know if the client knows they're in ventral vagal state or if this is the therapist description or the complete set of physiological indicators that either of them are using to know that the client is in this state. We don't know what clearer thoughts means or whether we're talking about a 1% improvement or a 100% improvement. We don't know if the client is sleeping longer or dreaming more or waking up feeling more rested or if they got a new mattress during the study. Once again, this is not scientific evidence. This doesn't directly refute polyvagal theory but if there's little evidence supporting the main treatment developed by the theories founder, I'd say that's a strike against the theory, in addition to the other strikes we uncovered in the episode.
Jen Lumanlan:
And the last thing I think we should consider is that Unyte's website describes the ventral vagal state as, "Our centered, "true self" state, where all social interaction connection and creativity occurs." And the people who talk about this, set it up as sort of a mythical state where we want to spend as much of our time as possible. Somewhere in all of the research for this episode, I found a blog post from someone who I think was autistic, saying that all of their best creative work actually came from being in a hyper aroused state, although unfortunately, I couldn't find that post again, when I was writing this section. I don't think we should try to be in that ventral vagal state all the time. We can cope with stressors that are short lived, and that are experienced in the presence of people who care about us. But I'm also troubled by the implication of passivity here. Our society is pretty messed up, in my opinion. And it hurts a lot of us in a lot of ways, although obviously, it hurts some of us a lot more than others. And I think we should be angry about that. And I fear that PVT is essentially placating us. It's teaching us to be calm and passive as much of the time as possible. And if we don't feel angry about the systems that are hurting us, then we won't do anything to change them. So I hope you're able to use this information to feel safer when the situation you're in is safe. So you can interact with your child and others around you from a place that's aligned with your values. But also that you don't lose touch with and maybe even get more connected to a sense of anger at the systems that created that lack of safety. And from there access a desire to change those systems.
Jen Lumanlan:
There were more than the usual number of papers that I read for this episode without directly referencing them. But if you would like to see references for the ideas that I did include, you can find those at YourParentingMojo.com/Polyvagal Theory.
Jessica:
Hi, this is just from verlies Panama. I'm a Your Parenting Mojo fan And I hope you enjoy this show as much as I do. If you found this episode especially enlightening or useful, you can also donate to help Jen produce more content like this and also save us from those interminable mattress ads. Then you can do that and also subscribe in the link that Jen just mentioned. And don't forget to head to YourParentingMojo.com to record your own message for the show.