Before, parenting was hard enough.
Now you're simultaneously parenting, working, and homeschooling in a pandemic - and things cannot keep going like this.
Strengthen family connections. Support your child's learning - through the crisis, and beyond.
The Finding Your Parenting Mojo membership
The struggle was real before.  Now you need a lifeline.
We build a strong core of connection and collaboration in your family as you:
The Your Child's Learning Mojo membership
Support your child's learning out of school.  No worksheets required.
We achieve mastery of the "6 Cs."  School focuses mostly on Content.  We'll cover Content, but we'll also nurture:
COVID-19 is amplifying everyday parenting stresses
More than ever, parents are feeling:
Physically, mentally, and emotionally drained
Completely overwhelmed by the 24/7 balancing act
Worried that your yelling and short temper with your child is negatively impacting your child's emotional health
Anxious about your child will falling behind at school
Alternately grateful to be spending more time with your child...and guilty that it's making you miserable
Together we'll get through this, and your family will come out stronger
Through these memberships, you will feel:
That you, your spouse, and your children are on the same page.  You're not 'trying to get your children to cooperate;' you're a strong, cohesive team that works together to meet everyone's needs
That you haven't just intellectually understood some new parenting tools, but you will have truly incorporated these ideas into your core being, so they spring naturally and easily when you need them
A sense of calm and peace.  You'll know: "I've got this."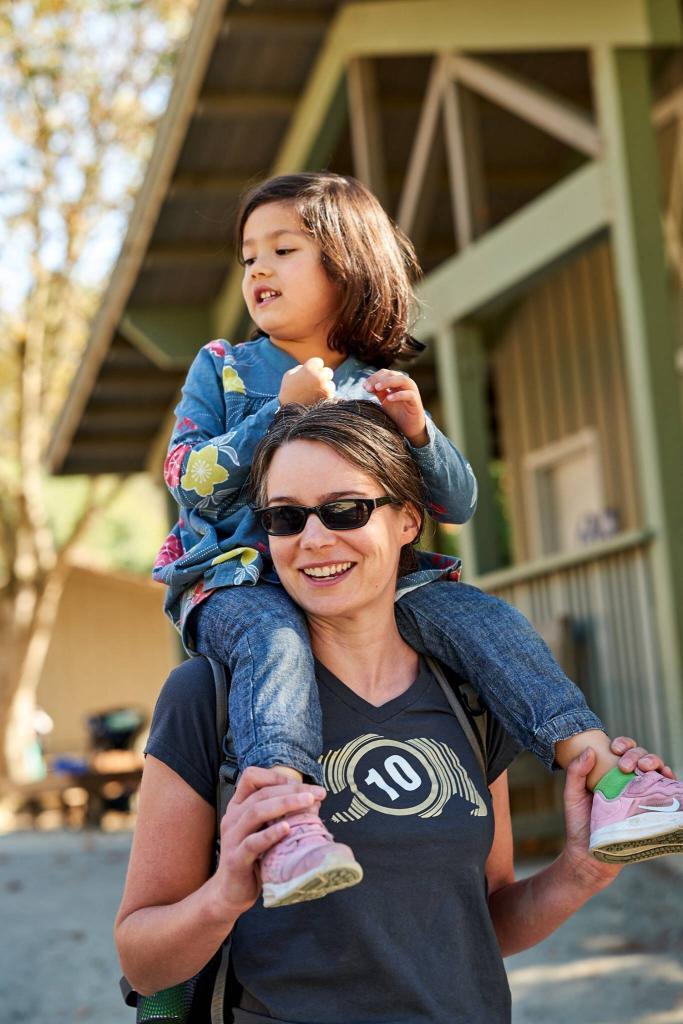 If we haven't met before...
Hi! I'm Jen (and that's Carys)
I never saw myself as a mother.  I don't really 'do' nurturing – at least not of things that have a lot of needs and can't be reasoned with.  
When Carys was about four months old I was actually starting to think about discipline (a bit early, I know…).  I didn't know how I was going to be a parent whose kid didn't walk all over them without being a parent who always said "no."
A couple of weeks after that, some friends were visiting with their toddler son.  We were in the living room and he went running down our hallway to our bedroom.  His Mom called after him: "Jack, please don't go in there – it's private.  You can go in the nursery or come back to the living room."
Jack stopped on the threshold of our bedroom, and ran back to the living room.
"How did you do that?" I urgently needed to know.
The answer launched my journey as a parent: toward a Masters degree in Psychology focused on Child Development (so I understand parenting), followed by a Masters in Education (so I know how to support your child's learning).  Then I launched the Your Parenting Mojo podcast (named Best Research-Based Podcast by Lifehacker!) to share what I learned with others.
I'll be right beside you with information, support, and resources, starting on Monday April 13!
This package is perfect for you if:
You're just realizing for the first time that there must be a better way of getting through the next few months...but you're not sure what it is yet
You've read a lot of parenting books and gotten a lot of advice you trust online, and yet parenting is still hard because you struggle to apply what you've learned
You're ready to carve out ONE hour a week to shift your family's approach (You're already spending this time navigating difficult transitions between activities and trying to get your child to cooperate - I'm asking you to spend that time more effectively so you can achieve your goal
You're truly invested in your children's wellbeing, happiness, and intrinsic love of learning - so much so that you're looking beyond 'quick wins' and tricks
You're afraid that you might get to September and realize that the last five months have been a massive missed opportunity to connect with your child on a deep level as well as support their learning
You're excited to strike out on a different path, and eager for a hand to hold onto as you do this
You're ready to help your child find a way to end temper tantrums - in the first month that we work together!
You're willing to do a little reading, join two group calls each month (or listen afterward), and practice the tools I'm going to teach you to parent from a place of calm and support your child's love of learning
If you said "yes" to at least six of the criteria above, I can't wait to work with you!
I'd like you to meet Madeline and her family: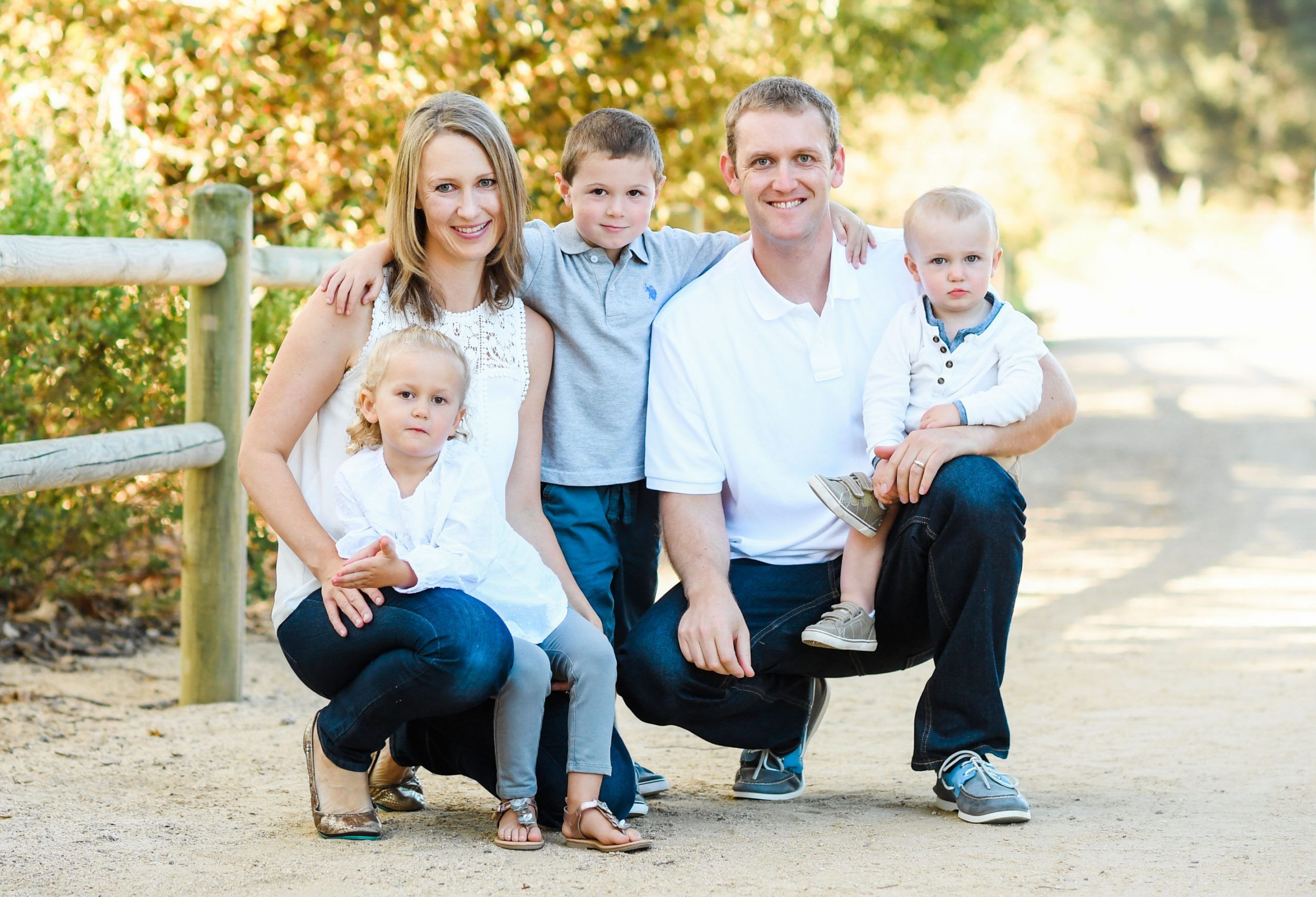 "We stumbled on respectful parenting concepts several years ago when my oldest was two. It felt right, but the concepts, at times, felt counter-intuitive; I had to go through a long process of reading books, re-listening to authors/podcasts, and practicing and failing to absorb the new way of parenting.
When our oldest turned 5, our now three children started asking for a dog.  My husband and I like dogs, but we knew they're a lot of work and our family life still felt...chaotic! Our children have very vibrant personalities, so we kept putting off the decision because we wanted the household to be running a bit more 'smoothly' first (things like our oldest putting his shoes away, our middle child setting the table, etc.).
I felt stuck; I didn't want the dog to become a reward for 'good behavior' but how could I respectfully get us to all work together without using bribes and sticker charts (and given my oldest's determined personality, none of which would have worked!)?"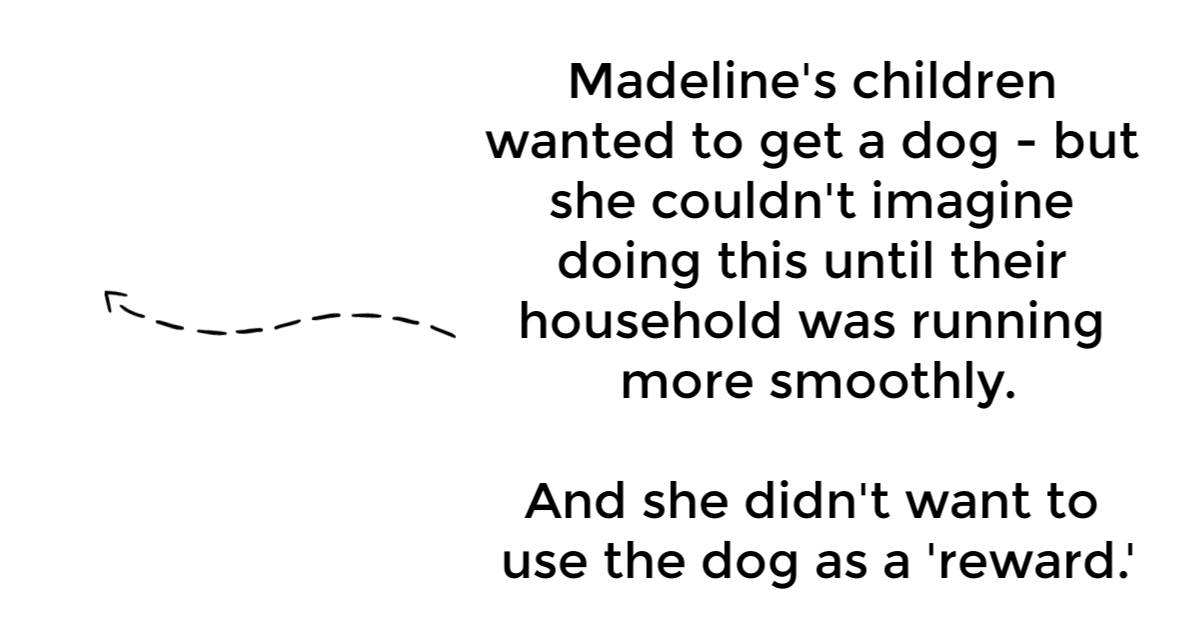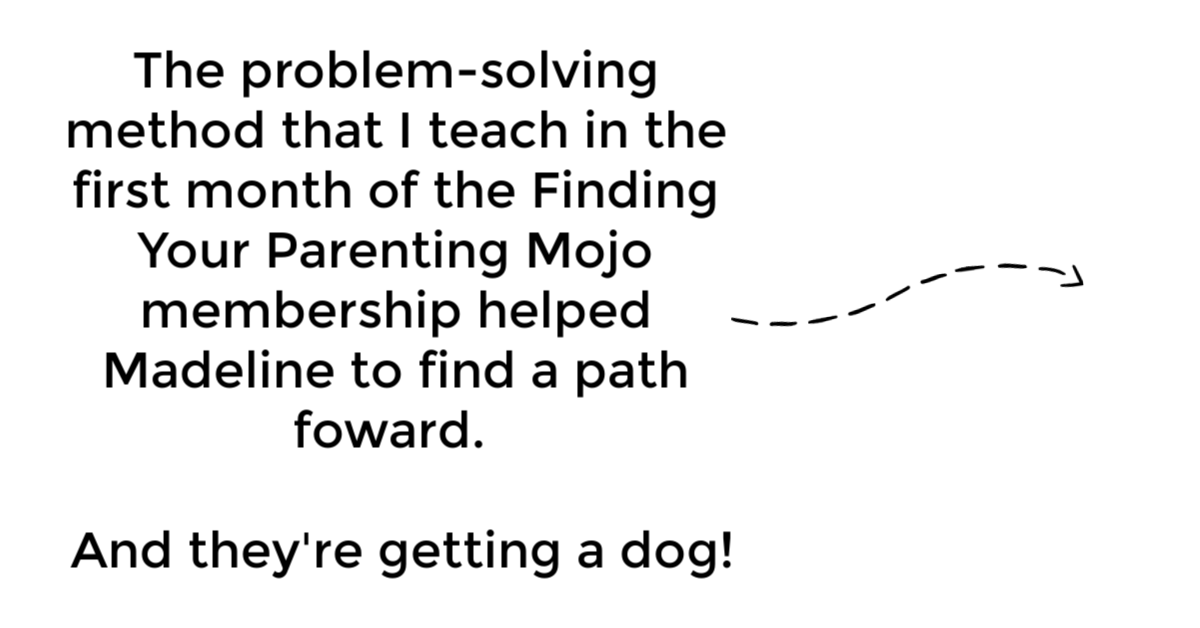 "After working with Jen and joining the memberships, I felt like things clicked for our family. Jen helped us work with our kids to solve problems. With her support, I was able to put in the missing pieces that I couldn't do on my own. She helped me build small 'wins' by coming up with ways to practice the skills so that the new habits became second nature. Most importantly, our relationship with our kids was still at the forefront of everything we did.
And our new dog will be on the way in a few weeks!"

"On the learning side, we had already embraced the philosophy of self-directed play for our children (which also wasn't intuitive to me). But, as my oldest reached school-age, I started to become unsure of how to support his learning. I didn't know which books, podcasts, or other resources could help; I felt like I needed a Masters In Education to fully support the kids' learning.
The Your Child's Learning Mojo membership gave me 1) the ability to see, day to day, what my kids are learning through their play and 2) the skills to help deepen their learning. Now when they are playing 'puppies', building forts, or writing 'books,' I know what questions to ask, when to just observe or when to bring in outside resources in order to turn their play into a deep learning exploration (and I never feel pressured to do this all the time - just at a rhythm that works for our family!)."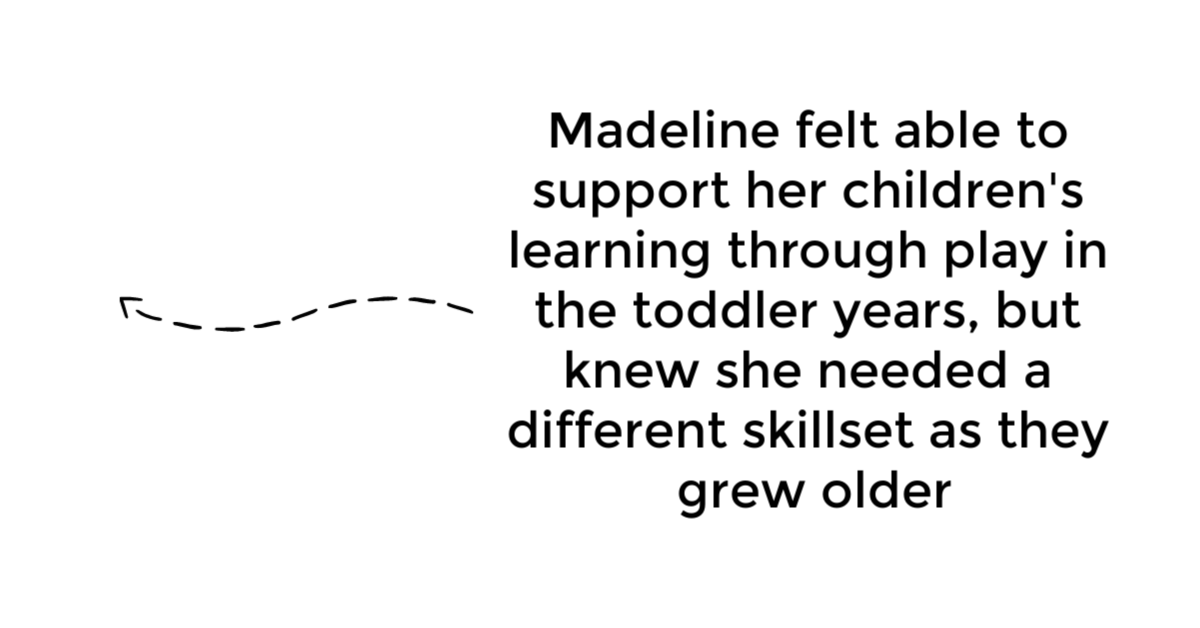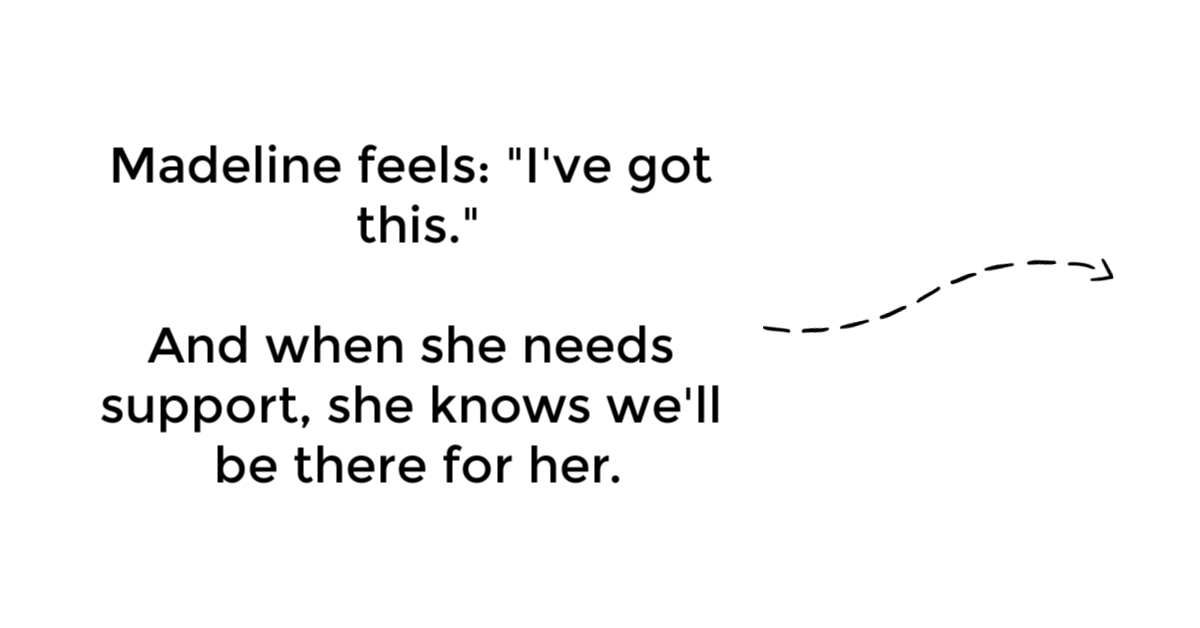 "As learning is ongoing (both for us and our kids), I'm encouraged to engage in a way that fits my own learning style. I feel supported to make mistakes and do a little bit at a time (or whatever pace fits our life). This was key for me, as it supports my development of life-long habits vs. just learning new information and having a hard time implementing it.
I feel extremely confident that I can continue to support my children's learning throughout their lives - whether they are in school or out of school - and I have a community to support me when I stumble over questions or roadblocks to reach that goal."
And Madeline isn't alone...
"The Finding Your Parenting Mojo membership has really allowed me to hone in on the DOING, the concrete actions I want to take and greater implement the endless swirl of ideas. It has allowed me to stop waiting for perfection, when I have figured out how to do it all, and focus instead on progress. It just really hits the nail on the head of what I need to know." - Kathryn D.
"Finding Your Parenting Mojo has helped me prioritize self care, improved my marriage, reduced my anxiety (especially about parenting), and given me tools to help maintain a close relationship with my son." - Anne H.
"I feel more confident because of the shared wisdom of the Your Child's Learning Mojo group, and knowing that Jen is just a question away.  I'm learning to implement a new set of skills related to both putting in place and removing boundaries, to create order in our tiny space and budgets.  I love that you're not just helping us to "teach" our children; you're supporting us as we create a "rich learning environment" (as John Holt said), and trying to cater to "the whole child" AND their environment." - Sidra A.
"Since I joined the Your Child's Learning Mojo membership, I find that I'm answering my children's questions in a much ore open way.  Sometimes this is with another question; other times it may just be a more vague, open-ended answer.  It's a change that sounds so basic and common sense when I think about it now, but I needed that extra bump from the membership to actually make me realize and apply it." - Ginelle C.
Content is available in downloadable pdf and audio form, to suit the way you learn best.  We start formally on April 13 but I know some of you want this NOW! 
We answer your questions, brainstorm solutions, and offer support
They're invested in shifting the climate in their families, and in their children's learning - just like you!
Your child WANTS to cooperate with you.  They're loving learning.  You feel: I've got this.
For about the average price of a gym membership, and probably less than you spent setting up your nursery, you could survive this crisis and thrive beyond it
Finding Your Parenting Mojo membership: $599/year or $55/monthly subscription
Your Child's Learning Mojo membership: $499/year or $46/monthly subscription
Join both and save $100: $998/year or $94/monthly subscription
(Special pricing due to COVID-19)
Support your own children. Help the village.
Our family is fortunate to have a roof over our heads and meals to eat during the COVID-19 pandemic.
To help children in our wider village, I will donate 5% of net revenues from all memberships purchased in March/April 2020 to After School All Stars.
This organization normally provides after-school programs to children in 468 schools across 60 cities in 13 U.S. states, but is mobilizing to support the mental and physical well-being of students who lack traditional safety nets when schools are closed.  Read more about After School All Stars' COVID-19 response here.
30-Day Money Back Guarantee
In the first 30 days you'll have a plan for confident parenting and a love of learning, or your money back.